At Dexus, we have committed to achieve net zero emissions by 2030 because we believe that ambitious targets lead to bold actions and the quest for innovative solutions. Our capacity to create value depends on the efficient use of natural capital, building resilience to environmental risks and leveraging emerging opportunities driven by climate change.


In a changing climate, developing and managing resilient properties means understanding how to reduce their impact on the natural environment and leaving a positive legacy. Tackling our energy use and emissions makes good business sense too. Ongoing emission reduction activities help our property portfolios and operations contribute to the transition to a low carbon economy and demonstrate that emissions reductions need not come at the expense of business success.


As buildings account for nearly one-quarter of Australia's greenhouse gas emissions, this provides both a challenge and an opportunity for us to lower our carbon footprint and reduce operating costs through energy efficiency. We also actively manage water and waste through building optimisation and customer engagement and awareness programs.


Starting with Dexus's first NABERS portfolio targets set in 2008, we recognise the importance of setting targets for environmental performance and demonstrating leadership in this area. Since then, we have lifted our ambitions through our 1,000,000 square metres NABERS improvement targets that we achieved this year, as well as through our target to achieve net zero emissions by 2030 across our managed portfolio across all funds and all asset classes: office, retail, industrial and healthcare. We are also going beyond managing our own corporate emission responsibilities and are focused on bringing our customers on the journey to achieving reductions in total building energy consumption.


Announced in 2018, our net zero ambition will be achieved through enhanced energy efficiency and increasing the use of renewable energy across our portfolio. In FY20, we signed up to RE100 and committed to source 100% renewable energy by 2030. To support our trajectory to net zero emissions, we have established an interim target to achieve 70% renewable electricity use by 2025. Our net zero target has been verified by the Science Based Targets initiative as being consistent with the effort required to limit global temperature increases to below 1.5°C.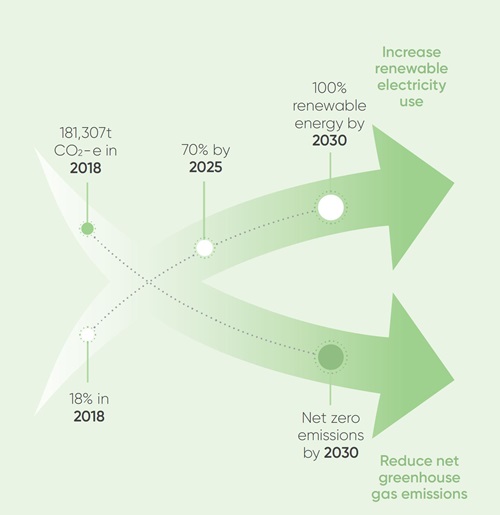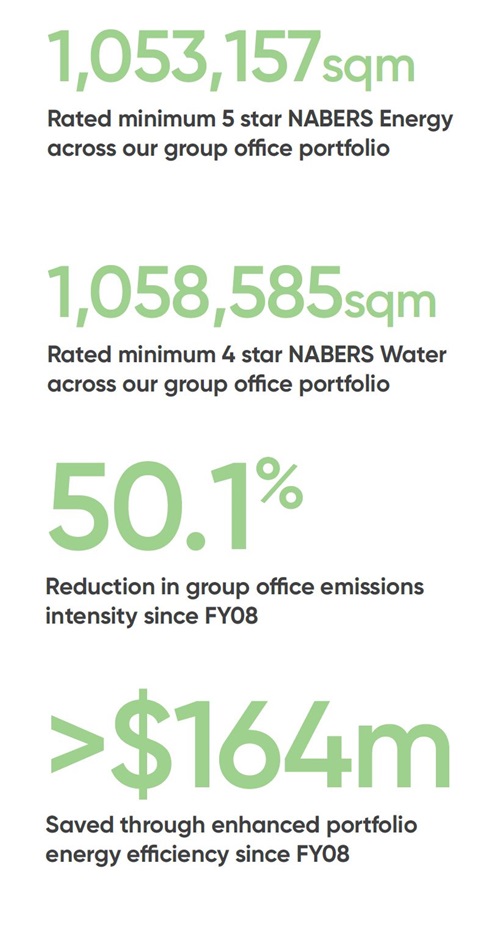 Sophia Rao
Investor Relations Manager