Online retail race sees industrial space rethink
Article3 mins03 March 2021By Ben Falkenmire
The online retail sales boom is prompting retailers to rethink their logistics strategy in the race to win over and retain the customer.

2020 was a record-breaking year for eCommerce, with the onset of COVID-19 accelerating shopping online behaviour by as much as three to four years, according to Acting Australia Post CEO Rodney Boys.
December 2020 was the busiest month for Australia Post in its 211-year history, with more than 52 million parcels delivered. 
It is a sign of things to come with Australia Post recently predicting online retail penetration will reach between 25 and 30 per cent of total retail sales, compared with the current 15-19 per cent mark, and 11 per cent in 2019.
According to the NAB Online Retail Sales Index, it is estimated that in the 12 months to December, Australians spent $44.18 billion on online retail, a level that is around 12.6% of the total retail trade estimate.
Chris Mackenzie, Head of Industrial Development at Dexus, helps retailers find industrial space and has seen this structural growth first hand.
"Online retailers have achieved their five-year target in five months," says Mackenzie. 
"It's a race to capture as many customers as possible. They've had to adapt quickly to this unexpected growth where customers are seeking convenience and reliability."
"You could be out for lunch, spill Bolognese on your t-shirt and have a new t-shirt arrive to you by the end of lunch. There is a race to establish the most responsive delivery times." 
Chris Mackenzie
Head of Industrial Development
Dexus
The race is on
While bricks and mortar stores continue to be a key part of the customer experience, the accelerated change in shopping behaviour has increased the need for retailers to excel in service and delivery. Price is no longer the only determining factor. 
One key ingredient in the winning formula is the speed of delivery. In its 2019 e-commerce Industry Report, Australia Post said retailers are using speed as a marketing strategy, estimating frequent shoppers would shop up to 38% more if a three-hour delivery window was available.
"Consumers are happy to pay more online to receive a product faster and when expected," says Mackenzie. 
"Retailers are meeting this demand by enabling people to order direct from the warehouse to their front door, without the need to visit the physical store."
That's exactly what brewing company, Stone & Wood, has done. During COVID-19 it had to close the doors at both of its village breweries and turn to its online store to continue selling.
"Despite venues opening back up, we've seen a sustained increased in online sales.
"People have become more familiar with the online shopping experience and are enjoying having fresh beer delivered to their front door direct from the brewery," says Steve Blick, Head of Online Sales at Stone & Wood.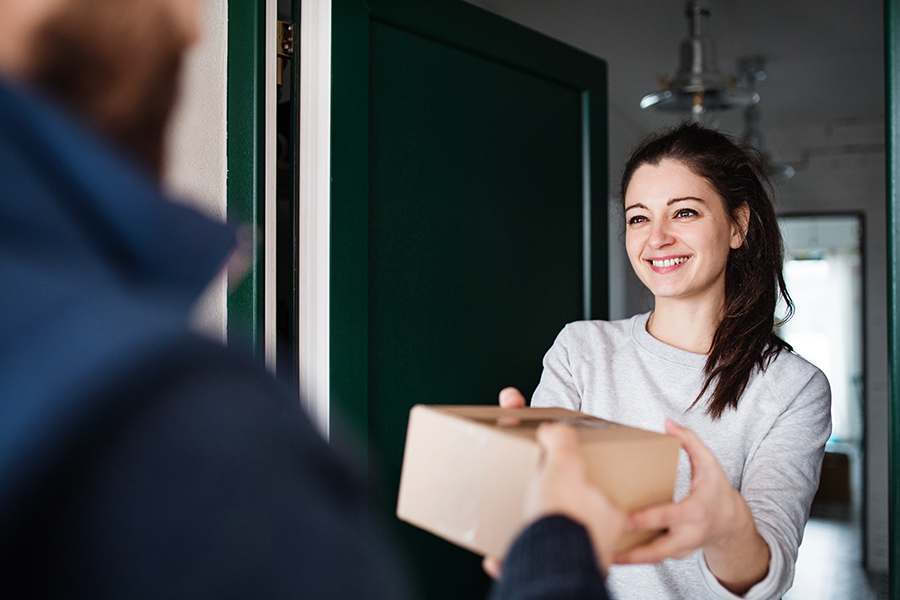 Hub and spoke strategy
To meet the demand for speedy delivery, retailers are taking up industrial space in key locations across the country. For the first time ever, 2020 saw retail occupiers take the largest slice of industrial space at 42 per cent.
"Many of our customers are expanding or renewing space for their 'hub and spoke' strategies," explains Mackenzie, where the hub is the larger format industrial space (the fulfilment centre), and the spokes are smaller, decentralised facilities located closer to the consumer.
Ultimately the ambitious goal of this strategy is to enable product delivery to customers within an hour.
"You could be out for lunch, spill Bolognese on your shirt and have a new shirt arrive to you by the end of lunch" says Mackenzie. "There is a race to establish the most responsive delivery times."
Stone & Wood's newer village breweries at Bryon Bay and Brisbane are located on sites closer to customers and serve as spoke-like venues for beer education. 
"Our village breweries are a chance for locals and visitors to get the whole Stone & Wood experience in the one place," says Blick.
"Customers can connect with our team and enjoy any of our beers or once-off Pilot Batch releases brewed on-site."
While Mackenzie points out it could take a couple of years for retailers to reset their supply chains, the hub and spoke approach is quickly taking hold.
"This trend is only the tip of the anticipated supply chain changes rapidly building momentum" he says.
Designing for speed 
The shift to online buying has also fuelled demand for better designed and located warehouses that can accommodate automation. 
Wholesalers and retailers have discarded outdated manually operated distribution hubs and are moving to state-of-the-art new facilities in the quest to find the most efficient ways to deliver goods speedily to customers.
Automated sheds operate 24 hours a day via a system of conveyor belts and shuttles, which sort, retrieve and distribute stock to waiting delivery trucks with minimal human interaction or human error.
Adidas in Melbourne has automated the picking and selection of its product purchased online so that it can be delivered to the packers who get it on the road by 10am each morning.
"Facilities, like the Adidas and Toll facilities in Truganina, were designed and built for automation," says Mackenzie.
"Others will design more specific automation systems that suit their products, and their consumers will find out what works for them."
Mackenzie said developers are more conscious of their warehouse design to be automation-ready, in anticipation of further interest and investment in automation technology. The quest for faster speeds of delivery is heating up. The prize for retailers is an increase in market share, and for most, that's enough motivation.
Prism Mailing List