Community and sponsorships
We're proud to partner with community organisations which align with our values
As a passionate team who want to make a difference, at Dexus we're proud to partner with community organisations which align with our values, and which give back to the community through programs, grants and equipment.

Dexus is excited to continue our partnership with the Sydney Swans. We are passionate about health and wellbeing and as an organisation we assist our people to achieve positive changes to their lifestyle. This in turn creates an energised, happy, productive and high performing team just like our partner the Sydney Swans.

Watch as the players check some key features of our office space and give it their tick of approval, ready for our customers!
View the videos here!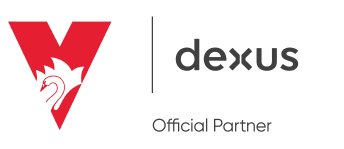 Proudly supporting our community partners

As well as being an official partner to the Sydney Swans, Dexus is proud to support a range of not-for-profit and community partners throughout the year through volunteering activity, event partnerships and major sponsorships across social issues that align with our values.

These partners include Black Dog Institute, Planet Ark, Ronald McDonald House, Children's Cancer Institute, The Mater Foundation, The Big Umbrella Foundation, Cancer Council, The Humpty Dumpty Foundation, Foodbank, OzHarvest and the Property Industry Foundation.