How workplaces of the future are becoming smarter and more sustainable
Article3 min04 September 2018By Karen Jamal
Imagine your office building knowing exactly how you like to work – from your lighting and temperature preferences to your favourite style of coffee – and creating a personalised space while cutting energy and emissions.


Does this sound far-fetched or futuristic? It may be just a few years away.
As energy prices soar and emissions rise, Australia's leading building owners are looking to technology and data to optimise building systems. As they do, they are creating better experiences for customers.

Dexus, for example, has mapped out a pathway to a 'net zero' property portfolio by 2030, which will not only eliminate operational emissions, but deliver smart, sustainable workplaces.

Leon Wurfel, the founder and chief executive officer of Bueno Systems, is one of the people helping Dexus to deliver on this commitment. Wurfel's company applies data and analytics to improve the productivity of buildings around Australia.

"Rather than have someone walk around a building each month with a clipboard and check off maintenance items from a list, we automate a lot of diagnostics," Wurfel explains.

"Our technology picks up a lot of day-to-day issues that can be actioned immediately – before customers in the building have even noticed there's a problem."

This building optimisation delivers impressive energy savings. NABERS Energy ratings under Bueno's watchful gaze can increase, for example, from 4 to 5 stars – which translates in an energy saving of around 30 to 40 per cent on standard practice.
"We'll be delivering the right conditions for people – and doing it in a far more energy efficient way." David Solsky, Envizi
Digesting data to deliver savings
Another technology company working with Dexus to improve building systems is Envizi. David Solsky, Envizi's chief executive officer and co-founder, says many building owners are turning to Envizi's technology platform for reporting, real time performance measurement and building optimisation.

"We use data and analytics to pinpoint exactly where building owners are wasting energy so they can quickly remediate underlying issues and maintain optimal performance," Solsky explains.

Building optimisation is about "matching demand with supply", Solsky adds. "It's a simple equation of ensuring the conditions supplied in the building – lighting, heating, cooling and so on – match the demands of occupants, in the most efficient manner."

"You can install the most efficient equipment in a building, but if you don't run that equipment optimally, for example running the lights and airconditioning after hours, then you will still waste a lot of energy."

Solsky says the property industry is at an "early stage" of leveraging data and analytics to enhance building performance. Although the Australian market leads its peers in the United States and United Kingdom. 

"But we can comfortably achieve energy savings of 10-15 per cent through simple performance optimisation strategies." With further investment in Internet of Things technology, and additional building sensors, the savings can be as high as 30 per cent.

"This is what we need to be aiming for if buildings are going to reach net zero by 2030," Solsky explains.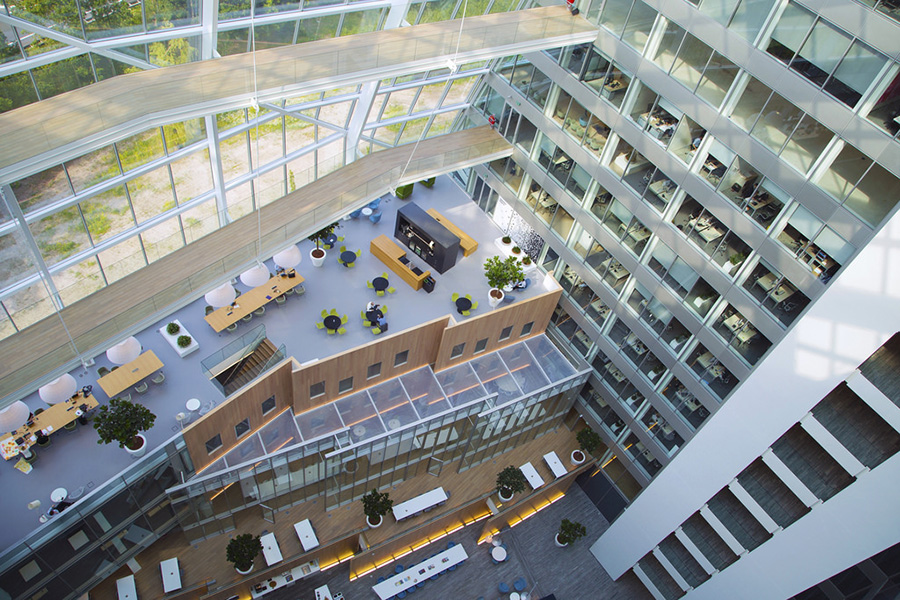 The Edge in Amsterdam, described as the world's greenest, smartest office building.
What does the smart building of the future look like?
Intel's office in the Israeli city of Tel Aviv is arguably the world's brainiest building, with the capacity to learn the habits of every employee – from parking preferences to whether you like one lump or two in your cappuccino.

Meanwhile, workers in The Edge in Amsterdam use an app to choose their desk each day, program their preferences for light and temperature, and track their individual energy use.

Solsky says it won't be long before Australian workers "book into their building" through an app on their way to the office. 

"We'll get told where to park and where our desk is located for the day. The building will analyse how many people need to be accommodated that day, and will only cool or light entire floors or spaces depending on demand. The spaces that are operational will be split into cooler and warmer environments, depending on individual preferences. We'll be delivering the right conditions for people – and doing it in a far more energy efficient way."

Buildings, driven by machine learning, will become smarter over time as they learn and "optimise in real time", he adds.

"If a large number of people unexpectedly left the building, the occupancy sensors will feed that back to the building, which will make the decision to switch off lights and wind down cooling. This is the kind of real time smarts that we'll need in our buildings to get to net zero."

While Solsky is excited about the potential of smart buildings in the future, he argues that many existing buildings "don't have the infrastructure installed to deliver those smarts just yet, so a good starting point is to ensure all buildings are running better, using basic data and analytics from energy meters and building management systems."
Creating better experiences through deeper insights
While the property industry has focused on building and energy management systems, Wurfel says innovators are looking further afield. A range of services are ripe for optimisation, from elevators and escalators to fire panels and lighting controls.

But Wurfel agrees there's plenty of potential to save energy in existing systems – and in doing so create better experiences for customers. 

Bueno has worked with Dexus for three years and Wurfel says "we certainly haven't run out of insights into how people use the buildings – it's a matter of prioritising so that we are addressing the issues that can have the biggest impact first."

While the insights gathered in individual buildings are important, aggregating the data across portfolios and industries will uncover the deepest knowledge, Wurfel adds. 

"We will gain a much richer understanding of how people use buildings – how we move around and behave in our spaces – that can be fed back into the design and maintenance loop.

"We'll be able to close that feedback loop and inform, with confidence, how buildings of the future evolve to meet the needs of the people who use them. Buildings may look the same, but they'll be very different spaces in five years' time."
Prism Mailing List