Why Parramatta has become a magnet for architects
Article3min15 May 2018By Paul Chai
The council overseeing a building boom in one of Australia's fastest growing cities wants to ensure developers create a unique precinct that will serve Parramatta well over the long term.
In Parramatta, the capital of Sydney's west, top-notch office space is leasing almost as fast as developers can build it. The Property Council of Australia's Office Market Report, released in early August 2017 showed zero office vacancies in Parramatta's A-Grade properties from January to July and strong demand across the board.
This demand for office space in the geographic centre of Greater Sydney, is in line with population growth in the region as well a concerted effort by the NSW government to see business activity expand beyond the traditional confines of the Sydney CBD.
The Greater Sydney metropolitan area is usually defined as the area extending to Wyong and Gosford in the north, and the Royal National Park in the south. To the east, Greater Sydney is bounded by the sea; to the west, the region includes the Blue Mountains, Wollondilly and Hawkesbury.
The Greater Sydney Commission, a statutory body in charge of planning, wants to turn the whole of this metropolitan area into a "30-minute city" by the year 2056. In this future city, all residents will live half an hour from their jobs, education institutions, healthcare facilities and places to play such as parks, restaurants and bars. To achieve that, the Commission envisages the city growing in a polycentric fashion, meaning it will have more than one central business district.
Enter Parramatta, a city that is already augmenting the traditional home of business in the Sydney CBD.
Parramatta's growth prospects make it an attractive target for developers. And to ensure building standards are met, all new buildings must be submitted for review by the City of Parramatta Council's Design Excellence Review Panel.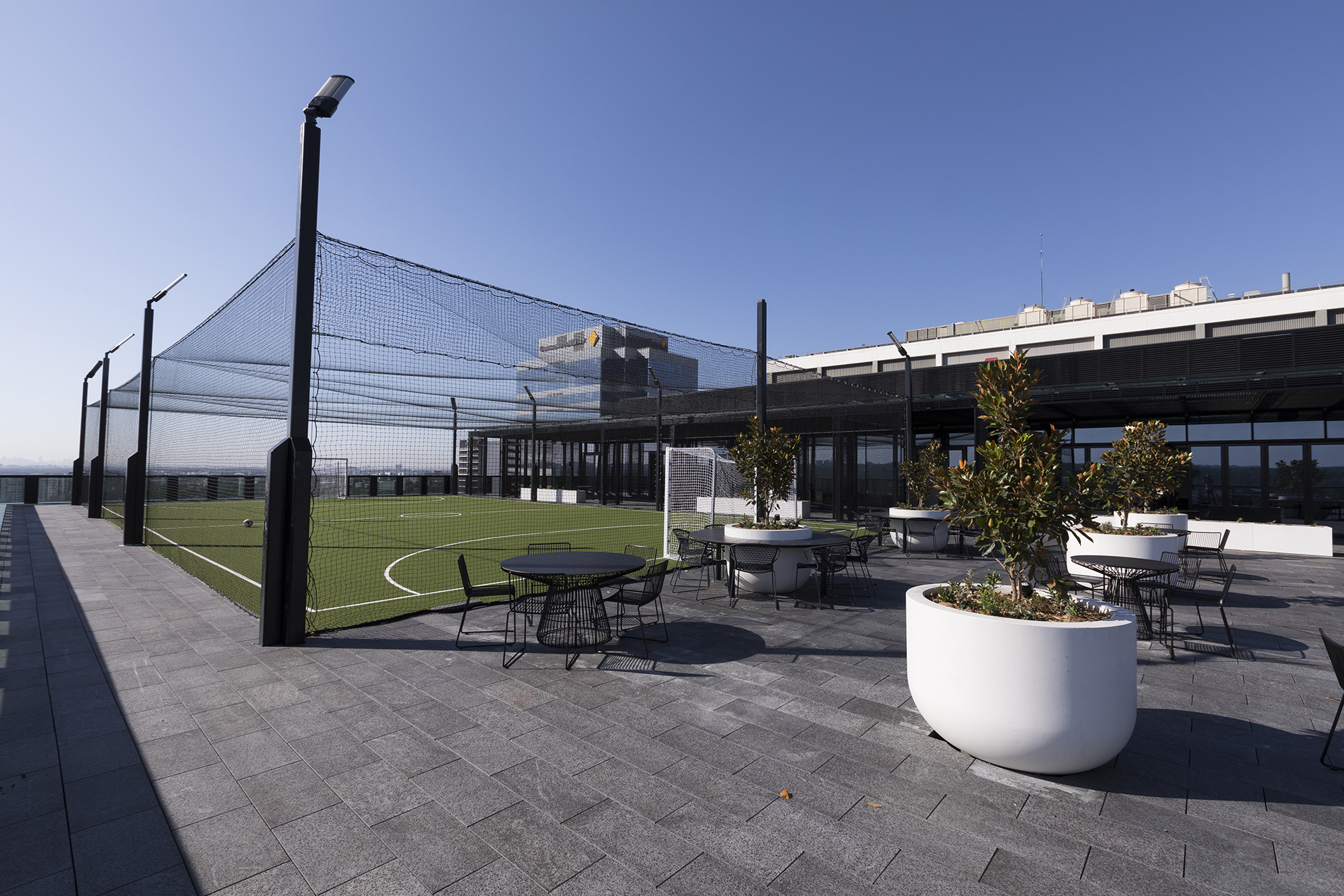 105 Phillip Street, Parramatta includes a rooftop terrace with a communal outdoor dining area and sports court.
"Parramatta is looking to give its buildings unique design elements that far surpass the features that properties in the CBD currently offer," says Bradley Dorn, an associate director with the architectural firm Bates Smart. Bates Smart designed 140 George Street, Dexus's upmarket offering in Sydney's second city.
In fact, Dorn points out, it is no longer just the Sydney CBD that Parramatta must compete with, but a growing number of other satellite CBDs. The best weapon in the battle for CBD supremacy, he believes, is the quality of the architecture.
"We have tried to think beyond the basic expectations of commercial architecture and create a statement building that uses design to boost wellbeing. It is a building that is far more dynamic and more inviting, more comfortable, more relaxed," he says. "By using some strong architectural statements, 140 George Street stands out from the crowd."
The 33-storey commercial tower at 140 George Street, Parramatta is far from an ordinary office. Care has been given to all aspects of working life, resulting in an A-Grade property that is fully focused on the customers' patterns of use. High-quality amenities throughout, an abundance of natural light (including river views), a range of terraces and garden areas, and a clever structure that allows people to be connected across different levels, combine to make it an appealing package.
"You are seeing a lot of those design elements work through into worker happiness, and that translates to businesses becoming more efficient."
Bradley Dorn
Associate Director
Bates Smart
For Dorn, the building's most exceptional feature is the thought that has been put into the health and wellbeing of workers in the building.
"A special characteristic of this design is the end-of-trip facility in the building, with bike parking, showers and a gym of a quality that is unparalleled in Parramatta," Dorn says. "It gives workers more opportunity to ride their bike into the city, then change and prepare for their day in an amazing facility that is almost spa-like in its design and objective."
This area also has the potential for yoga studios to provide lunchtime and after-work classes and, unlike many offices, the facilities have access to natural light.
"Ample daylight actually moves through the space," says Dorn. "It has its own private gardens and it is a really beautiful and tranquil environment."
Workers' after-work life is also high on the agenda of 140 George Street, with a large retail area providing space for restaurants and bars, as well as a new public plaza off George Street wrapping around a sunken garden.
It's been thought through carefully, with the aim of providing an accessible and welcoming space for staff to take time away from the office.
"The street level dining options that operate during lunch time and after-work hours invigorate the building throughout the entire day, which will make it a very attractive place to work," Dorn says.
All this effort has been made not just to attract tenants but also to help tenants retain staff and keep them happy. The relationship between an individual and the building they work in is important. It's where some people spend the majority of their waking hours during the working week, and so it's hardly surprising that the environment affects how they feel.
"When the workforce is happier and healthier, they become more productive, less staff turnover occurs, and people stay in their positions longer within the company," says Dorn. "So you are seeing a lot of those design elements work through into worker happiness and satisfaction. And that translates to businesses becoming more efficient.
"Staffing is one of the major costs in an organisation. If you can keep people and attract new staff because you are able to offer a fantastic workplace that is dynamic and interesting, that is good for the bottom line."
Prism Mailing List