Turning the tide on fighting food waste
Article3 min21 August 2018By Amy Cooper
After the tables are cleared at corporate events, a mountain of leftover food remains. But the tide is turning, thanks to these waste warriors.


Imagine a mountain rising from the depths of Sydney Harbour, dwarfing the Opera House and towering over the Harbour Bridge.
That's what the $20 billion of annually wasted food in Australia would look like if dumped into the city's famous postcard view.
The shocking image was brought to life by Australia's leading food rescue organisation – OzHarvest – as the latest salvation in its 14-year battle to reduce this country's five million tonnes of unused food sent to landfill each year.
With the national target to halve food waste by 2030 in line with the United Nations Sustainable Development Goals, the message has renewed urgency.
Across the country daily, OzHarvest's distinctive yellow and black vans collect quality excess food from commercial outlets and deliver it directly to more than 1,000 charities supporting people in need. The 100 tonnes of rescued food each week come from over 3,000 food donors including, corporate events and boardrooms.
"We need every business, large or small, to be part of the solution." Ronni Kahn, OzHarvest
The business of waste
Although available statistics don't reveal the percentage of national food waste resulting specifically from corporate catering, OzHarvest CEO and founder Ronni Kahn knows from personal experience that it's a lot. 

"The reason I started OzHarvest in 2004 was from my own experience of being part of the problem," she says. "Running an events business for many years, I saw how much food was going to waste and decided to do something about it."

OzHarvest collects food from a number of corporate caterers, but there is still much to be done. An enormous amount is wasted by hotels offering huge breakfast and lunch buffets, corporate events and conference venues.

Kahn urges these businesses to work with OzHarvest. "A simple call to us in advance of an event or even on the same day means that we can make sure that a business is not wasting food and it will be delivered within a couple of hours to a charity."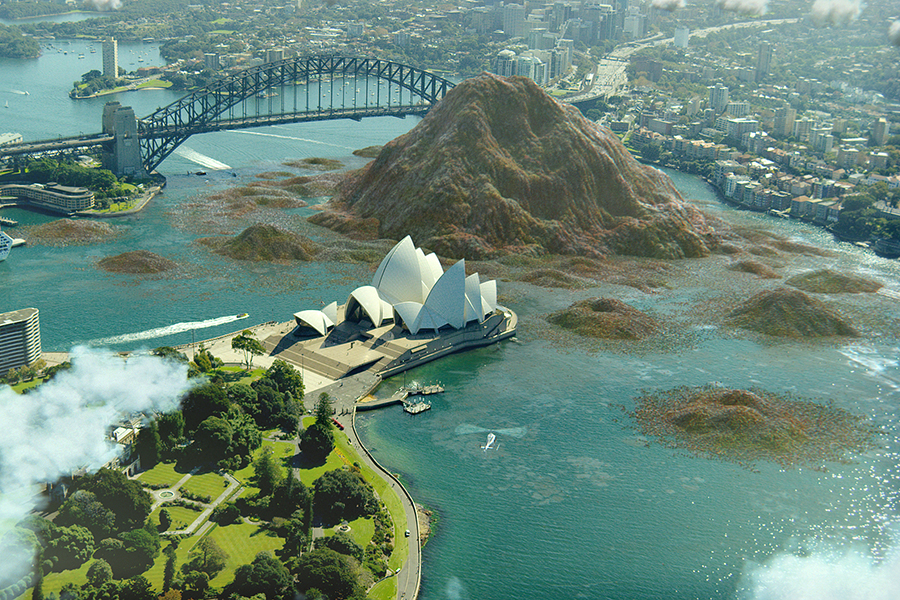 What $20bn of food waste would look like in Sydney Harbour, according to OzHarvest. Image credit: Christian Debney
Creative catering
Catering companies have a major role to play in the war on waste, and Sydney events caterer Dan The Man Cooking is on the frontline, with a mission to have zero waste in landfill by the end of this year.
"At Dan the Man, we believe waste is a failure of the imagination," says co-director Ilana Cooper. "We use the brains of our team to come up with creative strategies to reduce waste."

These include using offcut fabrics from a local fashion designer as napkins, recycling cooking oil for soap, making sodas in-house and sourcing local, seasonal produce.

"We'd probably say our best food waste reduction strategy was working with Rose Bay Community Garden to send our green waste there to be composted," says Cooper. "Not only is it reducing our waste, but it's going directly back to the soil where it came from."

The zero waste mission was born when Cooper and chef Dan Lewinsky identified a lack of concern in the hospitality industry about waste. "The conversation in the food industry has been around provenance," she says.

"We loved that everyone was conscious of the beginning part of food production, but no one was talking about the end part of the chain – what happens to food waste and packaging after the event."
Spreading the word
Education is crucial, agrees Alex Elliott-Howery, owner of Sydney's Cornersmith, which expresses its sustainability philosophy in three cafes and stores, as well as a cooking school offering team-building courses on waste-reducing techniques such as pickling and preserving.

"We get a lot of chefs coming in from restaurants, big name restaurants, who have had no training about how to reduce food waste in the kitchen," Elliott-Howery says.

"The main way to reduce food waste is not over-ordering and being mindful of serving sizes you send out," she says. And we're very big on using the entire produce, getting as much as possible out of what you've got."

Elliot-Howery adds: "If businesses knew how to make food last longer, there would be a lot less waste – it's often about using sugar, salt, oil, vinegar to preserve food. It's also about changing bad habits, such as just chopping off the top off a leek and throwing it in the bin – there are four different things you can do with leek tops! It's not rubbish. We use apple skins to make apple crisps and parsley stems for a chimichurri sauce."
Leading the way
Waste-aware event organisers have also taken strides towards dealing with leftover food. TedxSydney showed us how it's done.

This year's event's waste reduction initiatives included 1.8 tonnes of waste composted and diverted from landfill, guests refilling their water bottles, and OzHarvest collecting two van loads of leftover edible food.

Such achievements are encouraging, says Ronni Kahn, but still not enough. "The time has come to stop talking about it and accelerate the action," she says. "We need every business, large or small, to be part of the solution."
Prism Mailing List