Warming up to solar energy
Article3min07 May 2019By Karen Jamal
The sounds and smells of old Pyrmont – the shriek of sawmills and hammering from the foundries, the countless chimneys disgorging out dense, black smoke – hardly seem compatible with sustainability.
Decades after the last of Pyrmont's wool palaces closed their doors, 100 Harris Street has been converted into a state-of-the-art office and one of Sydney's newest sustainability superstars. Constructed in the late 1890s and expanded in 1910 for wool brokers Schute, Bell, Badgery & Lumby, the building laid dormant for decades before it was redeveloped in 2017. And now it boasts one of the largest office rooftop solar arrays in Sydney.
Good bones for green
Despite its heritage design, 100 Harris Street possesses all the hallmarks of cutting-edge sustainable design: solid brick walls, high ceilings and natural materials – the perfect foundation to leading sustainability performance

The building's old-world charm is preserved in the massive original ironbark columns – carefully positioned to accommodate the standard dimensions of wool bales – while a new atrium floods the building with natural light.

The sawtooth roof, typical of design and manufacturing buildings of its time, features a series of ridges with glass panels that diffuse natural light over a large area. And that sawtooth design is now earning praise as a renewable energy powerhouse, with its distinctive shape ideal for solar panels.

Alexandra Brownlee is portfolio manager at Dexus, the owner of the building. She explains, "When we purchased the building, we knew immediately that the structure and type of building was perfect for solar panels, especially the angles of the sawtooth roof."

The 606 solar panels which now adorn 100 Harris Street's roof power the base building services, including lobby lighting, lifts and air-conditioning. "While we are seeing more and more large solar panel installations on shopping centre roofs or large industrial warehouses, they are much rarer on offices because their roofs aren't always accommodating," Alexandra adds.

But with a bit of creative thinking, technical know-how and the support of Dexus customers, 100 Harris Street will generate around 250 kilowatt hours of energy each day – the same amount of energy required to recharge more than 22,500 smart phones.

While Alexandra says there were inherent complexities, "particularly as we were working with a heritage asset", the solar panel project will pay for itself within around 5 years".

The solar panels will also contribute to a higher NABERS rating (a national rating system that measures the environmental performance of Australian buildings, tenancies and homes), which not only enhances the asset's value but also supports the sustainability goals of the building's customers.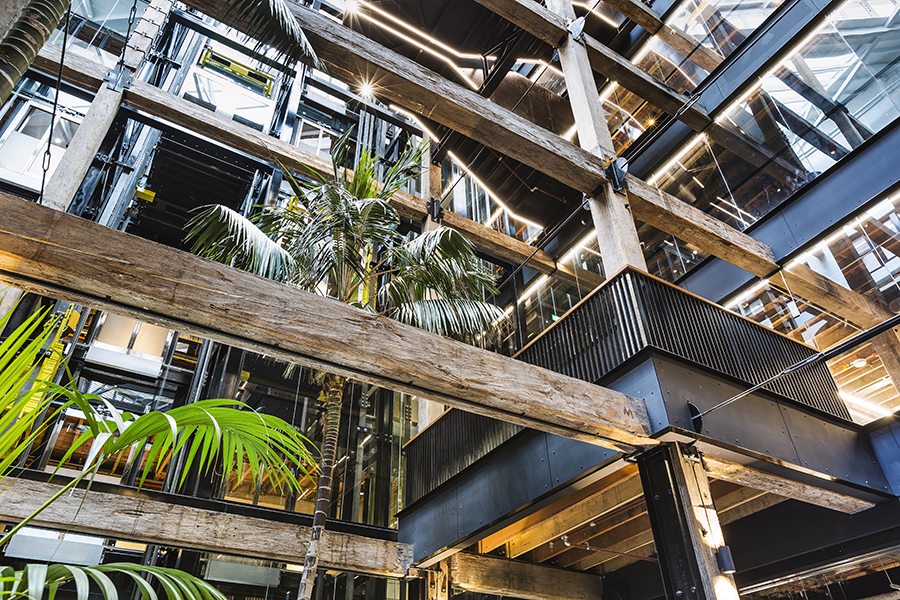 Interior of the 100 Harris Street building in Pyrmont
Solar star performer
Australia has the highest uptake of residential rooftop solar in the world, with more than two million households powered, at least in part, by the sun.

While solar in the office sector has seen a slower rate of adoption, market leaders are seeing its potential to save money and cut carbon emissions.

Take Australia Post's retrofit of StarTrack House in Sydney's Strawberry Hills, which has achieved a string of design awards and sustainability accolades.

The installation of 1,048 solar panels on the roof – one of the largest commercial arrays at the time – produces 371.5 megawatt hours of electricity each year. This is enough to reduce the base building's electrical load by a quarter and save Australia Post $340,000 in energy costs each year. Carbon emissions have also been cut by around 318 tonnes – the equivalent emissions generated by around 100 average Australian homes annually.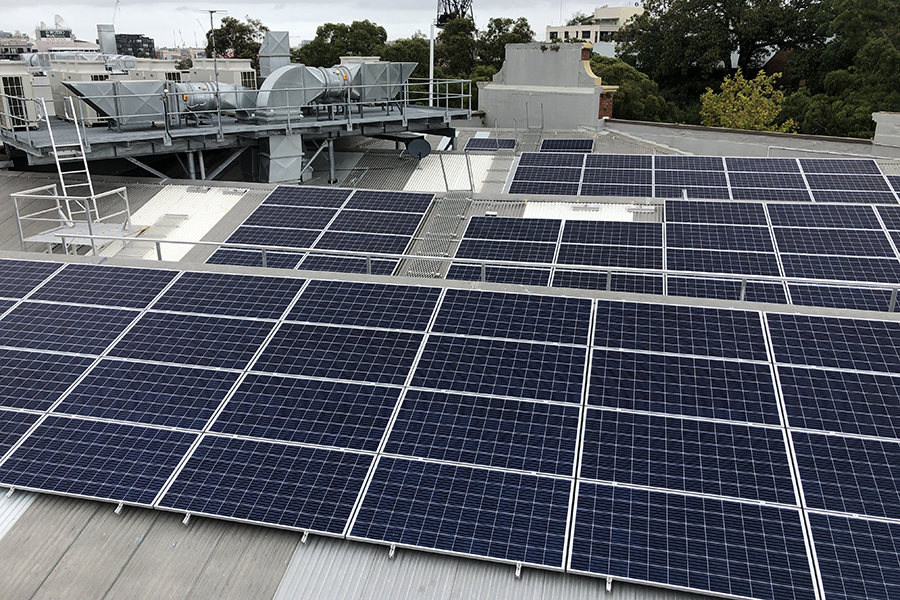 Solar panels on the roof of 100 Harris Street, Pyrmont
Easier to be green
Meanwhile, customers at 100 Harris Street, including Domain Group and WeWork have wholeheartedly embraced the building's green initiatives.

Rosalind Tregurtha, Domain Group's Director of Employee Experience, says the solar panel project at 100 Harris Street aligns with her company's core values.

"We're committed to improving our environmental performance across all of our business activities. Having solar panels installed on the roof of our head office is something we were happy to support," she says.

"Our employees were really curious about the progress and how the solar panels would work. The project enabled us to engage our teams and talk about sustainability."

Domain Group is a signatory of the national CitySwitch Green Office program, a collective of companies that together make up 16 per cent of Australia's office space.

"Over the last couple of months, we've implemented several sustainability initiatives: installing compost bins, rolling out coffee cup recycling, removing single use plastic from our offices, and taking part in Clean Up Australia Day," Rosalind explains.

Dexus, Domain Group and the entire customer community in 100 Harris Street are also competing in the Better Buildings Cup, a challenge undertaken by some of Australia's largest buildings and companies to find Australia's healthiest and most sustainable workplace.

"It was timely to have our building partially powered by a renewable source of energy as we work with other tenants in 100 Harris Street to compete for the Cup," Rosalind adds.

Alexandra Brownlee says Dexus's work on 100 Harris Street demonstrates the potential for solar in other commercial properties.

"Buildings generate 23 per cent of Australia's carbon emissions, but they also provide some of the cheapest solutions. It just takes the right building and great partners wanting to create better workplaces," Alexandra concludes.
Prism Mailing List