Empty words or words to live by: what is the merit of company values?
Article4 min11 December 2018By Sue White
They are supposed to be words to live by, but in many cases company values can seem more 'empty' than 'inspirational'.


According to the managing director of Brandswell, Sophie Bartho, even company leaders can be cynical about, well, the value of their company's 
"The pattern and the history, sadly, has been posters on a wall rather than values that are demonstrated, lived and celebrated within the business," Bartho says.
There are good reasons to turn this around. Bartho believes well-chosen company values create alignment and can also help attract or retain the right talent and the right customers.
"There are enormous efficiency gains to be had in doing this well," Bartho says.
Connecting with staff
Co-founder and CEO of Filtered Media, Heather Jones recently revisited her company's values after eight years in business. While the company vision hadn't changed, management decided to cut down the initial eight values to four to ensure they remained meaningful (and, she confesses, memorable).

Jones's experience in business also taught her that there needs to be an inherent values 'match' between staff members and those at the helm.  At the moment, Jones's agency employs mostly twenty to forty year olds; a factor she thinks plays a role in which values are embraced by staff.

"My parents' generation is a 'what' generation; we are a 'why?' generation.  It used to be that 'what' you do defines you. But the generation now is always looking for the why: they don't so much care what they do, but why they are doing it," Jones says.

There's another key reason to get this right: retention.

"If you want [strong levels of] retention with staff, you have to know the why – and ensure their why is the same as yours," Jones says. 

In interviews, Jones actively looks for the company's values in action.

"As we talk…we're actively looking for signposts of Excellence, Positivity, Integrity and Curiosity in a candidates' personal or past professional lives. 

"For integrity, if they've done volunteering, for example, that's a signpost.  For curiosity, if they've travelled, studied a language, watch documentaries, go to festivals, or pursue a sport or hobby, that's a signpost.

"I remember one candidate who spent a lot of time dissing another agency and its personnel in an interview – possibly to show her newfound allegiance to us – but it didn't sit right with our culture that values positivity and integrity," Jones says.
"Well-chosen company values create alignment and can also help attract or retain the right talent and the right customers," Sophie Bartho, Brandswell
Which values?
Given the impact values can have on attracting the right staff – and the right customers – Bartho's process when working with businesses to develop their values is to start by going wide.
"We look holistically: internally and externally. Stakeholder consultation goes beyond the staff and includes clients and even suppliers, because how you live those brand values is demonstrated in every conversation and interaction," she says.
Once values are decided upon, the key to success is using them well.
"They have to be part of ongoing professional development, but they can be used in many other ways. I think company values should be on agendas, board papers and letterheads, so they can be used in meetings for decision-making, especially when a company is facing difficult decisions," Bartho says.
It's also useful to ensure staff feel values are tied to performance. This may be done via formal KPIs, or used simply as reinforcement in annual or quarterly reviews.
"Reference them as a story. For example, you could say: 'I love the way you live our core values. I saw you being so supportive to that colleague,' and so on," Bartho says.
"You need to show you are observing, witnessing and rewarding people on how they are living and breathing the values." 
Back at Filtered Media, values are embedded into both KPIs and professional development. Jones also believes values should be formally launched off-site, allowing plenty of time to explain why they've been chosen, what they mean and how they look in practical terms.
"One of our values is positivity. Does this mean we always have to be in a good mood or agree with each other? No. But it means that every problem has a solution, and that if we make mistakes we try to learn from them," Jones says.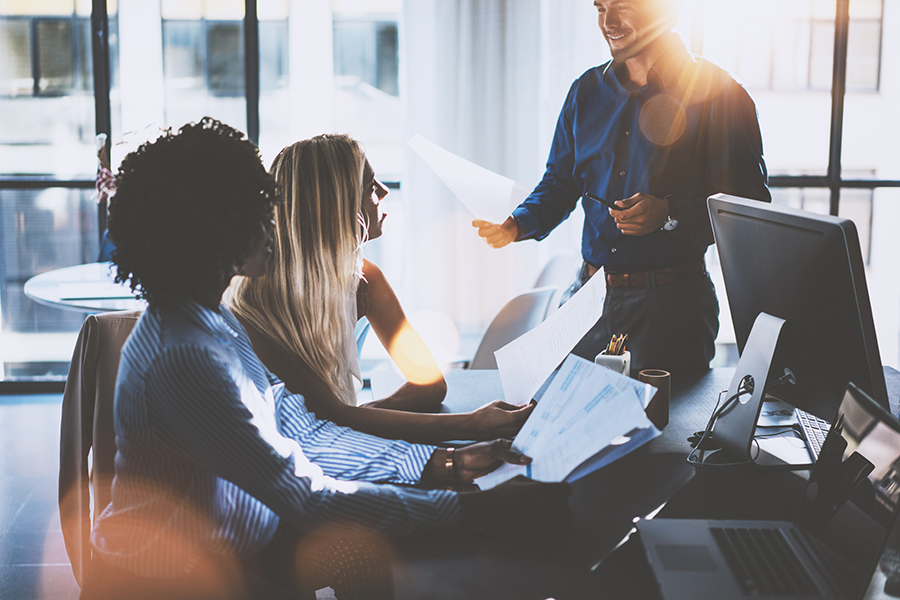 Choosing the right words
Bartho says the most important issue to avoid when introducing values that get traction with staff is inauthenticity.
"These have to be stories that are real, celebrated and governed. It is also important that management don't contradict them," she says.
At Filtered Media, an inclusive process whittled down top choices in pairs to ensure that it wasn't simply the loudest voices that were heard.
"You need to respect the introverts too," Jones says.
Introverted or extroverted, there is little chance of Filtered Media's staff members forgetting the company's new values (excellence, positivity, integrity and curiosity): they are mentioned at every staff meeting.
"We do a shout out for people who have lived over and above our values. Everyone loves that part of the meeting," Jones says.
As to bringing those values to life outside the office, Jones says this is a bit chicken and egg.
"Which comes first, your personal values that you bring to work, or do your company values influence your personal life?"
What she does know, however, is when they've nailed it.
"We offer two YOLO days per year (You Only Live Once) for employees to do whatever brings them joy. Some people spend it with friends, some in bed with a book, some at the beach.
"It made me smile on the inside when one of our staff opted to spend her YOLO day going to a seminar on feminism in economics, or something equally niche, and was bubbling with energy and stories about the experience.

"If that's not our value of curiosity in action, outside of work, I don't know what is."
---
Six Australian companies and their core values


Shell Australia
Honesty
Integrity 
Respect for people
Red Balloon
Fail fast, learn fast
Best version of ourselves
Make an impact
Atlassian
Open company, no bullshit
Build with heart and balance
Don't #@!% the customer
Play, as a team
Be the change you seek
The Australian Ballet
We are exceptional
We are ambitious
We are innovators
We are proudly Australian
We are one team
We are sustainable
Energy Australia
Customers are our priority
Do the right thing
We lead change
True North Adventure Cruises
Being Australian
Being Adventurous
Being Natural
Being Extraordinary
Being Respectful
Prism Mailing List