Why businesses are embracing the circular economy
Article3 mins13 April 2021By Karen Jamal
The circular economy isn't just about waste management. Thinking in circles demands a different mindset which looks at everything from buildings to business models through a different lens.

Each year, more than 90 billion tonnes of primary materials are extracted and used around the world – and just nine per cent is recycled. The idea of a 'circular economy' replaces this linear system of 'take-make-waste' with a model in which materials recirculate in a closed loop. 
This closed loop minimises our impact on the environment by reducing the consumption of precious resources and eliminating emissions that would otherwise be produced during the manufacture of products and materials. 
But a true circular economy is about more than just recycling and emissions reduction. It is a shift in mindset, says the Property Council of Australia's policy manager and circular economy specialist, Tim Wheeler.
"We are seeing a big paradigm shift underway as people realise the circular economy is about far more than how we dispose of our rubbish responsibly," 
Tim Wheeler
Property Council of Australia
More mindset than waste management
"We are seeing a big paradigm shift underway as people realise the circular economy is about far more than how we dispose of our rubbish responsibly," Wheeler says. 
Wheeler is currently leading a roundtable of property leaders to address the obstacles and seize the opportunities of the circular economy. 
Circular economy practices have the potential to drive new jobs and industries. KPMG predicts the circular economy could boost Australia's economy by $210 billion by 2048.
When it comes to buildings, Wheeler says the scale of the opportunity is as big as the possibilities. According to the Ellen MacArthur Foundation, a global champion of circularity, the building sector consumes around 30 per cent of global resources, generates 40 per cent of the world's waste and produces around a third of emissions. 
"A problem this big can't be solved by one company or in one building. It takes a whole new way of working together." Wheeler points to the "ladder of circularity" as a starting point for the paradigm shift. 
"The idea is not to wait until the bins are full, for example, to look for solutions. Instead, remove waste from the design in the first place by refusing to use, redesigning what we do use and rethinking how we work with what we have. Recycling and recovery should be right down the priority list."
Ladder of circularity
Circular thinking often starts small – with reusable coffee cups or recycled paper – but the problem looms so large that innovative ideas and entirely new business models are required, says Rob Sims, Senior Manager of Group Sustainability and Energy at Dexus.
"We are tackling waste in multiple ways at Dexus. Our waste management strategy is aligned with industry best practice outlined in the Better Building Partnerships' Operational Waste Guidelines.
"We are looking at how we measure circularity through waste diversion rates and emissions reduction. And we are working with suppliers to reuse consumables – like take-back packaging that we hand back to the manufacturer.
"But circular economy principles are more than a natural extension of the sustainable procurement and waste management processes. There's a lot more to consider."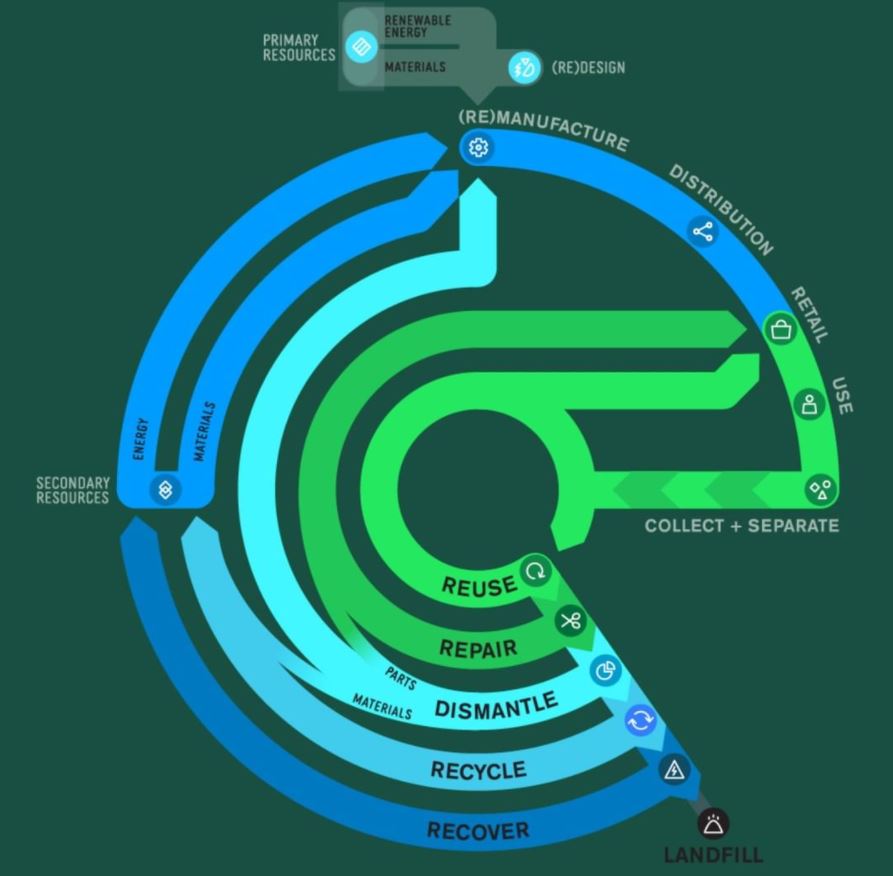 Source: Planet Ark

Space sharing is circular
Sims points to the sharing economy, which Dexus is tapping into as a solution to fitout waste.
Around one fifth of fitout waste is currently recycled in Australia. In Sydney, for example, around 25,000 tonnes of recyclable or reusable material – including glass, metals, ceiling tiles, carpets, plasterboards and furniture – ends up in landfill each year when a lease ends. 
Dexus has adopted the Better Building Partnership Stripout Waste Guidelines and has set an 80 per cent waste diversion target. 
"We take an inventory of everything in the tenancy to determine what can be given a second life – whether that's reusing plasterboard or donating furniture to charity," Sims explains.
After completing more than 100 projects using these best practice principles, Dexus has undertaken both carbon and cost analysis. 
"We've found an almost 20 percent reduction in carbon by embracing this reuse and recycling ethos," Sims says.
But new business models can also play an important role in eliminating unnecessary materials, Sims adds. Dexus Place, for example, allows customers to lease serviced meeting and training rooms for anywhere from an hour to six months. 
"By introducing this sharing model, we help our customers to manage temporary overflows in space, reduce fitout waste and ensure their tenancies have the longest possible life."
Customers look towards transformation
The Property Council of Australia's Wheeler says the circular economy will be "transformational" because it requires systems-wide change. 
"There must be collaboration across all sectors and at all stages of a building's lifecycle."
This means tenants have a central role to play. "Tenants are at the forefront of waste collection, so recycling is an obvious place to start," says Wheeler. 
"Talk to your building owner and ask for a NABERS Waste rating. This shows you the chain of custody of your waste and helps you gain transparency and set a baseline to work from."
But both Wheeler and Sims urge tenants to up the ante.
"Tenants have a lot of leverage and can direct their procurement power towards products that are part of the circular economy," Wheeler says.
Sims agrees. "Ask your landlord about the origins and recyclability of the products being used in your building so you can understand their environmental impact," he advises.
"Take stock of the materials that flow through your business and your building. Evaluate whether you need those materials, how you procure them and what part you play in the chain of custody of those materials.
"Most importantly, establish partnerships – because none of us can solve this on our own. At Dexus we see ourselves as a space partner, and that means helping our customers to meet their circular economy goals."
Prism Mailing List