Wooden wonders: the timber high-rise revolution
Article3 mins18 November 2019By Amy Cooper
The concrete jungle may soon be concrete no longer, as a forest of timber towers takes root in our cities.
There's something special about timber, as the tenants at Sydney's 100 Harris Street can testify. 
The 130-year old former woolstore, which has been refurbished as creative office space, is renowned for its original timber interior with massive exposed beams, each bearing the hallmarks of a remarkable history. 
Despite the heritage building's 26,800 square metre footprint, occupants describe it as intimate, says Dexus portfolio manager Alexandra Brownlee. 
"Even though the floorplates are huge, the space feels really cosy; more like an oasis than an office."
When 100 Harris was built, wood was chosen for efficiency, rather than beauty. "It was the cheapest and fastest building material available at that time," says Adam Haddow, principal director of SJB Architects, the firm behind the redevelopment. 
"The benefit 100 years later is that the timber interior is an incredibly warm and inviting space. The timber lends the building a feeling of permanence and familiarity. Everyone who walks in is captivated by it."
"The biggest benefit of engineered timber is that we can grow the structural materials to construct our cities and multi-storey buildings." 
The rise of the plyscraper
Many cities around the world share this appreciation. Increasingly, timber towers are punctuating concrete and steel skylines. In Europe alone, at least 20 timber buildings above 50 metres were due to be completed by the end of this year. 
In Australia, a new generation of timber high-rises includes Brisbane's one-year-old 25 King, Melbourne's Library at the Dock and Sydney's International House at Barangaroo. UNSW has also joined the movement with its upcoming eight-storey D14 Academic Building.
These timber projects are all admired for their aesthetics but, just as in the old days, efficiency is a key driver. 
Recent technological advances have enabled 'engineered' or 'mass' timber,' composites made from layers of wood sealed together. This new super-timber, compared by some to large-scale plywood, can easily handle the load bearing demands of high-rise construction. 
These 'plyscrapers' are also easier and faster to build than their concrete equivalents. 
"The benefit which has proven most attractive to the construction industry is the off-site prefabrication aspect of mass timber," says Jonathan Evans, director at Tzannes, the architects behind International House and UNSW's D14 Building. 
"Each column and beam, wall panel, floor cassette, stair flight and lift shaft is fabricated in the factory. Once on site, the construction becomes more of an assembly of repeating parts, with the potential to strip months off the delivery program."
Built-in wellbeing
As Adam Haddow says of 100 Harris, "Being close to the timber makes you feel more connected somehow to the environment – you can see the structure, the knots and movement of the grain. 
"It's incredibly beautiful."
But the benefits go deeper. Timber is at the heart of a major building movement called biophilic design, based on research showing our wellbeing is improved by connection to nature. Biophilic design evokes nature through natural materials, shapes, greenery and light.
In workplaces, says Jonathan Evans, "the reduced stress levels, higher cognition and improvement in both physical and mental wellbeing are a wonderful outcome."
Biophilic principles led the design of Brisbane's 25 King, says Philip Vivian, director of Bates Smart, the architecture and interiors firm behind the project.
"Inside, the building's exposed timber creates an emotional connection. Its warmth makes the interior glow, and its acoustic properties help temper sound," he says. 
"This biophilic design improves daily wellbeing by better connecting people to nature."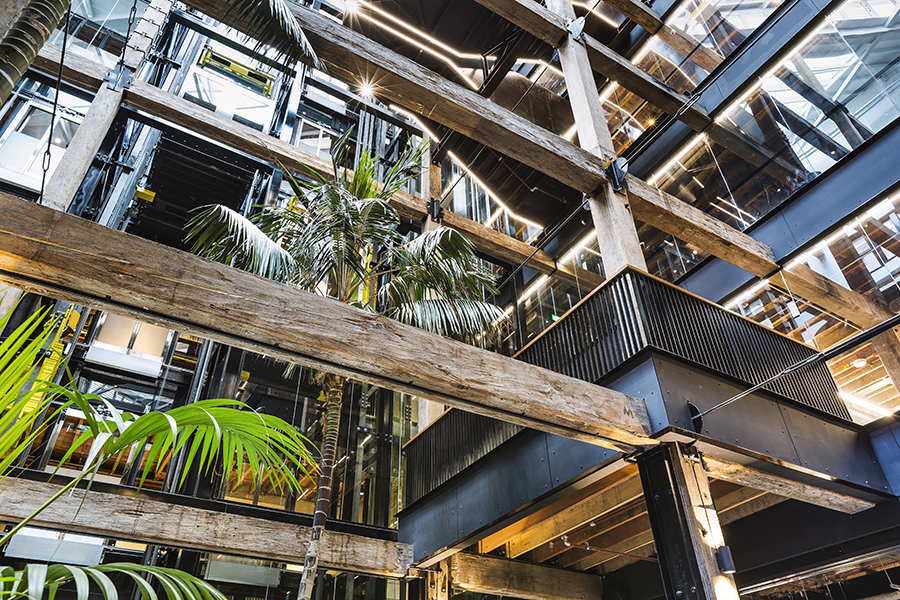 Timber is a prominent feature throughout 100 Harris Street in Pyrmont
Better for the planet
The building industry is thought to account for a hefty 40% of the world's carbon emissions, and many believe that engineered timber has the potential to mitigate this environmental damage.
Forests are a natural 'carbon sink,' absorbing and storing CO2. When harvested, timber continues to sequester carbon for its entire life. 
Says Philip Vivian: "Timber's major environmental advantage is its ability to sequester carbon: 25 King's design achieves a 74% saving in carbon when compared to an equivalent concrete and steel building."
Jonathan Evans adds: "For me, the biggest benefit of engineered timber is that we can grow the structural materials to construct our cities and multi-storey buildings. 
"Not only that, but grow them from an endlessly renewable supply chain, provided that we continually expand our native forests and plantations."
The future looks wooden
We can expect growing numbers of wooden wonders on city skylines. Tzannes has just completed Daramu House ('treehouse'), the sister building to International House. 
"It further extends the innovation in commercial timber construction by expanding the column grid to a world first 9 x 9 metres," says Jonathan Evans.  
Additional timber buildings in Bates Smart's portfolio include a 10-storey timber extension to a 1969 commercial tower, 55 Southbank, in Melbourne. 
"The structure will be able to sequester 4,000 tonnes of CO2, the equivalent of the annual carbon emissions of 130 homes," says Philip Vivian.
And SJB will once again take inspiration from timber's rich history, with a new six-storey timber framed office building in Redfern. 
Says Adam Haddow: "It has a rich timber interior, drawing on the qualities of the historic warehouse buildings that populate the CBD fringe suburbs of Sydney. 
"It's a new addition to this history and an incredibly exciting building to work on."
Prism Mailing List