The rapid rise of fintechs: What does it mean for 'Big Finance'?
Article3 min11 September 2018By Martin Kelly
If ever an industry was ripe for disruption, it's banking and financial services.


Mired in centuries of tradition, protected by strict legislation, caught in the cross-hairs of the Banking Royal Commission, the rivers of smart money pouring into the rapidly emerging fintech sector clearly say change is not a matter of if, but when.
But what form will this change take and how will it impact on 'Big Finance' – the banks, wealth advisors and superannuation funds that rule the Australian economy?

The early evidence suggests that the innovation now occurring in fintech is more likely to reinvigorate the sector than bring the market leaders down in the way that disruptors have done in other industries such as transport (think Uber) or accommodation (Airbnb).

That's because the financial incumbents are taking a partnership approach, looking to learn from the new players while often investing in the new technology and systems.
"New technology and services that make our lives easier and are built around what we want rather than what a financial services incumbent thinks we want." Meredith Angwin, Ernst & Young
Australia fintech hub, outlook bullish
After lagging global tech trends for many years, Australia has really picked up the pace when it comes to innovation and this is especially true with fintech.

According to the latest EY Fintech Australia Census, there are now around 600 Australian fintech companies – more than double the number in 2015

"Fintech has evolved from being quite a fragmented tech sector to one that has much greater definition and structure," the report said.

"The prevailing outlook of many fintech industry leaders is optimistic, if not bullish about what the future holds."

The rapid growth is partly due to increased government support for innovation. In NSW, the state government is working with the tech industry to develop a new technology and innovation precinct stretching from Central Station through to the Eveleigh precinct in Redfern.

"This will cement Sydney as the technology capital of Australia and create more secure jobs," said NSW Premier Gladys Berejiklian.

The NSW government has also thrown its support behind Stone & Chalk, which claims to be Asia-Pacific's largest fintech hub with 100+ startups, through subsidised rents at its York Street offices.

Stone & Chalk landed in Melbourne last year in response to soaring demand among the city's startup community , which has been strongly supported by the Victorian government and Melbourne's established financial community.

The federal government has also recognised the need to support the nation's small businesses with the announcement of a major new fund using Commonwealth bonds to back small business.

The scheme, the Australian Business Securitisation Fund, will establish a fund to invest in providing loans to small business via non-bank and small bank lenders.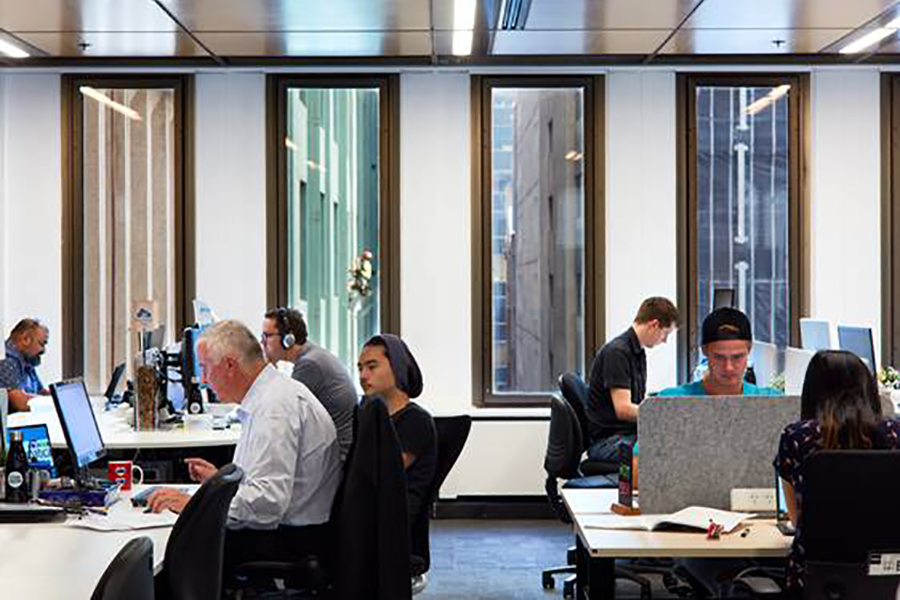 Stone & Chalk is the largest fintech hub in Asia.
Change to benefit all
Marie-Anne Lampotang, GM Stone & Chalk Sydney, believes the banking and financial services industries will strongly benefit from this new wave of innovation. "Fintech presents a massive opportunity for banks," she says.
AustralianSuper Chief Executive Ian Silk agrees, hailing the partnership-based approach between established financial industry companies, some of which have been around more than 100 years, and entrepreneurial startups. "It will bring benefits to both sides," Mr Silk said.

Consumers will also win. 

"Australians have always been early adopters of new technology and services that make our lives easier and are built around what we want rather than what a financial services incumbent thinks we want," says Meredith Angwin, Partner Financial Services, Ernst & Young.
Defining fintech not so easy anymore
Fintech traditionally covered industry verticals such as payment gateways, loans and wealth technology but has now expanded to include RegTech (regulatory technology), cyber/digital security and data analytics.
The common thread is that the fintech startups are using technology to make things easier for users on both sides of the fence, business and consumer.

An excellent example is Airwallex, which has so far raised an incredible $US102 million in funding to amplify its development of an international payments system that circumvents traditional channels and simplifies cross-border transactions.

Airwallex recently moved its headquarters from Melbourne to Hong Kong, where it is applying for a virtual banking license. This "would allow us to offer more banking products," Co-founder and chief executive Jack Zhang told the South China Morning Post.

(And make it a bank).

Meanwhile, Westpac Banking Corp has invested in Assembly Payments and plans to integrate its technology into its merchant terminals with customers' point-of-sale (POS) software, removing the need for transaction amounts to be entered into retailers' systems twice.
The last word
Industry leader Simon Cant, who among many things is the Managing Partner of the Reinventure Group, a major tech investor, believes that while it's a good thing banks, government and startups are working together, true disruption will come from an outsider.
"The disruption of financial services is most likely to come from digital giants from developing markets such as China, or even those technology giants from the US who are extending their platform dominance into financial services," he says.

What would that disruption be?

He doesn't say but one thing is for sure - the banks, or their customers, won't see it coming.
Prism Mailing List