Renewable energy is on the rise: how are companies capitalising on the opportunities?
Article3 min26 February 2019By Karen Jamal
Each year, billions of litres of water is pumped through the "mighty Snowy": a network of 16 dams, nine power stations and 225 kilometres of tunnels, pipelines and aqueducts that make up one of the world's modern engineering marvels.


More than 70 years after the construction started on the Guthega Power Station, the Snowy Mountains Hydro-electric Scheme remains Australia's most ambitious and impressive renewable energy project.
Originally designed to divert water that would otherwise flow out to sea, the Scheme stores up to 7,000 gigalitres of water – almost 12 times the volume of Sydney Harbour.

As the water is released from dams and makes its descent, it generates enough renewable energy to top up electricity supplies during peak times and to prevent 4.5 million tonnes of carbon from being released into the atmosphere each year.
Reliable renewable energy
Late last year, Australia's largest office landlord – Dexus– and Snowy Hydro's Red Energy inked a deal which will see the Snowy Scheme underpin reliable, renewable energy generation to power the operation of 40 buildings across New South Wales.

Over the seven-year Energy Supply Agreement – a first for Australia's property industry – Dexus will source more than 300 gigawatt hours of renewable energy, or the equivalent to the energy consumed by 38,000 households in a year.

According to David Yates, Executive General Manager for Sustainability at Dexus, the deal is expected to save our customers around 10 per cent on their energy outgoings and "insulate" them from electricity market volatility, while eliminating emissions.

"Customers and investors are demanding more reliable, environmentally responsible energy – and this agreement will deliver just that," Yates says.

The agreement also supports Snowy Hydro's investment in eight new wind and solar farms. These are currently under construction across New South Wales and Victoria and will have the capacity to power half a million homes. Importantly, these projects are backed up, or 'firmed', by the Snowy Scheme.

With its large water storage and its ability to generate energy on demand, the existing Snowy Scheme acts like "the biggest battery in the country" explains Paul Broad, Managing Director and Chief Executive Officer of Snowy Hydro.

"The dream of the Snowy Scheme was to move water from wet parts of Australia to dry parts. And as that water moves downhill, it generates power."

The Snowy Scheme can turn on instantly to fill gaps in the system when the wind is not blowing or the sun is not shining. The result is an energy mix that is both renewable and reliable.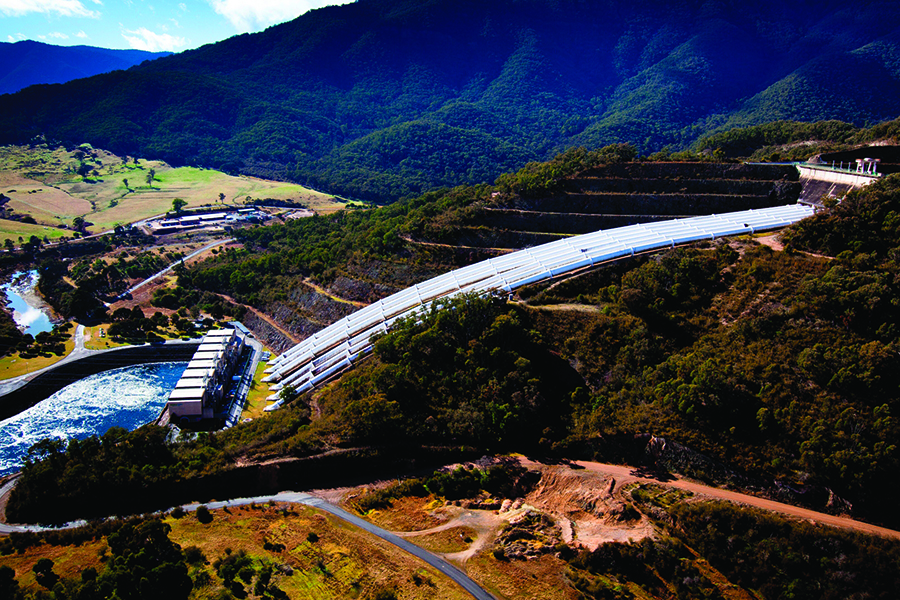 Tumut 3 power station, part of Australia's most ambitious and impressive renewable energy project.
$20 billion in renewable projects… and counting
Australia's renewables sector has doubled its output over the past 12 months, with the Clean Energy Council tracking more than $20 billion of projects under construction.

Energy generators, retailers and businesses are coming together to establish long-term renewable energy deals – and this is good news for office tenants, says Gilles Walgenwitz, General Manager, Energy and Carbon Markets, at Energetics.

Walgenwitz helps large energy users to navigate Australia's energy markets, manage the risks and seize the opportunities of clean energy. With both energy and climate risk management expertise, Energetics worked with Dexus to establish its long-term carbon emissions target, and its pathway to net zero by 2030.

Walgenwitz says building owners and managers like Dexus are committed to energy efficiency and are looking at onsite solar and battery storage, for example, "but typically they reach a point where they can't offset all emissions on site".

"Even if you put solar on your premises, space is limited. And that means the remaining greenhouse gas emissions must be offset, and, typically, a cost-effective pathway is through long-term contracts with renewable energy generators".

The ESA between Dexus and Red Energy means "tenants will benefit from their building running on green power and they'll be less exposed to volatility in the electricity market".

"Tenants will also be able to report that their building has a higher NABERS rating – something that is increasingly important to companies demonstrating corporate social responsibility through environmental performance goals.." Walgenwitz says.
"People want to know that when they turn the lights on that it has come from a renewable source," Paul Broad, Snowy Hydro
Bright lights, bright future
Broad is "very, very optimistic" about the future of renewables, and hopes the deal with Dexus is just the first of many ahead.

"Dexus and its customers can be proud to be leading the way on renewables," Broad says.

"Despite all the political machinations, the market has moved. We are past the economic tipping point and can deliver renewable energy cheaper than traditional ways – and we can do so reliably through hydro.

"People want to know that when they turn the lights on that it has come from a renewable source."

Walgenwitz urges tenants to capitalise on the renewable energy opportunity.

"Don't go into any tenancies with a low NABERS or energy efficiency rating," he warns.

"And value the long-term relationship with your landlord – they are best placed to strike a renewable energy deal to power your base building services, just like Dexus is doing. And if they can't, then it's time to shop around for a landlord that can."
Prism Mailing List