The blended workplace: getting the balance right
Article5 mins22 July 2021By Karen Jamal
One big question preoccupies the minds of both office landlords and tenants alike: how do we turn our office into a hub of human collaboration and creativity?


Let's start with a brief tour of the office throughout history.
Consider Exhibit One, Botticelli's painting of St Augustine in his cell, with a desk, chair and storage shelves the hallmarks of a humble workstation. Now let me direct you to Exhibit Two, row upon row of young women tapping out endless copy at their Imperial typewriters.
A haze of cigarette smoke obscures Exhibit Three, a crowded cubicle farm where style is sacrificed to function. And Exhibit Four? A coworking space with a slippery dip, swings and table tennis tables.
The point here is the office has always moved with the times.
"We're seeing an evolution of trends but also an acceleration of trends," says Chris Alcock, Principal of Six Ideas by Dexus. Alcock has devoted his career to helping companies harness the power of their workplace to catalyse innovation and cultural change. So, it is no surprise that he has spent the past 18 months thinking deeply about the future of the office.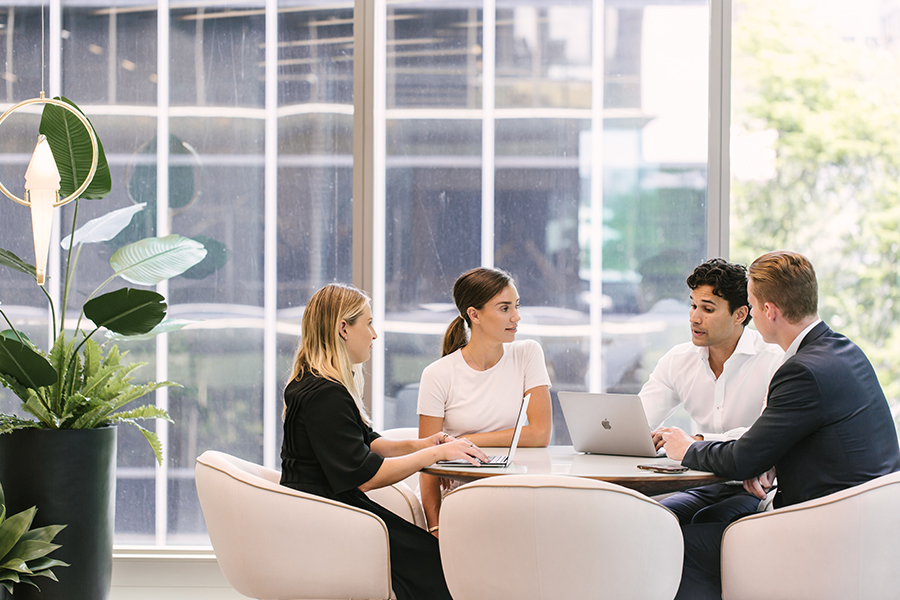 After surveying more than 7,500 people across 28 industries, Six Ideas by Dexus found that people don't miss the commute, but they do miss their colleagues. In fact, a lack of social interaction was the biggest downside of remote work for the majority of respondents.
Many of the things we took for granted – the casual corridor conversations, onboarding new staff and osmosis learning – happens automatically in the office, Alcock says.
"Physical space gives us a sense of identity and belonging, while virtual space tends to be completely anonymous.
"Our research has found that people care about their office. They want working from home to continue post-pandemic – but only for some of the time. The key word is flexibility," Alcock emphasises.
Yet with flexibility comes a host of new challenges. "It means rethinking the way the organisation functions – and that's not easy," he says.
Who wants to work from home?
- 73% want to work at least one day a week
- Only 24% want to work more than two days a week


Source: Six Ideas by Dexus - Workplace Study 2020
Ups and downs of hybrid work
"Hybrid working is here to stay," says Pfizer's Cathy Sullivan. As Director of Global Workplace Solutions for Pfizer, Sullivan manages the pharmaceutical leader's commercial real estate footprint across Australia and New Zealand.
Pfizer had shifted its Australian and New Zealand commercial teams to an activity-based and flexible model in 2018, with a "menu of work settings" available to its 500-plus people. These workplaces were well equipped to deal with the pandemic, Sullivan says, and surveys have since confirmed that teams are keen for hybrid work to continue.
Last year Pfizer launched a new flexible work benefit called Log in for Your Day, which empowers employees and their managers to determine when and where work gets done, depending on the business need.
But working-from-home presents both productivity boosts and pitfalls, Sullivan adds.
"The data is telling us that our people are spending too much time at their computers."
In response, Pfizer has experimented with a range of new practices, from breakaways to reducing meeting durations.
"We are actively encouraging people to take two-hour health breaks during the day and to choose walking meetings when they can," Sullivan says.
"Two-week focus periods in July and December give teams the chance to concentrate on our most meaningful work with less meetings and emails during the period."
Pfizer's experience is not isolated. Microsoft's 2021 Work Trend Index found 54% of us are experiencing digital overload, 39% feel exhausted and 65% crave more in-person time with their teams.
Sullivan says the work-from-home experience has emphasised the office's true purpose.
"People want an experience. They are coming into the office to socialise and collaborate."
Facilitating the social bump – with colleagues, customers and consultants– will require a rethink on policies, programming, services and workspace.
"We have an interesting challenge ahead. How do we design a flexible workplace that can accommodate multiple settings?"

The new normal is here
As MinterEllison's Head of Corporate Services and Workplace, Peter Wheatley, guides decision making that affects the day-to-day work life of 2,300 staff across Australia. When it comes to the world of work, he believes the current state of play is the "new normal".
"Just 5% of our staff worked regularly from home prior to COVID-19. Now 75% of staff do so once or twice a week, and in some cases even more.
"COVID-19 has challenged the notion that supervisors need to see their staff. There is less obligation to be in the office just to be seen.
"That's been the biggest shift," Wheatley says.
MinterEllison is seeing a similar pattern of work emerge across its national office footprint.
"We always planned for a more intelligent space system, so this has come at a good time for us to analyse the data.
"People are turning up three days a week on average."
Wheatley calls the pattern an "M-graph" – Mondays and Fridays are "very low", Tuesdays and Thursdays are the "high tide mark", with a slight dip on Wednesdays.
What people expect when they arrive at the office has changed, he adds. They want more collaboration and breakout spaces, but still need the occasional private room for quiet, focused work. Balancing competing space priorities is a big challenge.
One model MinterEllison is exploring would see a mix of open plan project spaces "so at the pinch point of a big deal we can bring everyone together."
Wheatley agrees that the hybrid workplace requires more coordination.
"If it is not set up properly, we risk losing some productivity," he says.
And when looking at the issues "through a legal lens", he urges a word of caution.
"Employers can't underestimate the bump factor on the stairwells or breakout spaces.
"We must be careful about where career development opportunities go and how new business is spread around – we can't afford to lose ground on diversity."
While MinterEllison's office footprint will change shape, it won't disappear. "Lawyers and consultants work hard and there is prestige associated with centrally-located office space.
"Ultimately our lawyers and consultants want to be located near our clients."
"It's not just our people's needs that are changing, it's also how our clients are starting to work. Everyone is on the same journey."
Peter Wheatley
MinterEllison

Blended office brings benefits
Six Ideas by Dexus is already working with clients on a new model called the "blended workplace".
Expect fewer individual desks and more collaboration spaces, Alcock says, together with sophisticated videoconferencing facilities, remote working technologies and real-time booking systems.
There will be more digitisation of documents, improved acoustics and, importantly, a greater expression of organisational identity and culture.
"We need to look at this through the lens of the organisation, the business unit and then the individual," Alcock says.
"How does the blended workplace benefit and impact each of them? There are many variables and responses and it's going to take some time to work out the new normal."
But Alcock is excited about the future.
"There are tremendous opportunities ahead," he says.
"The organisations that get on top of this first will gain competitive advantage."
Prism Mailing List