Maintaining your sanity in isolation
Article3 mins05 May 2020By Amy Cooper
Working where you live is not always as easy as it sounds. As a result of the COVID-19 pandemic, Australia has settled into a new way of working. Staying connected can be one of the biggest challenges of remote working, and there are ways and means to avoid feeling isolated.

On the surface, remote working sounds enticing: wear what you like, enjoy your own space and extra time with family. But the reality can present challenges.
Many of us have suddenly found ourselves working from home at a time when more people live alone than ever before. In Australia there are more than 2.3 million solo households, now facing an indefinite period of social restrictions. But even in shared homes, the sudden loss of daily connections can hit hard.
Science shows that loneliness takes a toll on our overall wellbeing. According to a range of studies, the health consequences of prolonged loneliness are equivalent to smoking fifteen cigarettes a day. A 2015 study by American neuroscientist and psychologist Julianne Holt-Lunstad found that over time, loneliness increased the rate of early death by 26 per cent.
"Right now, people are grieving for a lost way of life and the uncertainty of what will happen next."
Dr Jo Mitchell
Psychologist
Loneliness has a reason
Loneliness is a hard-wired biological survival response, says psychologist Dr Jo Mitchell. "It's a signal to reach out to other people and it's a normal part of being human. Our brains are inherently social."

"Right now, people are grieving for a lost way of life and the uncertainty of what will happen next. They might feel a range of emotions: irritability, sadness, frustration, anxiety."

Dr Mitchell suggests trying to accept your lonely feelings and other uncomfortable emotions.

"It's good to be compassionate to ourselves and others, and patient while everything settles."
The comfort of routine
In normal life, we often maintain clear separations between home, work and other activities, and the loss of this structure can be distressing, says Dr Mitchell.
"The human brain doesn't cope with uncertainty very well. Our sense of control has been shaken," she says.
"It helps to control what's controllable. Try to create new routines, rules and boundaries.
"Change out of your pyjamas, and try as best you can to separate work spaces from living places. Take regular breaks."
Workplace expert Michelle Gibbings recommends proactive planning.
"The night before, write down the list of activities and projects you want to progress and accomplish the next day. Time-block each one."
Time management specialist Kate Christie recommends a healthy pre-work routine.
"Use the time regained from your commute to create a lovely morning routine: a walk or a jog, or an online yoga or meditation class."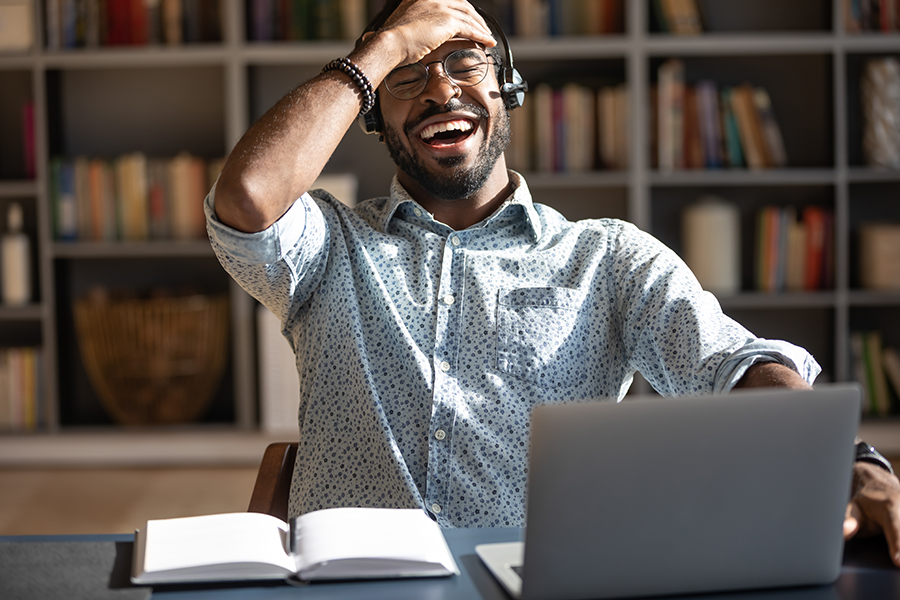 Connect – and reconnect
It's natural to miss the buzz of working face-to-face. Now that you can't chat across your desks, more effort is required to stay connected.
"Don't assume that because the team is working flexibly that your team dynamics need less attention. In fact, you need more," says Gibbings.
When consumer lender Wisr's 81-strong team moved to remote working in early March, CEO Anthony Nantes admits he struggled personally with the change.
"I always worked at the office and home was where I switched off. I missed my rituals: meditating on the ferry; getting a coffee from the café."
Nantes and his team have recreated their vibrant office culture remotely. To keep morale high, they connect daily through fun activities that encourage banter. Sharing humorous graphs on light-hearted subjects (such as Nantes' connection between daily ice cream intake and productivity) helps the team relax. Slack channels for jokes and even a Coffee Mates channel, where a bot pairs colleagues for virtual coffee breaks, stand in for the watercooler conversations.
"We have a daily team meditation, run online," says Nantes. He's also created a Wisr jigsaw puzzle and mailed it out to all team members with a prize for the first to complete it.
Creativity and positivity
With our devices currently powering work, study and social activities, there's a risk of spending excess time on screen, cautions Dr Mitchell.
"Try to incorporate off-screen activities, too: reading books, listening to music, cooking," she says. "Have intentional social time with others in your house - games time or quiz sessions."
Add daily good news to your information diet, she says. "Try instagram sources like @reasonstobecheerful and @happtivist."
Networks such as Action for Happiness (https://www.actionforhappiness.org) or books like Gretchen Rubin's The Happiness Project and The How of Happiness by Sonja Lyubomirsky are uplifting and informative. And switch regularly from the news to your favourite comedy shows for the proven therapeutic effects of laughter.
This is also a great time to plan and dream, says Christie.
"Set some audacious personal and professional goals. Plan that big trip, the outline for that book, or map out your career trajectory over the next five years."
Help is at hand
If you're feeling low, remember there's plenty of help available.
"It's normal to feel anxious, rundown, tired, sad, angry, irritable," says Dr Mitchell. "But if after two to four weeks those feelings remain heightened, then you might want to take some action."
There's always a free, non-judgemental listening ear at these organisations:
Beyond Blue www.beyondblue.org.au 1300 22 4636
Head Space (for younger people and their friends and carers) www.headspace.org.au
Lifeline https://www.lifeline.org.au 13 11 14
Prism Mailing List