The benefits of mentoring in the workplace
Article3 mins10 March 2020By Scott Rochfort
Mentoring is one of the most positive and rewarding types of relationships, and one that a growing number of companies are seeking to incorporate into their workplaces.

"There's a lot of evidence that shows that people who are well mentored enjoy their careers more, are promoted more quickly and earn a higher salary,'' says the founder and Executive Director of McCarthy Mentoring, Sophie McCarthy. 
Organisations also recognise the fostering of a mentoring culture is "extremely useful to develop, retain and engage staff", she says.
McCarthy says mentoring programs in organisations are a cost-effective way to "really help people think much more clearly about their careers, give them more confidence and help them perform at their best."
"A lot of people look back nostalgically and think that there was a time when this happened more organically," she says.
But with people changing jobs on a more regular basis and the pace of change quicker than ever before, McCarthy says structured mentoring programs are increasingly being adopted by organisations. 
"The fostering of a mentoring culture is extremely useful to develop, retain and engage staff."
Sophie McCarthy
McCarthy Mentoring
Structuring an offline relationship 
"Like any program, it needs structure, it needs a purpose, it needs objectives, it needs to be communicated well to all parties, and there needs to be some resources allocated to it to help people get the most out of that relationship," says McCarthy, whose business has worked with Federal and State government agencies and bodies, ASX-listed companies and not-for-profit organisations.
Among the key benefits of a work-related mentoring relationship is that it allows people to discuss issues relating to their career development that are important to them and which they may consider normally off-limits.
"They have someone to discuss things with confidentially and it's an offline relationship," she says.
"It may not be a person at their organisation, but it may also be someone a bit removed from their team and their business who gives them a different perspective, who doesn't have a vested interest in them to provide advice and support.
"Who doesn't need that?" 
McCarthy believes the way to tell a good mentoring program is if at the end, people have the confidence to ask questions and be able to clearly see their options.
"An effective mentor will be able to ask a couple of important questions in the beginning and say: 'Let's work out what your goals are, what do you need to change to achieve them and how we are going to work together?'.
"That is part of what makes it a successful partnership," says McCarthy.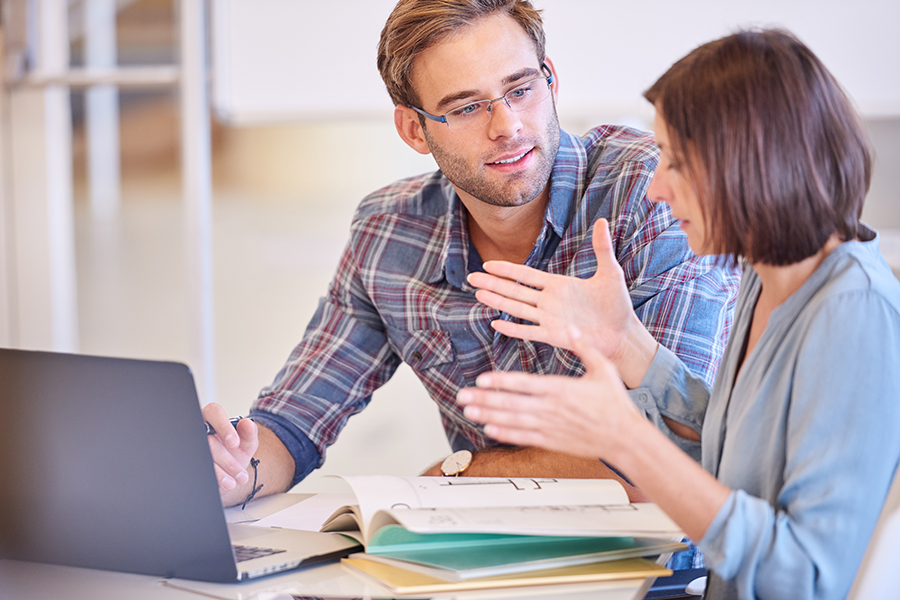 Unstructured and structured work together 
Deborah Coakley, Dexus Executive General Manager, Funds Management, sees a role for both structured and organic mentoring.
"Your first mentors are your parents and teachers who help guide you and deliver their insights and expertise to you as you build your foundation blocks," says Coakley.
"But as you become more engaged in the workforce and more focused on developing your career, you look at areas where you may want to develop a skill or fill a gap, and a structured mentor relationship can help with that."
Even with a formal mentoring program, Coakley says the key benefit comes from engaging with someone "who is not responsible for your day-to-day performance and your end of year outcome."
"They are able to be very honest and see things from your point of view rather than your business leader or manager," says Coakley.
"For an organisation where an individual is seeking to improve a skill, develop insights or career options, having someone external to their day-to-day team is often very beneficial."
Coakley stresses the relationship is not necessarily short-term.
"For an organisation, giving an employee the time to work through issues and have an open discussion about their challenges is also very beneficial."
Coakley counts herself lucky for having had numerous mentors in both her professional and personal life. She adds that in the workplace, it helps to have mentors who offer advice to people going through different stages of life, such as returning to work after parental leave.
"There's never a stage in your career where the value of a very good mentor should be discounted," she says.
"People give their time and themselves to help you and you will always learn something from that engagement," says Coakley, who still seeks out the advice of mentors. 
This includes peers who she can share different perspectives on their similar experiences, to "reverse mentoring" where she seeks the insights of graduates working at Dexus. 
 "You can find different ways to bring about a mentoring relationship. It's not always about a more senior person and a more junior person.
"You can't learn everything out of a textbook, so being able to have learning experiences or seek advice and direction from others in a very personal way is highly valuable."
Prism Mailing List