Working smarter, not harder: can productivity apps change your life?
3min18 June 2019By Amy Cooper
The world seems obsessed with productivity, while technology promises endless solutions to boost our efficiency. Can apps really improve our lives?
Every app store is bristling with solutions to streamline your daily load. Confused? You needn't be.
Amid the throngs of calendars, to-do lists, email managers and collaboration platforms, lurk some valuable tools.
"Some apps can be game changers," says Steve Molloy, entrepreneur and author of How Apps are Changing the World.
"I once ran a successful business while travelling throughout South America, Mexico and California, using just my iPhone and laptop. The key was to invest in a few apps to organise everything, from productivity, to storage, to communication."
Dr Amantha Imber, founder of innovation consultancy Inventium and host of the innovators' podcast How I Work, is also an advocate.
"Productivity apps can be a huge time saver," she says. "They can literally reclaim you hours every week."
Workflow wizards
Monday.com
Instead of drowning in spreadsheets, meetings minutes and word documents, savvy teams are choosing a single tool to wrangle even the most complex projects.
Often, that tool is Monday.com, made popular by its powerful simplicity. An easy drag-and-drop user interface allows effortless task delegation, trackable to-do lists and progress reports, and teams can customise their projects with a range of dashboards and automations across all platforms.
"It's clean, simple, colour coordinated and a real pleasure to use," says Molloy.
Trello
This supercharged collaboration tool is adored for its visual clarity, especially by those who've struggled to transition from physical whiteboard to digital task manager, and it neatly replaces the endless email trails that often weigh down team projects.
Trello's 'boards' interface is both powerful and user-friendly, and companies such as Kickstarter and Paypal are fans.
Molloy says: "Trello keeps track of everything, from the big picture to the minute details.
Most companies use this software as it's free and incredibly easy to use."
Asana
If deadlines are your demon, Asana's the weapon of choice. This task and project management app focuses on tracking, with sophisticated reminders and to-do list functions and a clear colour coding system to mark project progressions.
Molloy explains: "Based in San Francisco since 2008, it's deservedly become the go-to for tracking, managing, and connecting your projects across any team. Its easy to use interface streamlines communication, and boosts team accountability."
"Productivity apps can be a huge time saver. They can literally reclaim you hours every week."
Dr Amantha Imber
Inventium
Unclog your communication
Slack
This cloud-based team collaboration tool is really a beefed-up instant-messaging system, organised into 'channels' according to topic, objective or team.
Slack's extraordinary ease and functionality has made it the platform of choice for giants such as Airbnb and Target to small, agile start-ups.
Slack accelerates communication by enabling quick-fire exchanges without the clunky framework of emails. "It's like Twitter but for internal office use. Everyone has it on their phone or device and you can exchange short, informal and to-the-point responses rather than feeling you should write lengthy or formal messages," Says Molloy.
Cloze
Fans of Cloze say it's the next best thing to a real personal assistant, saving you the sweat of inputting, managing and updating your contacts.
This genius app consolidates all your social media and email accounts, including LinkedIn, into one location, pulling in all the information from your previous communications.
It recognises contacts you interact with most, and can even help follow up on meetings and suggest when to reach out to contacts, thanks to clever algorithms that interpret the content of your messages.
It's a lifesaver if you're feeling the friction of a contacts book fragmented across several platforms.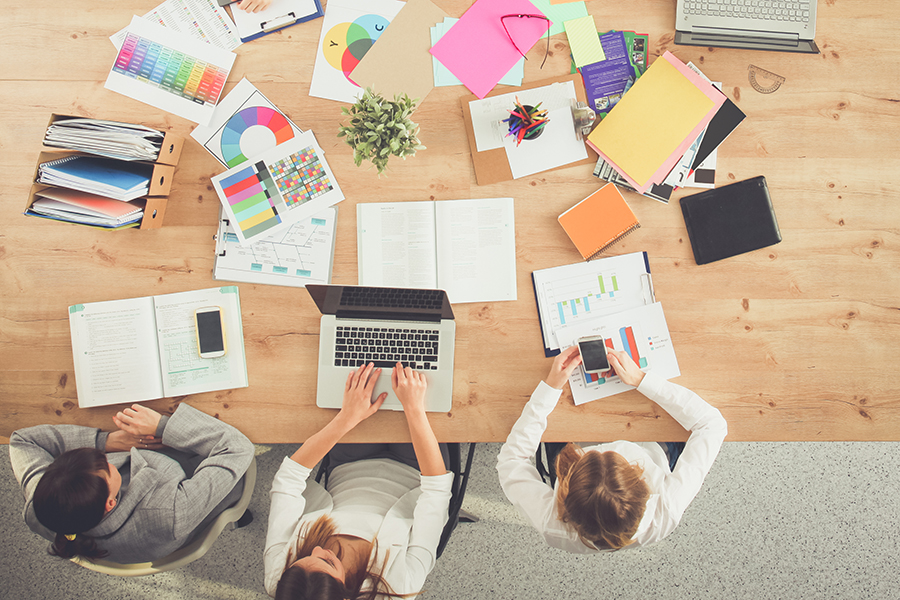 Tame your tasks
Todoist
This chart-topping task management system works across all platforms and is user-friendly enough to convert even the most dedicated paper list scribbler.
Todoist's famous Karma feature gamifies your productivity by awarding Karma Points for work completed on time, adding extra motivation to get things done. "It's worth spending up on the premium version," says Steve Molloy.
Todoist Premium is available for $29 per year and keeps track of everything – from simple errands to your most ambitious projects.
Laser focus
Pocket
Online browsing is a maze of rabbit holes tempting you to wander off-course and squander time. Pocket keeps you focussed by saving all your interesting finds to read any time, on any device. "You can put it on your phone or use it as a plugin on your Internet browser," Says Imber.
"Whenever you find an article you want to read (but at a really inopportune time), you can save it to your Pocket. Thanks to Pocket, I batch read all articles that catch my attention on a weekly basis without getting lost down any black holes."
Forest
This cute but clever app removes distractions with a virtual tree that continues to grow – unless you leave Forest. While you're away checking Facebook or emails, looking at the weather or answering a call) the tree withers. If you maintain your concentration for long enough, your collected trees can blossom into a forest, representing all your focused time.
"This is a really interesting app concept to help with productivity," says Molloy. "It's best for those who need a little visual stimulation and extra incentive to stay productive."
Prism Mailing List