The untapped potential of plastic: turning a problem into a solution
Article3 mins17 March 2020By Amy Cooper
Australia is one of the world's biggest plastics polluters, but our waste surplus could be the key to a brighter, more sustainable future.

The world is facing a plastic pollution crisis. As the production of disposable plastic products continues to escalate, our ability to deal with the deluge of plastic waste remains woefully inadequate.
Every year, eight million tons of plastic waste escapes into the oceans. If this rate continues, it's estimated that by 2050, there will be more plastic than fish in the sea.
Australia is one of the world's most prolific plastic litterers, generating around 2.5 million tonnes of plastics waste annually, with as little as 12 per cent of it recycled. 
"We need t build a sustainable, long-term re-manufacturing sector in Australia and find homes right here for our recyclables."
Gayle Sloan
Waste Management and Resource Recovery Association Australia

The problem with plastic
For a remarkably durable material designed to last forever, plastic is discarded with almost criminal abandon. It takes hundreds of years for plastic to break down, and yet everyday plastic items such as water bottles, straws and cups enter our lives just once, for a moment, before becoming eternal waste.
It's a reality that deeply troubles Gayle Sloan, CEO of Waste Management and Resource Recovery Association Australia (WMRR), the peak body for the waste management industry. "Even now, 95 per cent of plastic packaging is single use," she says. "We are effectively designing waste."
Nowhere to go
Just over two years ago China stopped accepting and reprocessing foreign recyclable waste, sending our domestic waste management industry into a tailspin. 
Australia had relied heavily upon China (and India, which has also since locked the door) to purchase and process around half of our vast volumes of plastic waste. 
Without adequate domestic reprocessing infrastructure, plastics have been stockpiling at overstretched Australian facilities. There are, quite literally, mountains of plastic – and they're growing.
"Australia simply does not have enough manufacturing pull to absorb all the domestic recycled material we are collecting," says Gayle Sloan. 
"We need to build a sustainable, long-term re-manufacturing sector in Australia and find homes right here for our recyclables."
Although the plastics crisis has been a wake-up call, Sloan sees rich opportunity, too.
"We can create 9.2 jobs for every 10,000 tonnes that we resource recover in Australia, compared with 2.8 jobs for export. So waste is potentially creating great value in society," she says.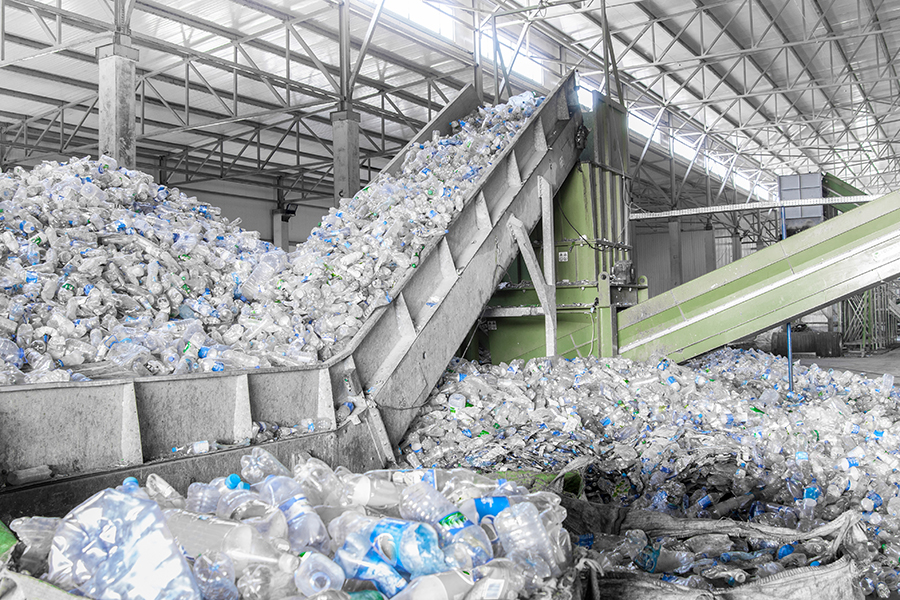 Turning a problem into an opportunity
Gayle Sloan and many others see Australia's plastic waste as fuel for an entirely new sustainable, more competitive economy with opportunities for growth and job creation.
The WMRR and fellow representative bodies are lobbying the federal government for a $150 million action plan to invest in infrastructure and improvements in recycling quality, and for governments to buy recycled products.
"There's so much upside to this," Sloan says. 
"We need bright young industrial designers to reinvent infrastructure and systems so we can actually be a smart economy too."
Innovators are already leading the way. In Victoria, recycled plastics manufacturer Replas transforms waste into more than 200 products including furniture, bollards, decking and traffic signage.
Close The Loop, Victoria, utilises plastic waste in pens and high performance road surfacing while Plastic Forests in NSW repurposes soft plastics into products such as mini wheel stops, garden equipment and air conditioner mounting blocks.
Corporates are starting to step up, too. Sloan praises Nespresso's collection system for used coffee pods. "This is exactly what we want to see from a public stewardship and extended producer responsibility point of view," she says.
The role of business
Corporates can lead from the front, says Rob Sims, Senior Manager, Group Sustainability and Energy at Dexus.
Dexus has instigated a range of new initiatives aimed at embedding sustainability across the company's entire ecosystem – and beyond, although improving waste recycling remains an ongoing challenge.
The country's largest office landlord has been collecting and processing soft plastics ('scrunch-able' plastics such as food wrapping) in its Sydney head office for over a year, Sims says. 
"Unlike other waste streams there is no turn-key service from our cleaning contractors to separate and take that waste offsite for recycling, so we do this on our own."
The waste is recycled through the soft plastics REDcycle programme at Coles and Woolworths.
Dexus also actively advocates for use of sustainable materials across its portfolio.
"With our customers we can play a positive influencing role in key areas such as our food courts, as we talk to our retailers about offering sustainable packaging options, eventually phasing out single use plastics.
"We've seen positive examples with major players such as McDonalds looking to move away from single-use packaging," says Sims.
The company also seeks to scale influence externally, via the Property Council and the environment-focussed Better Buildings Partnership (BBP).
Sims supports advocating for change alongside the wider property industry, rather than as individual companies acting in isolation. 
"We can push for government level policy discussions about elimination of single use plastics, improving facilities for recycling materials or mandating products that have recycling content as part of their materials," he says.
Dexus is also in the third year of implementing the BBP's 'strip out' waste guidelines for tenancy de-fit projects, with a goal of consistently meeting an 80 per cent waste recovery rate. 
Sims is optimistic about the potential for change but agrees with Gayle Sloan that the nationwide system needs drastic overhaul.
"Unless we have the mechanisms and facilities in place to recover reusable materials and for suppliers to embed them in new products, there's still going to be a gap between ambition and reality," he says.
Prism Mailing List