Pop-ups hit the retail sweet spot
Article3min17 July 2018By Amy Cooper
They give consumers a quick and fun exposure to a brand. Great for online retailers, they work wonders for established brands, too. What's not to like?
Such is the magnetic power of the pop-up, a temporary retail space with customer appeal as enduring as its physical presence is transient.
These short term activations, appearing for months, weeks, or even just a day or two, are a booming phenomenon in Australian shopping centres. Their operators range from major players such as Nestlé (owner of the Allen's pop-up), Nike and Uniqlo (the Japanese fashion giant first tested the Australian market's appetite with a Melbourne pop-up), to emerging local artisans. Offerings span the entire consumer spectrum, from food and drink to fashion and beauty to live performance and art.
Thanks to pop-ups, you can now buy a car at your local mall – and drive away in it. Queensland's James Frizelle's Automotive Group spotted the advantage of car pop-ups three years ago when it trialled several mall mini-dealerships, including an Audi pop-up in Brisbane's Westfield Carindale.
Designed to appeal to female customers unenthused by traditional car yards, the mini dealerships boosted both visibility and sales.
For emerging retailers, pop-ups provide valuable testing grounds for new product, new audiences or retailing formats.
Alyce Tran, a founder of The Daily Edited monogrammed leather accessories, says a pop-up proved the crucial gateway from online to bricks and mortar.
She and co-founder Tania Liu opened a pop-up store in Westfield Sydney in August 2014, just months after launching their range. They dressed a vacant space with a fresh rose wall and flower carts from florist George Low, to provide a backdrop for live monogramming.
Says Tran: "We had a lot of customers asking where they could see our product in real life, and we thought the best way to show them was via a pop-up store. For a relatively unknown brand it was great to be in a premium high traffic site - we were between Nespresso and Zara."
"We are constantly popping up and testing new locations."
Alyce Tran
co-founder of The Daily Edited
Gateway to bricks and mortar 
The success of the pop-up convinced Tran of the value of physical retail space. The Daily Edited now sells in seven David Jones branches, in Singapore department store Robinsons and New York's Saks Fifth Avenue, and has a stand-alone store in Melbourne's Chadstone shopping centre and on New York's Bleecker Street. And in November 2017 the brand opened its latest permanent stand-alone store close to the site of that original pop-up at Westfield Sydney. "It was like we had come full circle," says Tran.
With affordable, flexible leases adding to the appeal, pop-ups are clearly a huge win for tenants. And there's no less love from the landlords, with shopping centre management companies constantly seeking new ways to collaborate with pop-up retailers, accommodate creative activations and even design spaces specifically to showcase pop-ups.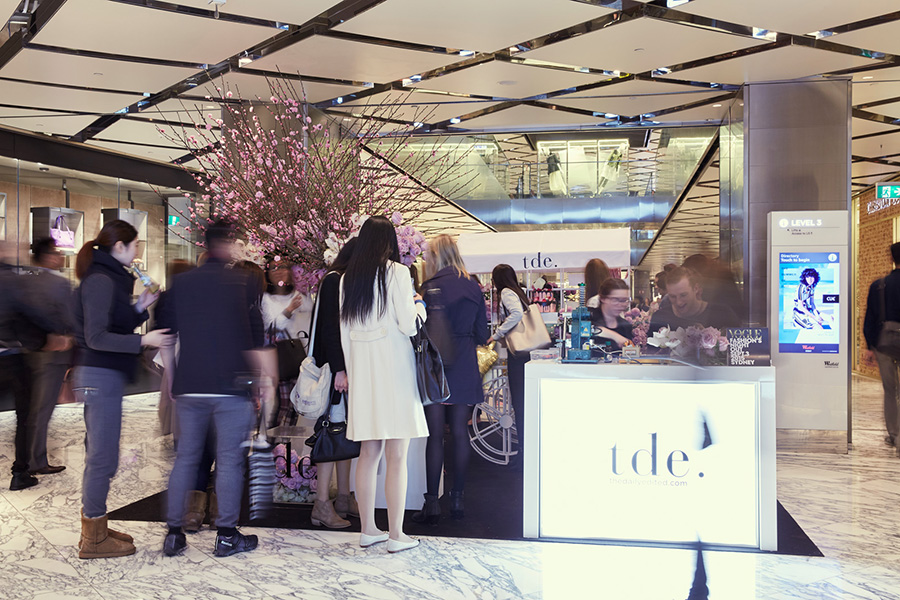 The Daily Edited pop-up in Westfield Sydney
Purpose-built for pop-ups
QV Square, an outdoor precinct at the heart of Melbourne CBD's QV shopping centre, is such a space. Visited daily by local residents, office workers, students and visitors, the outdoor area functions as a social hub, with a rolling program of pop-up activations to enhance the experience.
Foodie attractions passing through the space have included La Petite Crêperie's six-day pop-up, and a sampler outlet for local start-up edible cookie dough company Cookie Dough Dream, while interactive concepts have ranged from a live street art exhibition in which customers could vote for their favourite work, to a cinema, carousel and Christmas pet photography during the 2017 festive season. The latter was a sell-out, with customers delighted by the chance to involve their beloved furry companions in the fun.
"We're really lucky at QV to have such a great space to provide compelling reasons for people to visit," says Lisa Fleming, Dexus regional property manager.
"It's ideal for showcasing new and upcoming retailers; we offer a shipping container decked out so thoroughly that you could live in it, and emerging brands have been using that space to test products and engage with customers."
As online retailing grows in popularity, pop-ups prove there's still significant customer appetite for bricks and mortar shopping. Recent research from retail marketing company Retail Safari revealed that 68 per cent of Australian consumers are still primarily using physical stores as an integral part of the shopping process, and 37 per cent of Australian consumers feel the main issue with online shopping is the "inability to touch and feel a product."
This is no surprise to The Daily Edited's Alyce Tran.
"The bricks and mortar piece of our business has grown from strength to strength," she says. And she believes the pop-up format is key to that growth. "We are constantly popping up and testing new locations. But we also have customers who don't want to travel to any of our permanent locations, so we have a roving pop-up set."Pop-ups, Fleming believes, are definitely here to stay, and – ironically – are proving a winning permanent business model for some retailers. "They're a great opportunity for incubator retailers to test the market, but some also survive that way, just moving around constantly. And they'll always be welcome, because centre managers want to provide that tangible experience for visitors and something new and interesting."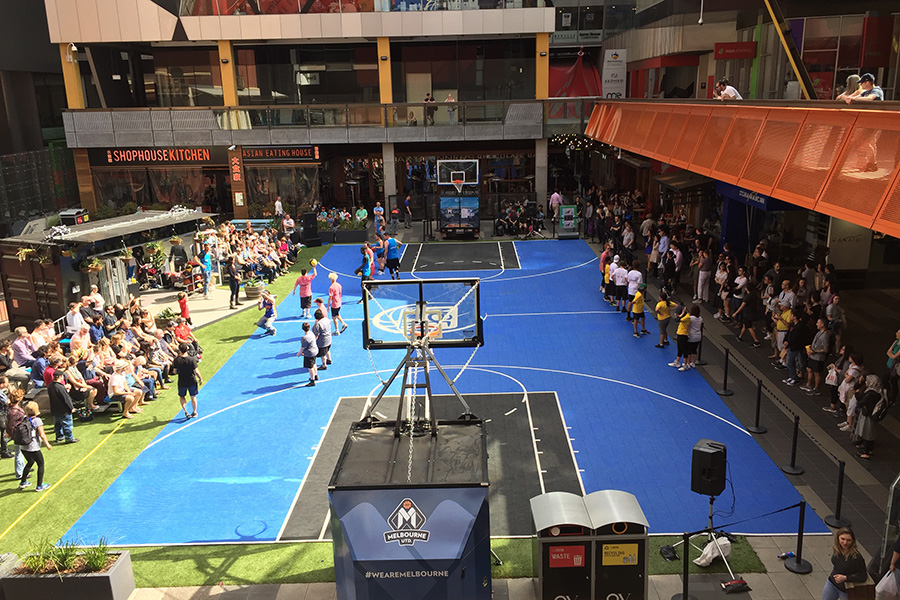 QV Square in Melbourne, hosts a Melbourne Fringe Festival performance
Prism Mailing List