Industrial sector has its day in the sun
Article3 min28 August 2018By Martin Kelly
Australia's industrial sector simply can't be kept down. Having struggled in the aftermath of the Global Financial Crisis of 2008, industrial property has slowly gained a momentum that now appears irresistible.


The key to the industrial sector's consistency is a remarkably resilient national economy which has recorded more than 26 consecutive years of growth, despite intermittent global headwinds such as the GFC, and has been helped along by population growth, government infrastructure spending and the rapid emergence of e-commerce.
Sass J-Baleh, Head of Industrial Research at Colliers International, says "it's (also) important to acknowledge the evolving nature of industries that occupy industrial property," adding that "a wider basket of (growing) employment industry sectors have scope to occupy industrial and business zoned land."

These include retail trade, construction, information media and telecommunication, electricity, gas, water and waste services and professional, scientific and technical services.
Land values surge ahead
Head of Research at Dexus, Peter Studley, says the planets have aligned for the traditionally sedate industrial sector which is benefiting from the rare confluence of cyclical and structural demand drivers, resulting in sharply rising land prices.

Sydney and Melbourne are leading the way, with land values in key outer western Sydney locations such as Eastern Creek soaring by 90% in the past two years, increasing from $325 per square metre to $625 per square metre.

Strong growth has also been seen throughout strategic locations in western Melbourne including Truganina where industrial land now typically costs $200 per square metre, up 60% since 2016.

Meanwhile, take-up of industrial property in West Melbourne during the 2017/18 financial year was 290,000 square metres compared to a 10-year average of around 270,000 square metres as companies like Isuzu, Woolworths and CEVA logistics sought new, well-located premises.  

In outer western Sydney, the take-up was 330,000 square metres, also well ahead of the 10-year average.

"What we have seen in NSW is demand running ahead of supply," says Studley. 

"The issue is ensuring that roads and services like water, electricity and sewerage are in place to allow further development."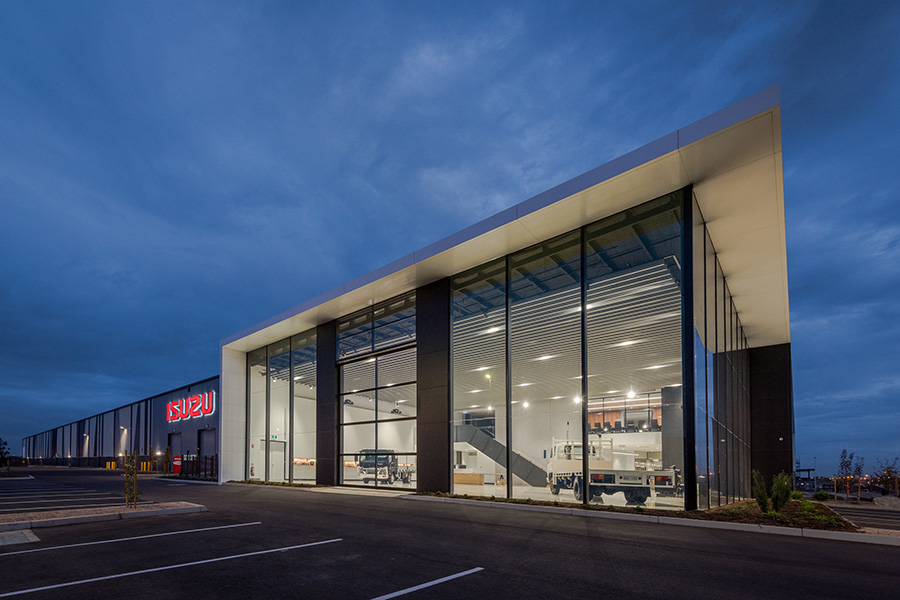 Isuzu Australia's new state-of-the-art head office and distribution centre in Truganina, Victoria.
Sydney and Melbourne buoyed by population growth
There's no coincidence that Sydney and Melbourne are in high demand as industrial locations considering they feature the most vibrant economies, and for that reason have the highest rates of population growth.

It is estimated that population of Sydney is increasing by more than 1800 people a week while Melbourne is even stronger with an extra 2300 people a week, meaning more people to feed, clothe and shelter, which in turn increases demand for warehousing space.
"The planets have aligned for the traditionally sedate industrial sector which is benefiting from the rare confluence of cyclical and structural demand drivers." Peter Studley, Dexus
Infrastructure investment also key to recent growth
Unprecedented government investment in infrastructure has helped connect industrial lands to key transport hubs, further driving growth in the industrial sector. 

In NSW alone, $87 billion has been allocated by the State Government over the next four years on a series of major infrastructure projects.

That's more than $20 billion a year being pumped into the NSW economy via massive, once-in-a-generation undertakings such as the Sydney Light Rail, NorthConnex and WestConnex motorways, Moorebank intermodal terminal and Badgery's Creek airport. 

Many of these projects, while causing some short-term disruption for commuters and residents, are focused on the industrial heartland of western Sydney and will immeasurably improve access and efficiency.

The Victorian Government has also jumped on the infrastructure bandwagon – it really has no choice given the runaway population growth – earmarking $40 billion over the next four years to a variety of road and rail projects, primarily in Melbourne.
E-commerce here to stay 
Perhaps the most intriguing (and long-term) growth catalyst for the industrial sector is e-commerce, still in its very early days here in Australia. The online sales penetration rate of 7.5% in Australia is significantly lower than comparable developed markets.

The flipside is that growth rates are exceptionally high.

Australian online sales increased by 17.2% in the year to May 2018, and the sector is forecast to double in size by 2025, with the obvious implication that the amount of industrial space e-commerce companies require will rise by a similar amount. 

Typically, online businesses need around 2.25 times more distribution space than traditional retailers because activities like packing, sorting and dispatching must be done in the warehouse rather than split between warehouse and store.

A striking example how e-commerce can impact on industrial real estate is the astonishing growth of Winit Trade Au which provides package services, shipping, warehouse management and 'last mile' delivery for China eBay sales channels in Australia.

Winit has expanded from 2700 square metres to 19,000 square metres at Regents Park, Sydney, in just two years with plans to add another 16,000 square metres by 2019. The business is also leasing 22,000 square metres in Truganina, Victoria.

"Simultaneously, traditional retailers are reviewing their space requirements as they transition towards an omni-channel business model combining physical stores with e-commerce," says Studley.

"Warehouse design will also evolve to cater for automation and higher volume capacity, while some inner-city areas, closer to dense populations, will benefit from greater industrial demand."

CBRE commented in a recent research note that "this demand trend is expected to continue as industrial land take-up grows steadily and availability of industrial and logistics land for development becomes increasingly difficult to source."

Studley adds he expects strong market conditions to continue for the foreseeable future. "This is no flash in the pan – the growth we are seeing is sustainable because it is based on a diversified range of market drivers."
Prism Mailing List