Research shows open plan may not be the best office layout... or is it?
Article3 min12 March 2019By Angela Young
Since the 1970s, a growing proportion of office workers have been set up in large, open rooms with colleagues all around. But is this the best way to work for everyone?


Office-based work very often requires privacy and concentration, so why do so many companies opt for an open-plan layout? And, is there a one size-fits all solution?
Research published in the Philosophical Transactions of the Royal Society B has shown that rather than improve communications among colleagues, open-plan offices can lead to a reduction (70 per cent) in face-to-face interactions, with electronic interactions (i.e. emails) rising by 67 per cent. 

A study in 2013 discovered that as few as one in four employees agree they work in an optimal workplace environment, and more than half reported being interrupted by others when trying to focus.

On the other hand, companies continue to adopt open plan environments, knowing how important collaboration is to overall performance. So, how to get the best of both worlds?
A question of balance
Assistant Professor of Management at the University of Hartford's Barney School of Business, Nathan Tong, recommends company managers do their best to find the right balance by being attentive to employees' needs.
"While some workers may enjoy working in an open space where they're constantly surrounded by (and in full view of) their peers, others may need privacy to focus on completing their tasks," Tong says.

"Companies should offer a variety of office space formats," he adds. "If their goal is to have primarily open workspaces to encourage collaboration, they should build in some private or semi-private spaces, such as cubicles, that employees can use for a short period of time when they need privacy."

Dr Rachel Morrison, Senior Research Lecturer in Management at Auckland University of Technology, agrees that bookable collaboration spaces are important within the open environment.

"Features like green walls (plants) and areas with silence norms have been found to be helpful, too," she says.

"Panels and acoustic quietening décor can help and give people options on how and where to work, as well as the opportunity for telework, can also be good."
"Organisational goals should be at the fore of decision-making processes, but companies must also pay attention to employees' desired levels of privacy and crowding." Nathan Tong, University of Hartford
Setting aside some social space
For some people, popping on headphones can be a way to cut out distractions, but Dr Morrison warns workers can often respond by withdrawing socially, becoming less friendly and more uncooperative to get some 'social space' – clearly not an ideal situation. 
Rianne Appel is an Assistant Professor in corporate real estate and workplace at Eindhoven University of Technology.

Studies have shown, she says, that moves to an open office can kill interaction and knowledge sharing, because people don't want to disturb others so they're quieter and send emails instead.

"In cases of flexible seating," Appel says, "the balance should be easier because people can seek privacy and concentration by moving to a concentration booth, but this only works if there are enough of those, which is often not the case."

Companies should understand, she adds, that loss in productivity due to noise can easily exceed any cost savings made on reducing office space in the first place.

"In my opinion, too many organisations are currently forcing their employees to work in open, activity-based offices, while this concept really doesn't match with their activities and personality. 

"Activity-based offices only work for employees with a diverse activity profile of which not too many activities would require concentrated, individual work."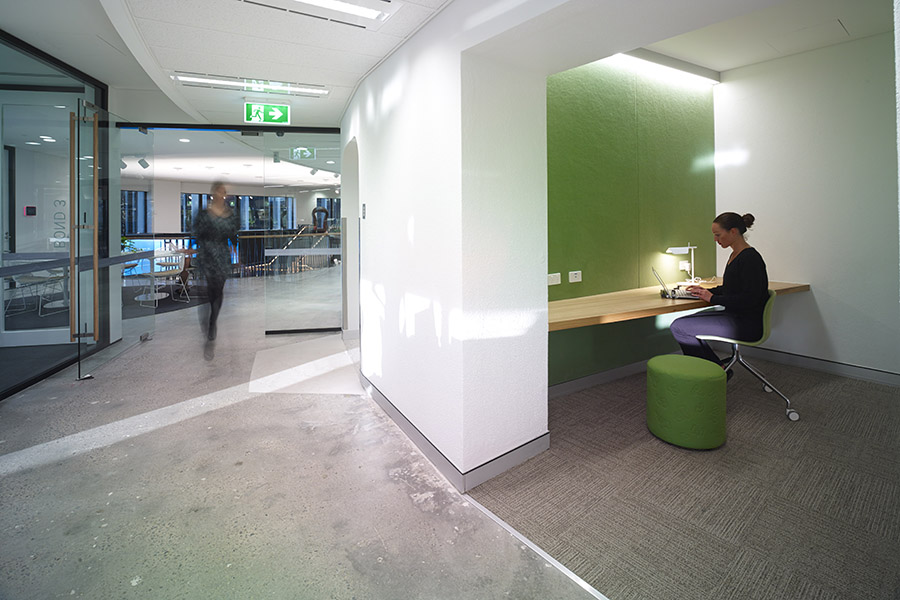 Quiet spaces are an integral part of Dexus's Head Office workspace at Australia Square, Sydney
What are the solutions?
Companies without the budget to provide major overhauls to their offices should consider using existing resources in creative ways, according to Tong.
"Organisational goals should be at the fore of decision-making processes," he says, "but companies must also pay attention to employees' desired levels of privacy and crowding. If employees have cubicles but want more open workspaces, removing some partition walls would be an inexpensive way to achieve the primary goals of an open space work environment. 
"As another example, managers may be able to increase or decrease employees' perceptions of proximity, privacy and crowding by simply turning desks and chairs to face different directions."
Rappel recommends involving people – employees and Human Resources – in any workplace design decisions.
"Guide them through the interventions and in adapting new behaviour, and together decide on clear use policy/rules for different parts of the office," she says.
---
Tips for making open plan office design work for your organisation


Establish and communicate clear rules for workplace use. 

Consider introducing flexibility to suit employees' workplace preferences.

Provide areas/rooms (such as 'concentration booths') that ensure privacy and/or a quiet space.

Involve employees in layout decisions where possible.

Consider changes, such as moving desks around to change perceptions of proximity, privacy and crowding.

Discourage relationship-straining mechanisms such as territory marking and defensive behaviours.

Include open spaces and walls/partitions, rather than just one or the other.

Consider furniture with castors, to facilitate easy maneuvering and change.
Prism Mailing List