Office Christmas party: onsite or offsite?
Article3min06 November 2018By Ben Falkenmire
For a company's employees, the Christmas party is the most anticipated event of the year. To reward them, the event should deliver something special.
One of the first and most important decisions to make is whether to hold the event onsite or offsite. With budgets likely to be feeling the pinch heading into the new year, many businesses will be considering holding their staff Christmas party onsite to save costs.
But is an onsite Christmas party a wise move? It can be, according to Dexus Event Manager, Megan McInnes, but only if you make the party feel special for employees.
"The staff Christmas party is the celebration of the year when staff feel like they are being rewarded for doing an amazing job," says McInnes
"Using the event to impress customers can also be a fail, and isn't as effective for clients as other ways of thanking them."
Make it special
Not delivering a unique Christmas party experience can negatively affect employee morale. Dexus learned what not to do when its 2015 Christmas party comprised drinks in the lobby after their annual conference had finished. 
"We got a lot of kickback from staff that year. Now we take a different approach, holding the Christmas party as a separate event to our company conference and leaving a few hours in-between so people can unwind from the day and change into something more festive."
Using the event to impress customers can also be a fail. Last year, digital marking company, Alpha Digital, invited clients to its staff party. The idea, says Managing Director Matt Cooper, was to showcase the company's offices but found that "it wasn't as effective for clients as other ways of thanking them."
"Plus, the staff party should be for just the staff. It's the time to celebrate them," he added.
Office size key
Smaller offices lend themselves towards a more intimate setting that an onsite party could provide. But that does not mean you should simply organise a bit of food and drink and throw a few Christmas decorations around and call it a party.
"Events held onsite can feel like you are still at work," says McInnes. 
"If that's the way you want to go, you should invest time and effort into making the space feel special for staff. The right kind of music or entertainment can transform a space and create a great vibe."
For larger companies, a party in the office is just not an option. "In terms of catering and set up, it would cost just as much to go offsite," McInnes says.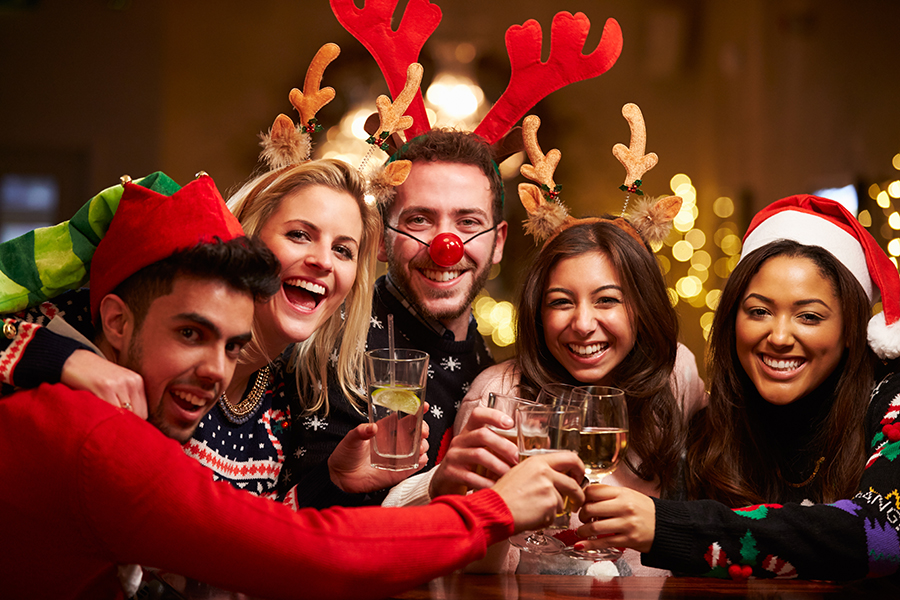 Adding a touch of special
Alpha Digital hosts pre-dinner Christmas party drinks for its 18 staff onsite before they walk down the road for a sit down dinner.
Alpha Digital's Matt Cooper says staff enjoy relaxing in their funky office. To ratchet up the feeling of a special occasion, the company hires a cocktail specialist to serve up the drinks, along with charcuterie boards to whet the appetite.
"Being in the office is easy because we are all there, and you get the chance to mingle and unwind before sitting down to dinner where you might only get to talk to the people around you."
Other ways to mark the occasion
If a cocktail specialist is not to your liking, there are plenty of other options to spice up your Christmas event. 
Entertainment options could include a photo booth, roaming entertainers (think magicians, caricature drawers or stilt walkers), a comedian, guest speakers, or games and competitions. 
Dress up themes, can provide the catalyst for a great atmosphere, provided the theme is broad enough to cater for costume enthusiasts and those more bent on accessorising. 
Both Dexus and Alpha Digital leave these vital decisions up to a social committee made up of volunteer staff.
"Our staff look forward to the announcement of the Christmas party venue. To ensure our staff get the most out of the occasion, our 'Thrive' community sources new and exciting venues, and the latest in events."
How much to spend?
Alpha Digital holds monthly and quarterly events for staff, but Cooper says the Christmas party is by far the most expensive event of the year. But that doesn't mean you should clean out your budget drawers this Christmas.
"There are ways to keep costs down and still have a great night," says McInnes. "It's about spending in the right areas. First, work out what your budget is and then make it go as far as you can."
While entertaining onsite means that you don't have to worry about transportation costs, one budget item you should not ignore is food.
"We double down on food so no one is drinking on an empty stomach and, importantly, we keep to our responsible service of alcohol obligation," says McInnes.
And in case you're wondering where Dexus will hold its party this year, that one is a secret that McInnes was happy to keep to herself… at least until it's announced to staff.
Prism Mailing List