Find networking daunting? It doesn't have to be
Article323 July 2019By Alison Cheung
Most jobs require some degree of networking skills, yet some of the most successful people are not natural networkers. How do they overcome their fear of networking to reap the benefits? 
It's no secret that introverts possess skills valuable to their workplace, but if there's one thing that's a challenge for them, it's networking.
From junior-level employees to C-level executives, there are people that would shudder at the thought of walking into a room full of strangers, everyone already engaged in what may look like deep, unbreakable conversations.
If this is you, read on.
"The benefits of a networking event is that anything can happen,"
Hayley Yi
Occupational Psychologist
How do introverts work?
While a recent study published by the Journal of Applied Psychology found that extroverts have an interpersonal advantage at work, that doesn't mean introverts can't network well.
Hayley Yi, who works in occupational rehabilitation psychology, says introverts tend to need more thinking space and less environmental stimuli while they work.
"Introverts work best in lower-energy environments, less interaction with others and that is more solitude in nature," she said.
One common concern among introverts that Bec Sands, a senior public relations consultant and career coach, has seen is that they will be judged by the standards applied to extroverts, and that this would put them at a disadvantage.
"In my coaching work, I've found that a common misconception is that introverts don't like to share their opinions - they absolutely do, but they are not ones to be the loudest in the group," she said.
"Often they need to be invited to speak up or they need to feel a sense of trust with the people who they are in the room with."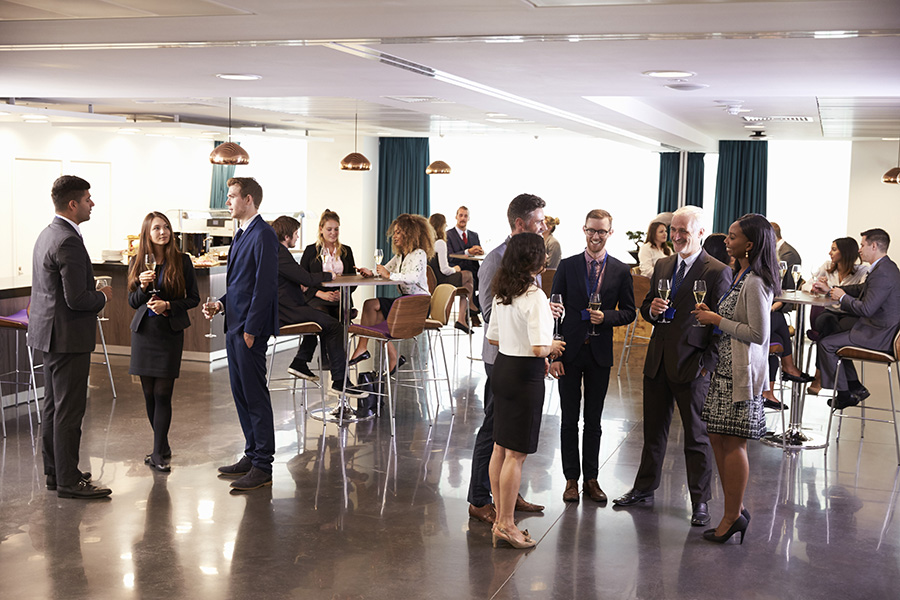 Why network?
The benefits of a networking event, according to Yi, is that anything can happen.
"It can be the event that you meet a new future business partner, or client who then connects you to the domino chain of clients in future, a new friend who shares the same industry dilemmas with you, or even, a good conversation," she said.
Sands goes one step further, calling networking "one of the most important things you can do in your career."
"Building respectful rapport with others in your industry or professional circle can open many doors to new career opportunities but it's always a give and take," she says.
Sands offers this advice to those who are hesitant when it comes to networking: "Rather than networking with the intention of gaining something, network with the intention of giving something."
And connections can become relationships if well-maintained, Caroline Cameron, founder of executive and career coaching company Possibility to Reality, says.
"The longer-term benefits of networking, and subsequent relationship nurturing, can build your reputation as the 'go to' person for your area of expertise and result in broader work opportunities."
Tips for networking effectively
Consider these tips designed to help people network effectively.
Reframe your thinking around networking. It's common for introverts to see networking as awkward and unpleasant. But career coach, Caroline Cameron, suggests changing the way you think about networking. "What if networking was actually a genuine way to find new people to help and problems to solve? With this meaning, the focus moves to the opportunity and person you are speaking to, rather than feeling like the spotlight is on you."


Start small. Since introverts tend to be less comfortable in large group conversations, career coaches, Bec Sands and Cameron agree that introverts would find it easier to start their networking journey with either smaller groups or introducing themselves to just one person. Sands says: "Similar to public speaking, where you wouldn't do your first ever talk in front of a stadium full of people, work your way up from one-on-one coffee catch ups to larger networking functions." Cameron explains why this tip is effective: because it's do-able.


Focus on the conversation. A good tip is to look past your fear of people and try to dive into a discussion by asking questions that would make "authentic conversations", occupational psychologist, Hayley Yi, advises. Examples include: "How would you describe your workplace culture?', "What job would you choose to do if money wasn't an issue?", "How do you deal with difficult personalities in the workplace?"


Keep your eyes on the prize. It's important to know that being good at socialising doesn't necessarily mean being good at networking. "Successful networking isn't about talking to everyone and spreading out thin, but to walk away with at least one meaningful connection and genuine business link," says Yi.


Be prepared to walk away. Not every conversation is going to be worthwhile and sometimes you'll find yourself in one that you'd rather sidestep. "If you don't feel like the conversation is going well, it's better to cut it short rather than drag it out - there's no disrespect in this," Sands advises. "As long as you end the conversation politely then you'll still have made a good impression."
Prism Mailing List