Top five living buildings in Australia
Article3 mins03 November 2020By Amy Cooper
Modern office buildings are so much more than bricks and mortar, as new designs push the boundaries of sustainability, wellbeing and architecture to create living communities. Here are five of Australia's best. 
 
Council House 2 (CH2): the godmother of green 
Architect Mick Pearce set new worldwide standards in sustainable building with this 10-storey Melbourne icon in 2006, but he attributes CH2's acclaimed design to an unexpected influence: termites.
Pearce's 'biomimicry' design principles follows the laws of nature - and CH2, with temperature controls and ventilation inspired by the efficiencies of a termite mound, reduces power consumption by 85 per cent.
The Little Collins Street headquarters for the City of Melbourne Council was the first commercial project to achieve a Green Building Council Australia 6 Star Green Star Rating.
In 2020, CH2's groundbreaking air-cooling system is more valuable than ever. 
"Conventional HVAC systems need to recirculate the same air six times to save cooling energy, but CH2 does not recirculate air at all. The 100 per cent fresh incoming air is cooled by radiance from the night cooled ceiling and chilled ceiling panels." Pearce says.
He adds: "The indoor air quality in CH2 has always been voted its most popular feature by occupants, but it's more important than ever as we battle the COVID-19 pandemic."
CH2's energy-efficient features shape the building's unique beauty. On the rooftop garden, six sunshine yellow wind turbines harness natural energy. One façade has timber vertical slats which open and close guided by the sun's position, and another boasts five transparent three-storey 'shower towers' showcasing CH2's evaporative cooling systems. 
CH2 is a true living building, says Nicole Sullivan, Green Building Council Australia's (GBCA) Senior Manager, Green Star Solutions. 
"It remains one of Melbourne's best Green Star icons through its innovative design and construction. The design promotes a more interactive role between the city and nature, more like an ecosystem in which all parts depend on each other."
"One Central Park… demonstrates not only how innovative sustainable buildings can be, but also how strikingly beautiful."
Nicole Sullivan
Green Building Council of Australia
The Annex, 12 Creek Street: a building that breathes
This beautiful building's green spirit is embodied by lush foliage cascading from its rooftop gardens, overhanging the upper levels and adding an organic landscape to the city skyline. 
The poster child of Brisbane City Council's Buildings That Breathe urban design plan, The Annex celebrates a strong connection to the outdoors and the history of its Brisbane CBD site, where a creek once flowed and three 130-year-old fig trees still stand. 
Architects BVN imagined The Annex as a fourth tree, with canopy, trunk and foliage elements woven into the design of the 12-storey 'vertical village' of workplace neighbourhoods. 
Natural light and fresh air fill its spaces, from the Sky Terrace with Brisbane River views to the alfresco meeting spaces and terraces and the communal ground floor plaza positioned with living greenery and foliage motifs.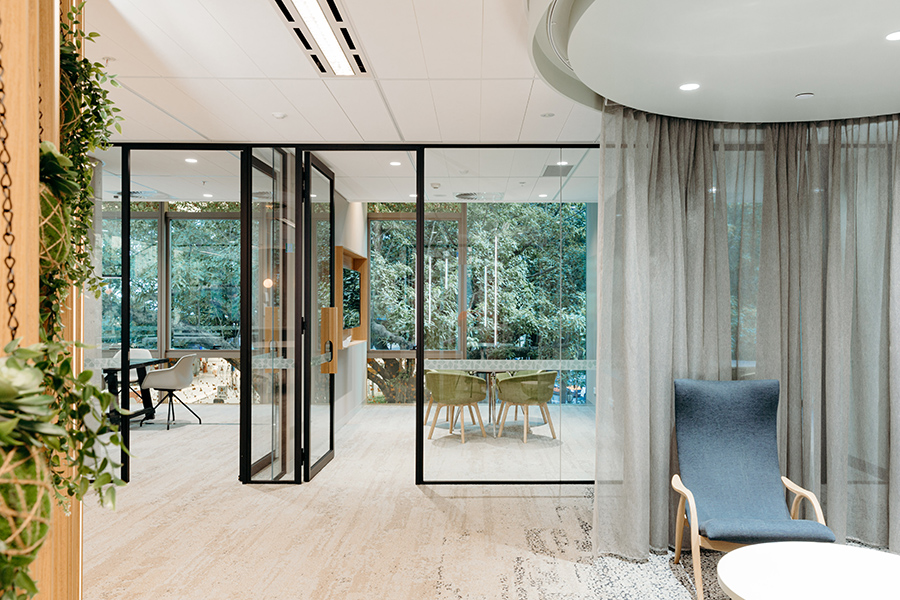 Inside The Annex, 12 Creek Street in Brisbane
One Central Park: green inside and out
In 2013, this stunning green landmark on Sydney's Broadway transformed the cityscape with its spectacular integration of natural and built environments.
Vertical gardens by acclaimed artist and botanist Patrick Blanc cover more than half the mixed-use building's two towers with 1,120 square metres of 38,000 indigenous and exotic plants, at heights of up to 116 metres. 
But the greenery isn't just for show. The plants help reduce energy consumption by trapping carbon dioxide and emitting oxygen, while the building's heart is as green as its exterior, with an onsite water recycling factory and power plant aiming to save the equivalent of 136,000 tonnes of greenhouse gas emissions over 25 years.
"One Central Park, incorporates onsite power tri-generation, passive solar design and leading water management systems, which demonstrates not only how innovative sustainable buildings can be, but also how strikingly beautiful, with its living tapestry of plants, flowers and vines," Nicole Sullivan says.
105 Phillip Street: green from top to bottom
Locals know this two-year-old commercial tower in Sydney's Parramatta as 'the one with the rooftop soccer pitch,' but there are many more reasons to love the 12-storey, 25,000sqm headquarters for the NSW Department of Education. 
Parramatta's first GBCA 6 Star Green Star office "incorporates a range of green innovations, including rainwater to cooling towers and an ultra-efficient base building amenity potable water design," says Nicole Sullivan. 
Other green credentials include an ultra-efficient LED lighting layout, fins for shading on the façade, and healthy building materials used throughout. 
105 Phillip's occupants enjoy abundant natural light and interconnected spaces. As well as the sports court, the rooftop houses a generous social area for staff events, barbecues, yoga, and other sports, encouraging community and collaboration and taking workplace wellbeing - literally - to new heights.
Westfield Sydney City Commercial Tower
This thirty-storey, egg-shaped commercial tower soars above the Westfield Sydney CBD retail centre in curvy contrast to its angular neighbours. The nature-inspired silhouette hints at the tower's sustainability status; it has a GBCA 6 Star Green Star rating and the development boasts one of Australia's largest urban blackwater recycling systems. 
The tower respects its neighbouring green spaces, with the top levels designed by John Wardle Architects to maximise floor space while minimising overshadowing of nearby Hyde Park. 
Inside, the curved walls replace old-fashioned corner offices with a more inclusive, egalitarian feel, and beautiful natural materials include the five-storey-high mountain ash timber walls lining the central foyer.
Prism Mailing List