Getting serious about experiential retail
Article3min29 January 2019By Dana Worth
Retail centre visitors want to come home from their shopping expedition with a feeling and a memory – as well as the goods they've purchased.
When it comes to customer engagement, shopping centres have come a long way from the rewards-based events represented by a line of trestle tables and an energetic spruiker giving away free cooking utensils.
Community, along with celebrating a sense of occasion, are the key drivers of shopping centre design and management today.
This enhanced retail experience that the centres are providing is called experiential shopping. And some of the events (called activations in the industry) are so sophisticated that you'd be forgiven for thinking entertainment was the main purpose.
Observers attribute the trend towards experiential shopping to the challenge posed by the internet. Leanne Liu, Managing Editor, Shopping Centre News, says online retail spending is equivalent to about 9 per cent of sales at bricks and mortar stores, according to the NAB Online Retail Sales Index.
She says centres around Australia have responded by analysing every part of their operations.
"The emphasis on placemaking across the industry has been evident through installation of art displays, interactive play areas, rest zones and other uses for shopping centres such as shared work spaces and outdoor entertainment spaces."
Big campaigns
Thinking big, in September and October 2018 the Willows Shopping Centre in Townsville flew four life-size animatronic dinosaurs up from Jurassic World on the Gold Coast to entertain children and parents.
"The social aspect of shopping is very important, and it's something all our campaigns emphasise," says Donna Schifilliti, Willows marketing manager.
QV Melbourne in the heart of the CBD, is a large fashion and dining precinct that is making use of the retail destination's QV Square to host large-scale events that leave a lasting impression.
In winter 2018 events designer Clint Rogan created a campaign experience known as Virtual/Chill.
"We created a winter village for people to engage, explore and experience an outdoor village within the comfort of huts, heaters and a virtual reality experience," says Rogan.
"The purpose was for people to engage with QV Melbourne in winter and explore the laneways. It was designed for everyone to enjoy – kids loved toasting marshmallows and the CBD workers loved the huts and virtual reality."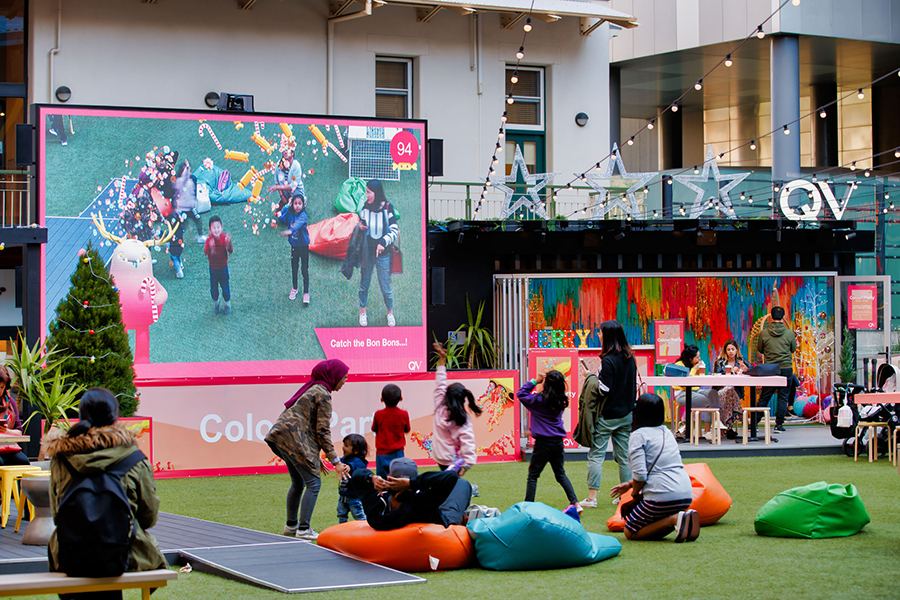 An interactive virtual reality experience at QV Melbourne's Colour Party
Lessons learned
Retail centres, particularly those with a high exposure to fashion, have learned a lot from the time ten years ago when the Australian dollar was at its height and online purchases from overseas were GST-free. The pressure from foreign competition may have come off, but as local online shopping gathers strength it's important for shoppers to continue to see their retail centre as a shared experience.
After all, if people are going to make an effort to get dressed to go out, you have to give them something that makes the trip worthwhile.
"We think the social aspect of shopping is very important, and it's something all our campaigns emphasise."
Donna Schifilliti
Willows Shopping Centre
Small events
But more humble events at the other end of the scale have the advantage that they can be closely tied to individual retailers as well as offering good branding for the centre.
Viviene Stewart, director of specialist retail consultancy Designer Marketing, says she staged one food promotion event at a shopping centre in western Sydney where the retailers were initially unenthusiastic.
The centre had asked them to provide, for free, raw ingredients, which Stewart's chef (she tries to get MasterChef chefs) then cooked into delicious meals. Samples were given to shoppers. The key to the campaign's success with the retailers was that each main ingredient – whether meat, vegetables or fruit – was identified as coming from a particular shop. Plenty of shoppers went straight to the retailer to buy more.
Or, says Stewart, she might bring models into a shopping centre and style them in clothes from a particular retailer. In an era of fast fashion, everyone likes seeing how to put a look together.
"We always hope for big jumps in sales."
Demographic targets
Demographic targeting can mount interesting campaigns aimed at the older end of the age spectrum as well as children and fashion-conscious adults.
The Winston Hills Mall in Sydney's north west has a significant number of seniors. During NSW Seniors Week in April 2018, the centre partnered with the Heart Foundation to organise an event called the Winston Walkers. Groups of 30 people went for guided walks around the neighbourhood and ended up back at the centre for a free coffee at one of the cafes.
The centre also experiments with social media. Its Breakfast with Santa event at the end of 2018 was publicised on Facebook only, and it booked out almost immediately.
Prism Mailing List