Why smaller businesses are setting up shop in bigger office buildings
Article3min09 July 2019By Alison Cheung
Australia's largest and best quality office buildings are no longer reserved for the big end of town, as smaller tenants upgrade the size and expectations of their workplaces.
As companies look to retain and attract the best people, the quality of the workplace is becoming an important drawcard in the war for talent.
For some smaller companies, which have traditionally been confined to modest office workspaces, this has spurred them to step up to bigger and better buildings.
While larger companies once dominated the biggest and most prestigious office buildings dotting the CBD skylines across the country, this is changing spurred on by a new wave of customer preferences.
Sydney's 48-storey Australia Square counted three companies as its main customers 20 years ago. Today that number has risen to more than 100.
A few blocks away at the 54-level One Farrer Place, around 40% of customers occupy spaces smaller than 600 square metres.
According to One Farrer's General Manager, Gemma Seabourne, there is a desire among smaller businesses to access the same building features enjoyed by larger tenants.
"We have seen a flight to quality for smaller customers who are looking for the benefits that larger office buildings can provide, from a focus on health and wellbeing services to premium workspace amenity and flexible spaces which promote innovation and connectivity," she said.
"The biggest benefits so far have been the comfort levels of my staff; staff retention is very important." 


Daniel Afonso
National Projects
Hospitality-like amenities

One stand-out feature of larger buildings is the end-of-trip facilities, which typically include showers, lockers, bicycle storage, and fitness amenities with a range of classes offered including boxing, high-intensity interval training (HIIT), circuit training, Pilates and yoga.
Some have even gone the extra mile by offering a fresh towel service, ironing boards, luxury shower products and access to designer hair dryers and hair straighteners.
"When you're in a larger asset, the end-of-trip facilities are of a superior quality with more availability – for instance we have 122 bike racks installed at Australia Square," Seabourne said.
"That would be about the same for most A-grade and Premium grade buildings," she added.
"Typically, a smaller customer might be used to less options, and they are pleasantly surprised that their staff can have the same access to the facilities and services in these buildings as whole-floor customers."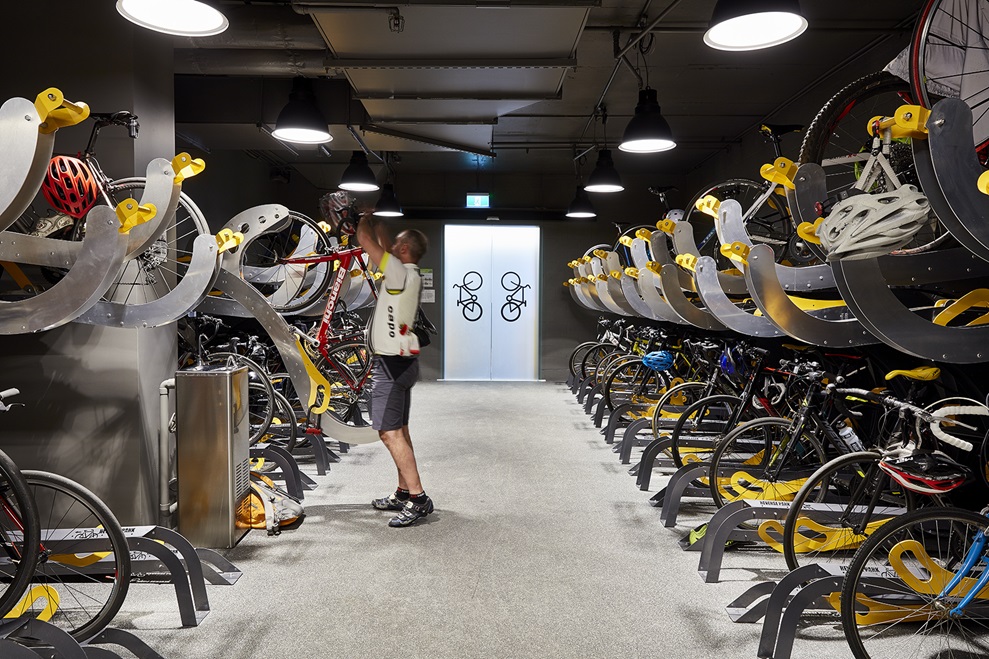 End-of-trip facilities are a part of the customer offering at Australia Square in Sydney
The network factor

Seabourne noted that many smaller customers increasingly also prefer larger office properties to become part of the business network, by working in the same building as major corporations, some of which are their clients.
"A number of our smaller financial services customers like the fact that they're in a building (like One Farrer) because they do business with the larger investment banks located here," she said.
And while size does not always equate to quality, bigger office buildings have proven to be better for Daniel Afonso, owner of project design and property maintenance services business, National Projects.
"The biggest benefits so far have been the comfort levels of my staff; staff retention is very important, and to help this you need to be able to provide the best facilities available within means for your staff," he said.
National Projects, which moved into the Australia Square Plaza building in March 2019, was relocating from a B-grade building earmarked for demolition near Circular Quay.
Their new office building's amenities include fitness offerings, fresh towel service and on-site parking, which has been a major plus for Afonso and his staff.
Another aspect that sets his new location apart from his previous one is the sense of "fitting into a community".
"The retailers know you by name and you get that familiarity from the first thing in the morning. There are gym classes during the day, as well as activations in the tower's foyer, and you get to see the same people when you socialise after hours in the nearby bars, so it really does become a community across the board.
"It makes you feel good, and that's something we perhaps didn't have so much at our previous location; I've noticed a big difference when we moved to Australia Square."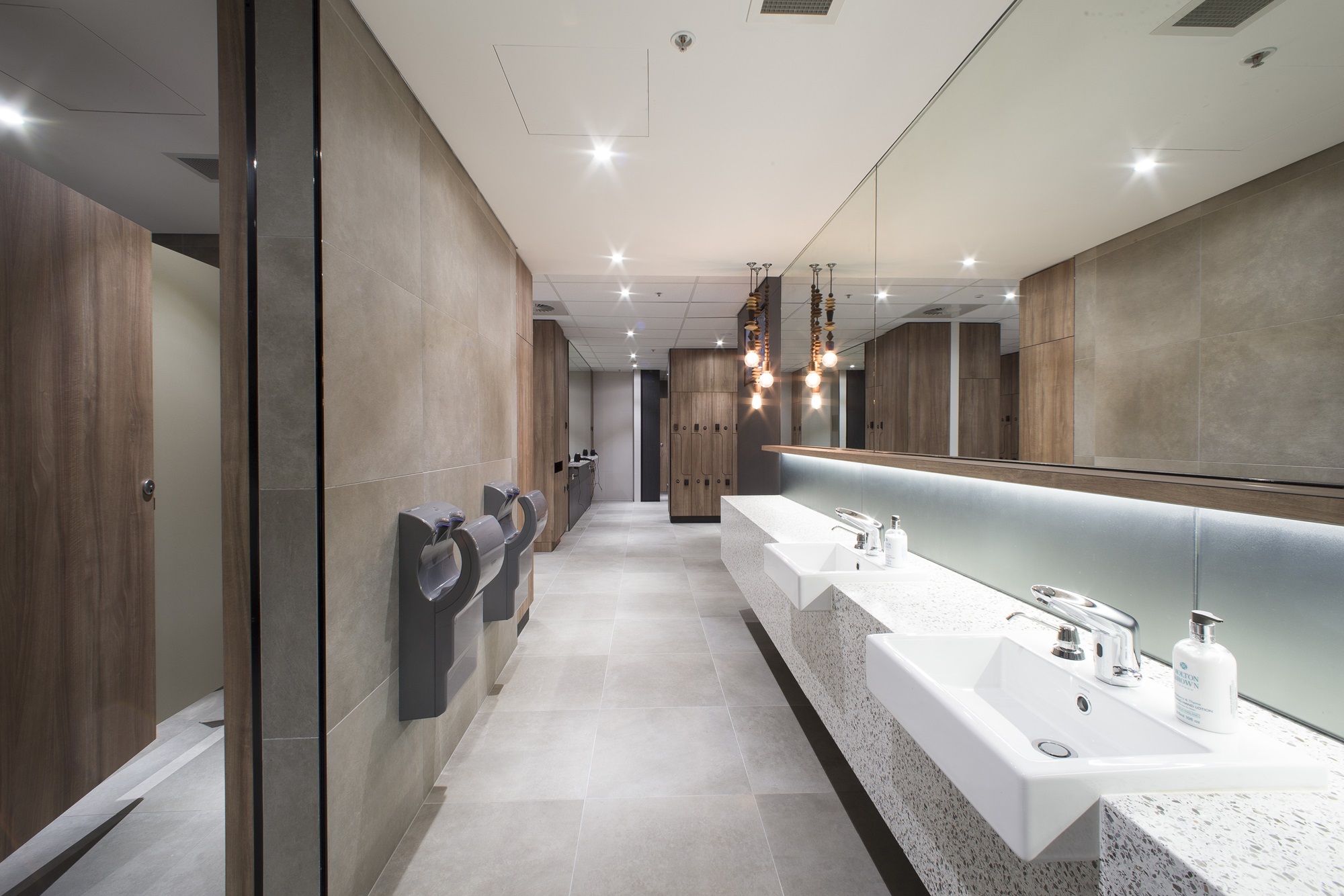 End-of-trip facilities at the premium office building at One Farrer Place in Sydney
Sustainable culture
Lawrence Yu, Environmentally Sustainable Design Group Manager at JHA Services, believes that  having multiple customers in a large building would not affect its sustainability credentials.
"The design of the building and any associated credentials won't really be impacted by the number of customers," says Yu.
Rather, there are two key factors in what makes – and keeps – multi-tenanted buildings sustainable: opportunities and culture, according to Yu. "By opportunities, I refer to the features that have been included in the building design – energy efficient lighting and HVAC (heating, ventilating and air-conditioning), dedicated recycling areas, bicycle storage or change-room facilities. "In other words, this is the sustainability potential of the building," he said.
What can be impacted by customers is the culture of the building users, and whether they use and operate the property in the way it was designed. "How sustainable the building is will depend heavily on customers behaviour and the ability of the facility managers to drive positive change in those behaviours," Yu said.
"For example, do they properly separate recyclable from non-recyclable waste, switch equipment off when not in use, take public transport instead of driving to work?"
Regardless of company size, positive organisation culture can be developed, but a quality workplace is arguably key to bolstering an employee's sense of belonging and, ultimately, happiness.
Prism Mailing List