Forget networking, it's all about the braindate
Article3 mins05 November 2019By Jessica Mudditt
A new app that helps like-minded people connect on the sidelines of conferences without the usual awkwardness of networking is gaining popularity across the globe.
Few of us relish the idea of working a room full of strangers in the hope of making a valuable new connection. It can be as nerve-wracking as going on a blind date and sometime just as much of a waste of time.
Enter Braindate, an app designed to remove the awkwardness and hit-and-miss nature of traditional networking through the use of a clever matchmaking algorithm.
"I can think back to the days when I was going on awkward dates and would suddenly realise that I had nothing in common with the other person. [Braindate] takes all of that away, and just makes for a better experience," says digital futurist Chris Riddell, who went on several braindates at evokeAG in Melbourne last February.
"Braindate not only allows like-minded people to meet, it puts a conversation topic in place so that you already know exactly what the conversation will be before you meet. That removes any awkwardness." 
A new way to network and connect for thinkers
Braindate was created by Canadian tech company e180 and was first launched at the C3 conference in Montreal in 2013. Since then, the app has been downloaded 400,000 times and used at more than 140 events across Australia, Europe, the Middle East, and North America.

"Creating a meaningful connection doesn't just happen magically," says Christine Renaud, the CEO and founder of e180. It has to be built on intention. And that's not something that is achieved when you just throw people together in a room.

Instead, participants prepare for their braindates ahead of time by filling in information about their professional skills and experience. They then answer five questions that relate to their personal interests and hobbies and with that, their braindating profile is complete.

"One of the most popular questions is, In life, I'm also a...' It could be something like, I'm a wine lover, a mother and a triathlete. It shows your human side," explains Renaud from her headquarters in Montreal.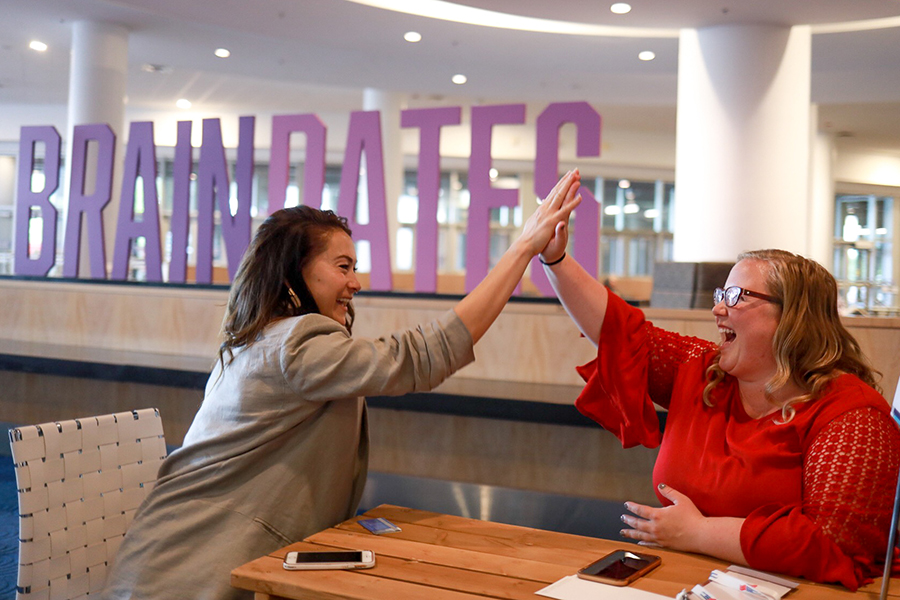 Get a conversation going
Next up is what is known as the topic market, where users are prompted to post a topic or two that they can discuss. Generic, single word topics are discouraged – it's far better to list a problem you can help someone solve. For example, at evokeAG, one participant wrote, "I can help automate your farm."
An algorithm then displays topics that match a participant's interests. From there, it's up to the individual to invite someone on a braindate. There is a choice between 30-minute, one-on-one braindates or 45-minute group braindates involving up to four people.
While other companies have created platforms aimed at improving the standard networking experience, Braindate is the most effective, says tech writer Greg Oates.
"It's idea sharing first and foremost, but it's also coordinated networking. It allows a delegate to make the most of their time at an event by ensuring they meet people who will be valuable to them," says Renaud.
Braindates down under
In Australia, the first braindates were held in February at the agritech conference evokeAG in Melbourne, and then again at the Digital Innovation Festival in August. A dedicated braindating lounge was also at the CEBIT tech conference in Sydney in October.
"We are basically embedding their digital platform within ours," says CEBIT Australia's event director, Daniel Mortimer. "We're confident because it's very intuitive and has been used with great success around the world."
The collaboration came about after Mortimer looked into the most common pain points for conference delegates which he says is the frustration of not meeting the types of people they hoped to.
"Obviously, there isn't time to speak to every single person, and two people may be unaware that they have a common interest or it can take a long while to work that out.
"Braindate not only allows like-minded people to meet, it puts a conversation topic in place so that you already know exactly what the conversation will be before you meet. That removes any awkwardness," he says.
Renaud says there are also plans for braindates to become available to the general public through smaller, bespoke events.
"We hope to provide a way for community and business leaders to create gatherings that are more valuable for their members and employees. People could come along on a Thursday night and have a beer and go on a few braindates," says Renaud.

With these networking tools now coming online, the possibilities for forging new business relationships will help businesses flourish and learning develop.
Prism Mailing List