New office foyers: making an entrance isn't what it used to be
Article3min19 June 2018By Paul Chai
Everyone likes to make a good first impression, and the foyer, or lobby, of your commercial building says a lot about your business.
Making an entrance isn't what it used to be. Today's office foyers are evolving with the times and provide opportunities for chance encounters with workmates.
"Historically, there was the status lobby – the big, grand foyer with some guy sitting in a large, overly scaled space," says Jeff Morgan, Grimshaw Architects Associate Principal.
"But lobbies are becoming more diverse and more engaging, where people meet and greet, not just walk across and press a button to get into a lift."
They may include retail spaces, breakout spaces, and art and design that is unique to the building. The new foyer includes many of the principles of urbanism, an approach that looks not just at the built environment but how people interact with it.
Tomek Archer, Archer Office Director, says that a key facet of urbanism is facilitating the chance encounter, something that is greatly reduced if the lobby directs people to their desks with too much efficiency.
"The foyer is an extension of the urban surface outside and it is a shared space, a public space within a private building," says Archer.
"So it becomes a stage for activations, temporary events and just thinking about how you can bump into each other and socialise."
Andrew Cortese, Grimshaw Architects Managing Partner, says "Sydney offices have a sophisticated approach to workplaces and the relationship to workplaces and to the public."
Here are five Sydney foyers that showcase the new ethos.
"A grand foyer prioritises the entrance at the expense of the enhancement of the street."
Jeff Morgan
Associate Principal
Grimshaw Architects
333 George Street, Sydney
Grimshaw Architects designed this space with an eye to the surrounds and with input from tenants, and also the City of Sydney.
"It is a delightful space," says Jeff Morgan. "With its sculptural lighting, it exudes a contemporary quality, but it is quite small in terms of space.
"We could have made a grand foyer, but what that does is prioritise a grand entrance at the expense of the enhancement of the street."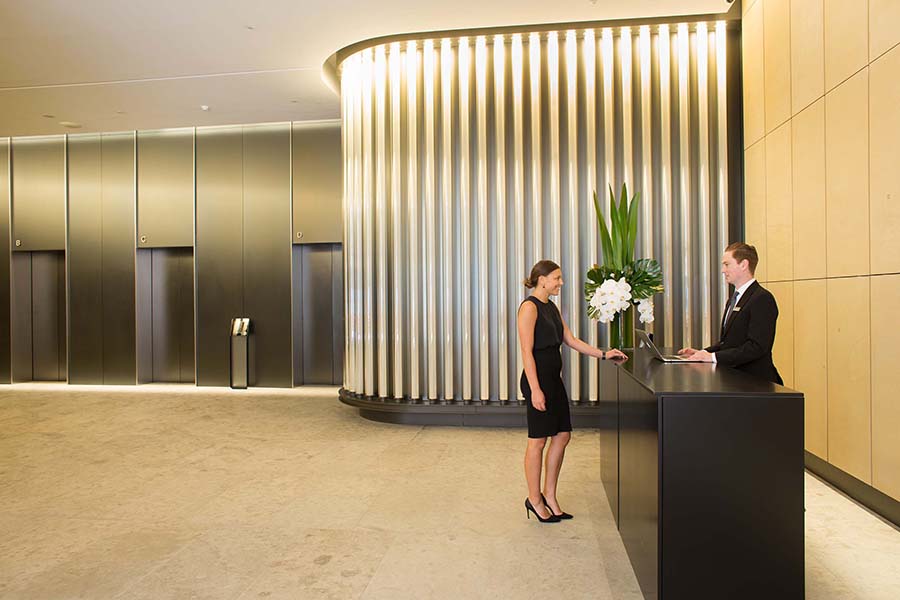 333 George Street, Sydney
Former Readers' Digest Building, Surry Hills
This heritage-listed building had its foyer interior design done by Archer Office and it won the national workplace award at last year's Australian Interior Design Awards.
"We proposed and installed a very lightweight cotton cord lining which was clearly separate from the original building and it can be removed to reinstate the heritage fabric. Within that space, we used furniture to deliver myriad flexible situations for the floor plan."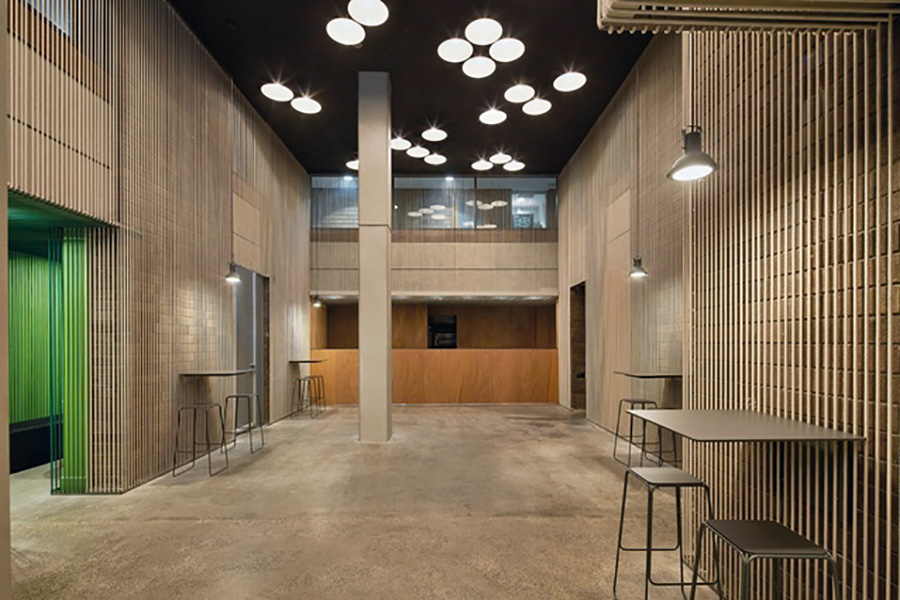 Former Reader's Digest Building, Surry Hills
5 Martin Place, Sydney
The aim of 5 Martin Place was to fuse the past and the future by keeping key elements like the historic sandstone building and adding a new modern glass tower.
The lobby has acknowledged its previous life as home to significant art works, while adding new pieces to the entrance including Hymn to Sydney and A Human Scale by leading Australian artists, Imants Tillers and Emily Floyd.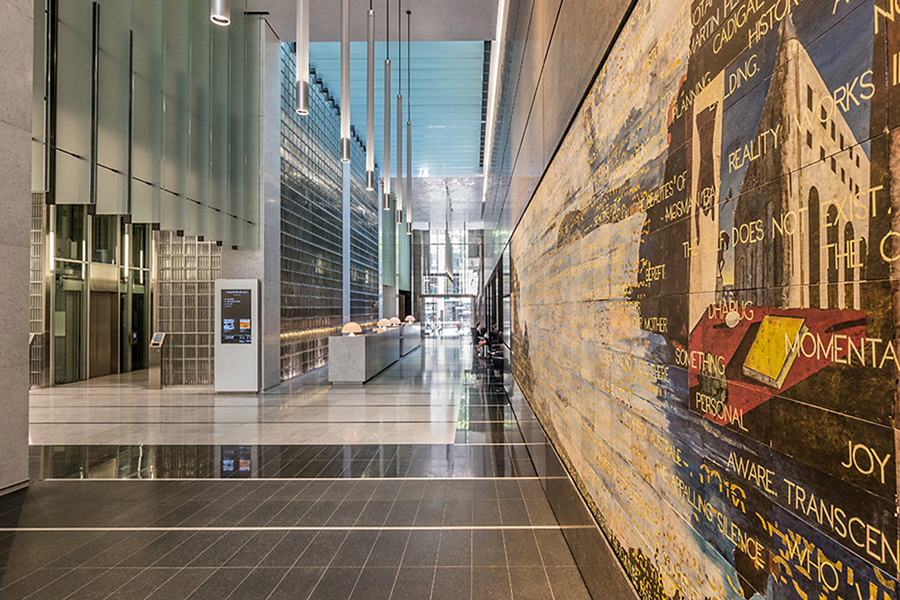 5 Martin Place, Sydney
1 Bligh Street, Sydney
Sustainability is at the heart of 1 Bligh Street. The building has innovations like solar thermal collectors, the CBD's first black water recycling system and a fully glazed double-skin façade.
The entrance to the building is a living embodiment of its green credentials with a large plant wall irrigated by recycled rain water, and a café that uses the green wall in its design.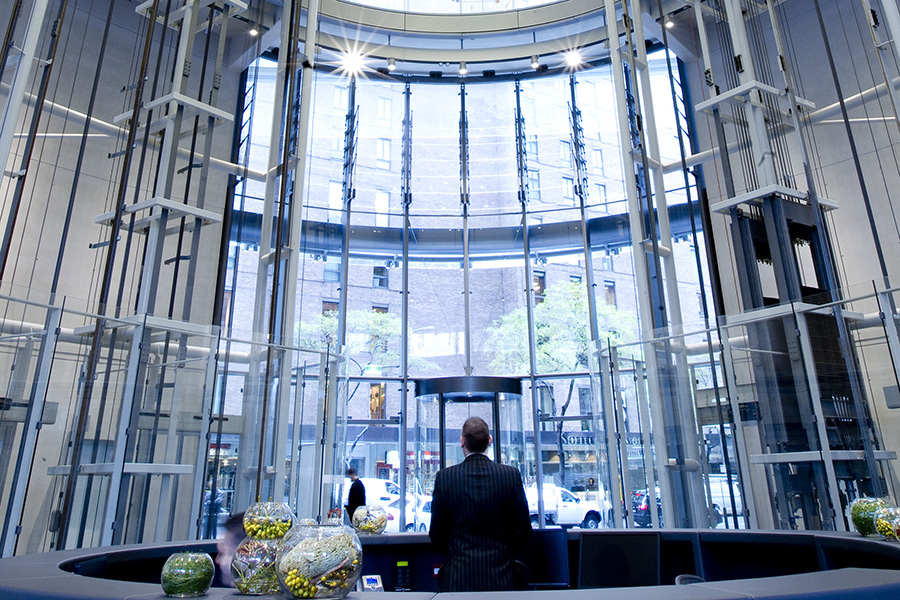 1 Bligh Street, Sydney
100 Harris Street, Pyrmont
Housed in a former wool store building in Sydney's historic Pyrmont area, this building was modernised by SJB Architects with an approach that updated the building while referencing the history.
The foyer space has retained many period details like original timber and created an inviting common area with a café and lounges for casual meetings.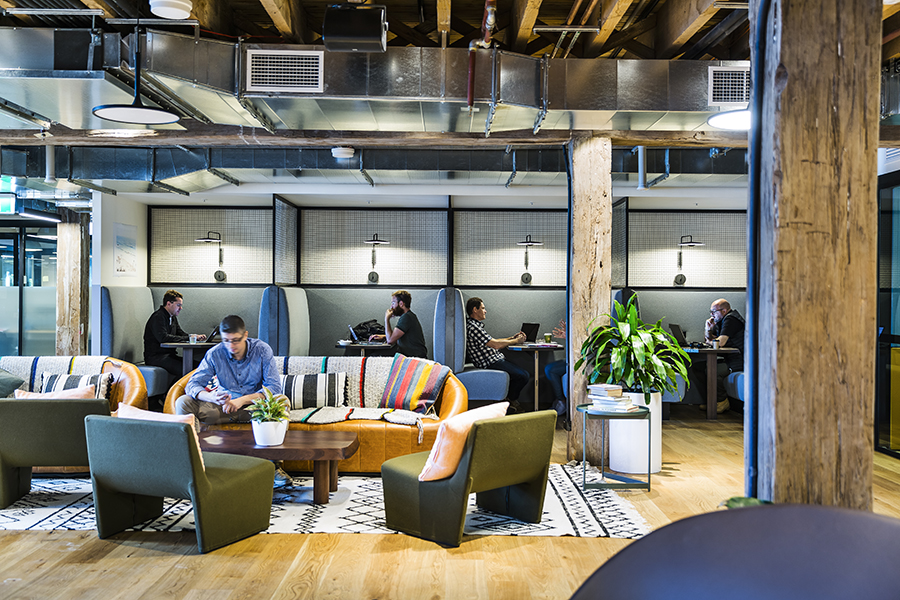 100 Harris Street, Pyrmont
It's clear that these days, a cookie-cutter approach to foyers no longer works and the generic welcome space is now a thing of the past. A successful building entrance must take into account the character and the aims of the businesses within.
Prism Mailing List