Ergonomics in the workplace: one size does not fit all
Article3min25 June 2019By Sarah Turner
Ergonomics is not only about expensive chairs, it's seen as part of a broader focus on employees' wellbeing. What can it do for your business?
According to the President of the Human Factors and Ergonomics Society, Stephen Hehir, ergonomics can drive a 30 to 50 per cent increase in the bottom line of a business.
But, Hehir says, for those businesses thinking they can achieve that simply by buying expensive chairs, they should think again.
As Hehir points out, ergonomics is about a lot more than chairs.
"The jury is out on what is the ideal chair, and if you're throwing a chair into the workplace and not doing any work design and training, you've missed the point," says Hehir.
And in case you thought introducing standing desks was the answer, this is more bad news.
"Swapping all sitting for all standing desks is not good," Hehir says, noting that there are other risks associated with prolonged standing.
"If you're throwing a chair into the workplace and not doing any work design and training, you've missed the point"
Stephen Hehir
Human Factors and Ergonomics Society
Broad considerations
"Ergonomics is a very broad professional practice, it's not just about physical things.
"It is the intersection of the physical, cognitive and organisational domains, and it requires an informed consideration of all three," Hehir says.
Hehir explains stress is the greatest predictor of musculo-skeletal pain, even if the employee is sitting in an expensive chair. It follows that, as well as looking at the physical context of the chair and the desk, ergonomists consider the stresses employees are under, their general wellbeing and the work they are doing.
High cognitive demands, work pressures, ambiguity and psycho-social issues can lead to errors and stress.
While there are fewer than 100 certified professional ergonomists in Australia, they are involved in a broad range of workplaces, not just the traditional office environment. Australia Post employs ergonomists whenever there are going to be changes to big equipment or processes.
Transport companies use them to consider things like fatigue, cognitive distractions and health issues. Other organisations bring them in when new software is being introduced to consider the computer-human interface.
Underscoring the point that ergonomics is about more than expensive chairs, Hehir notes that ergonomists are involved in design as diverse as landing systems at airports, and layouts for submarines.
Certified ergonomists are highly qualified, often with degrees in physiotherapy, occupational therapy, engineering, psychology, design or even medicine, and then go on to do post graduate studies in an ergonomics course.
Ergonomics for wellbeing
Ergonomics is seen as part of a broader focus on employees' wellbeing. "Wellbeing is an important factor to consider and ergonomics is a big part of that," says Georgina Brown, Communities Manager at Dexus.
Dexus offers two types of ergonomic chairs and the option of Wellness balls, along with gel pads and rolling mice.
"We offer ergonomic assessments to anyone who requests them," explains Brown.
"Sit-stand desks make up 30 per cent of our desks, a key part of the ergonomics approach which works well in a 'no fixed desks' environment."
The business acknowledges the importance of health and wellbeing – of which ergonomics is a part – and is a regular focus in staff communications and events.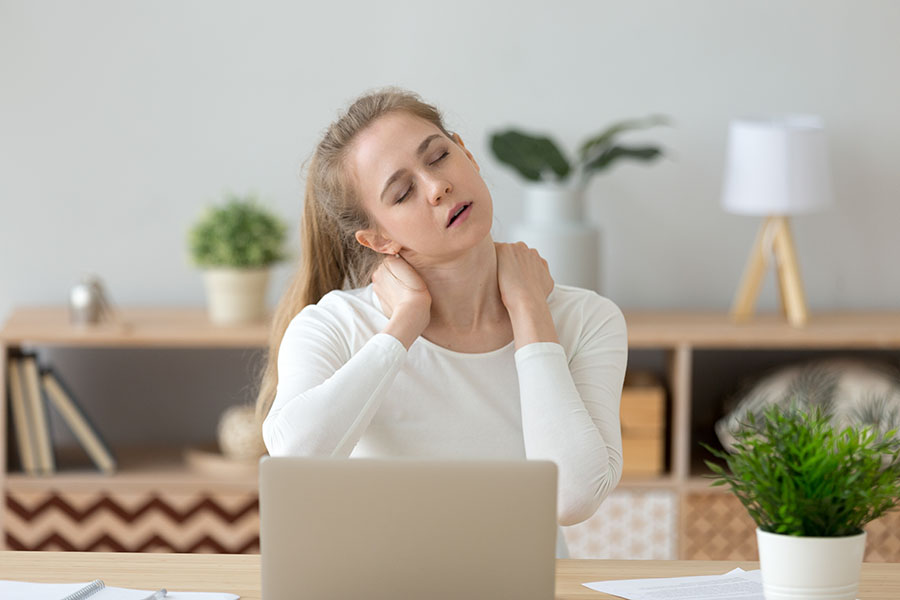 Chair and posture: what is correct?
Pushed on what makes a good chair, Hehir recommends one that meets the Australian standard in terms of height adjustable swivel chairs, noting that chairs that meet the European standard aren't going to be as comfortable as a general rule because they don't offer as wide a size range.
Indeed, the key with furniture is to ensure it can be adjusted to your body size and shape. And, at least as importantly, how you sit in the chair or at the desk.
According to Professor Alan Hedge of Cornell University, while very few people sit back when they work, often thinking they should be sitting bolt upright all the time. The ideal seated position is to recline, with a thigh torso angle of around 105 degrees.
The rationale is that when you recline, more of your body weight is supported by your chair, rather than supported by - and also compressing - your spine.
Leaning forward on a chair can double the pressure on your spinal discs.
Beyond the chair
One thing that most people do know is prolonged unbroken sitting is not good for you.
According to the Human Factors and Ergonomics Society, prolonged unbroken sitting can not only lead to back, neck and shoulder pain, but can also be linked cardiovascular disease, type 2 diabetes and certain cancers including bowel cancer.
As a result, they offer an important tip that has nothing to do with what chair you have. It's as simple as taking frequent breaks and change your position regularly.
The ideal sit to stand ratio is to take two minutes of movement away from the desk or workstation every 20-30 minutes.  And, consider the activities that can help you to do this:
Get a glass of water
Go to a printer further away from your desk
Check your mobile phone while standing
Walk to a colleague's desk rather than emailing or calling
Take a walking meeting
Use a Bluetooth headset to take a phone call while standing or slow walking
Have a standing meeting or conversation at locations that enable standing
All common sense, and something most of us can do … with or without an expensive chair!
Prism Mailing List