Do we want transactional or transformational workplaces?
Article3 mins22 July 2021By Karen Jamal
The risk of transactional workplaces – where people trade their time for nothing but a pay cheque – is very real. The solution? Transformational workplaces that are also a whole lot of fun.


Advocates of agglomeration – the process by which centralised economic activity makes businesses more productive – are missing an important message, says George, Executive General Manager - Office at Dexus.
Agglomeration isn't just about efficient colocation. It is also more fun. "Young people and key talent want to be in the city for a reason – because this is where all the fun happens," George says.
"We need to work harder to make cities attractive to young talent," he adds. But that doesn't mean we need to turn the office into a "kombucha-soaked fairground attraction".

Pain points – like perilous cycling networks or elusive childcare places – are examples of where cities can do better.
"Workplaces need to give people a sense of identity and connection to cultural purpose too. Culture is difficult to replicate online. Real estate plays an important part in supporting culture, but ultimately organisations need to work this out," George says.
"The risk is that the relationship people have with their employer will become very transactional. With no human connection binding them to an organisation, it will become a pay cheque."
What does a transactional workplace look like? It means clocking on, uploading, downloading and clocking off. Rinse, repeat. Strip out the watercooler conversations, social sounding boards, casual chats and five o'clock drinks, and work is less fun.
Perhaps counterintuitively, digital natives are not so keen on remote work after all. Well over half of people aged 21 to 30 now prioritise in-person work with colleagues, according to one survey published last month. In fact, 60% said they value a modern, collegiate office more highly now than they did a year ago.
The findings don't surprise George. He says a survey of 7,600 people undertaken by workplace and change consultancy division of Dexus, Six Ideas by Dexus, found 73% want to work from home at least one day a week.
"But only 24% of workers want to work from home more than two days a week, and most said lack of social interaction was the biggest downside of remote work."
"If you accept the office is important for culture, productivity and innovation, but you still want to deliver flexibility, then the question is: 'How can we curate our space to deliver an optimal experience?'"
Why workplaces are like wine
The office plays an oversized role in social networks, and this stretches far beyond the fun factor. It has serious productivity implications, as people with few friends at work are more likely to be disengaged.
In a worrying note, Microsoft's 2021 Work Trend Index, which analysed billions of Outlook emails and Microsoft Teams meetings, found our networks have shrunk with the shift to remote work. 65% of people "crave" more time with colleagues, according to Microsoft. But without small talk over coffee or serendipitous exchanges in the elevator, networking has got a whole lot harder.
George is also concerned about the days that people are choosing to work from home. "It is no coincidence that people want to work from home on Fridays," he says, referring to recent research from the Property Council and EY. He is alarmed about the potential productivity drain from employees, but also the erosion of networking opportunities that are found in the social lubrication of Friday drinks.
Dexus has been a supporter of Property Council-led campaigns in various CBDs, including Fridays in the City in Brisbane and FOMO Fridays in Melbourne. "If a city only functions at capacity from Tuesday to Thursday then we are not sweating what is a very valuable asset – CBD economic engine rooms," he warns.
But how do we chart a course towards transformational, not transactional, workplaces?
George challenges business leaders to articulate the difference between individual and business productivity. As the Property Council's report, Reimagining our economic powerhouses: how to turn CBDs into central experience districts, points out, some work may be made easier or enhanced by expending individual effort, but organisations exist because they bring together a value chain of tasks and talent.
"Organisations need to better align their workplace with brand, culture and values – and to understand how workplaces thrive through collaboration," he adds.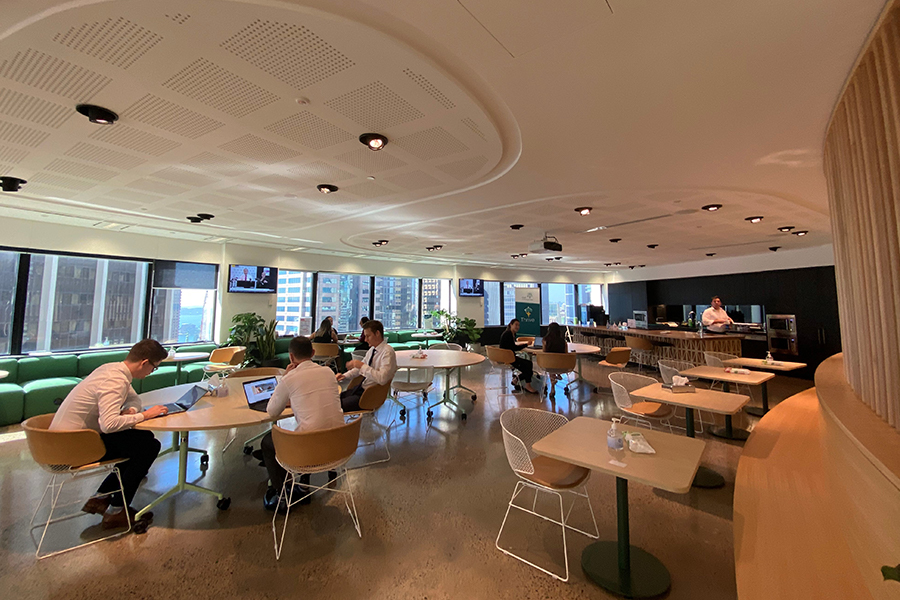 "If you accept the office is important for culture, productivity and innovation, but you still want to deliver flexibility, then the question is: 'How can we curate our space to deliver an optimal experience?'" 
He likens the best workplaces to a fine wine. "Space needs to breathe. The best offices will provide spaces that allow people to decant, chill out and recharge."
Constant customer conversations
George, who spent the past nine years with Dexus evolving its customer centric strategy, has scrutinised workplaces around the world. Silicon Valley knows how to deliver "amazing workplaces at scale" but they aren't "more innovative than what we've been doing in Australia for some time," George says.
Dexus is in a continual conversation with its customers and George says those conversations give him confidence the property industry will continue to adapt and innovate. His own experience with Dexus is a case in point.
"I joined Dexus nine years ago after nearly three decades in agencies observing what I thought wasn't a very productive relationship between landlords and tenants. I sensed the traditional paradigm of landlord and tenant – master and servant – had to be turned upside down.
"I've set about to make Dexus a customer-centric business – and that's paid off in spades. Our Net Promoter Scores have increased over the decade and so too has our performance. We think of ourselves as a customer organisation, as much as we are a real estate organisation."
Microsoft's research – which finds an astounding 41% of the global workforce is considering their next career move within a year – is a huge opportunity for the property industry, he adds.
"Dexus is working with clients on a new model we call the 'blended workplace'." Expect fewer individual desks and more variety of spaces for different styles of working, sophisticated videoconferencing facilities, and more "inspiring aesthetics".
But will there be more fun?
Fun doesn't have to mean bean bags, slippery dips and ping pong tables. "The best spaces will enhance human connection – which is what the best offices have always done."
An evolution, not a revolution, is ahead.
This article was first published in Property Australia on 20 July 2021.
Prism Mailing List