How to design ultra-connected buildings of today
Article3min05 June 2018By Louis White
When designing an office fitout, think people first, technology second to get the best out of your workforce.
Boosting productivity in the workplace is no easy task. There are more distractions now than ever before. If it's not social media preoccupying you, via one of your many devices, the technology in the building may be affecting your ability to concentrate and work well.
From electronic whiteboards to TVs through to the air conditioning, your contact with technology from the time you enter the building until the moment you leave is constant. Even the lifts have visual displays these days.
So how do you design business technology that is an enabler of productivity rather than a distraction?
"In my opinion, the earlier the better for planning," says Arup regional audio visual (AV) skills leader for Australasia, Ben Moore.
"However, more often than not, technology is seen as an add-on to a fitout and is constrained by the building.
"We have three upcoming fitouts where we have spent three years in the planning. That includes user experience development, prototypes, proof-of-concept exercises and, of course, design.
Technology plays key part in productivity
Arup is an independent firm of designers, planners, engineers, consultants and technical specialists who work in every aspect of today's built environment. 
Moore believes AV technology has a big role to play in the productivity of workers in the future.
"Rather than helping humans function better I prefer the mindset of using technology to optimise human communication experiences," he says.
The choice of connectivity technology available to businesses is vast. Immersive theatres offer full immersive audio and video experience, while office fit-outs offer a fully integrated solution with AV, IT, room bookings. Meetings are made easy with a simple HDMI fly-lead that automatically turns on the screen when a laptop is connected.
"I prefer the mindset of using technology to optimise human communication experiences."
Generational shift
For Peter Craig, managing director of ODC Design, which has created workspaces for companies including CrownBet, McCain Foods and TPG Capital, the first step is to make sure there's as much background information as possible on a client's needs before starting a fitout.
And while a lot of the technology infrastructure may be in the building already, it has to be optimised and incorporated into the design, Craig says.
"People are a lot more tech-savvy nowadays. For instance, there are a lot of Wi-Fi receivers now and you have to make sure there is enough radius to pick up every point in the office.
"You need to make sure that's incorporated into the design so there are no blackspots."
As one of Melbourne's most experienced designers of office space, Craig says there has been something of a generational shift towards more open, collaborative spaces and greater variety in seating – including sit-stand desks and higher stools – over a traditional meeting room settings.
A recent fit-out in Melbourne for a long-time client saw the number of offices more than halve from what they had requested a decade ago, Craig says.
"The number of individual offices have been cut for a more open plan and natural light. A lot of clients are wanting collaborative areas where staff can get together in an open plan environment rather than behind four walls.
"It's about communication and making sure all staff feel they are part of a team rather than just a unit. People in the 35-year-old age bracket have a lot of drive and a lot to say, and that's what they are accustomed to."
Craig says there is a greater awareness and education about different office designs has led to requests for more organic, bespoke fitouts.
Craig, who has experienced lower back problems, is also a huge advocate of the sit-stand desks.
"I couldn't survive in the workplace without it," he says. "Every brief we take now it's on the table for discussion."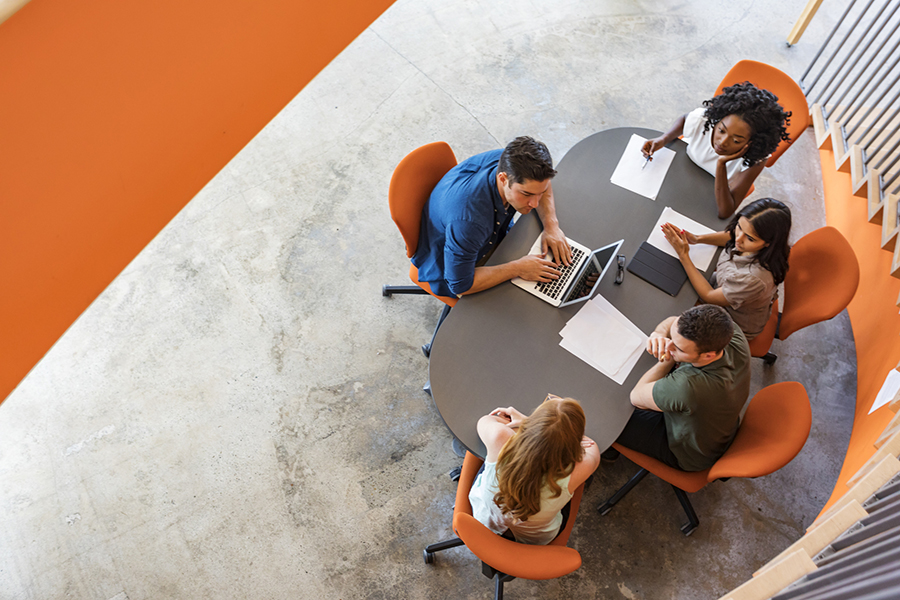 Putting humans first
In this way, no matter what technology you have planned for your building, the human experience must be put at the centre of any deployment.
Arup's Moore says: "While technology evolves and we all adapt, it is the human experience that is the centre of a technology experience.
"Identification of new technologies that support, or enhance, business operations are more likely to be successful."
The message? Think humans first, technology second, and see how your workspace can transform your workforce. 
Prism Mailing List