Top tips for collaborating virtually
Article3 mins28 April 2020By Melissa Gerke
A couple of months ago, virtual meetings were considered an extra aid for workplace collaboration. But thanks to the COVID-19 pandemic, virtual meetings have quickly become a necessity. 

For most of Australia, the sudden shift to working from home has highlighted the importance of communication. In order to feel connected to others and reduce isolation, virtual meetings are popping up in households everywhere.
Here are five tips to help you have a successful virtual meeting, no matter where you are.
"Abandon unproductive routines and try new things."
Professor Lina Markauskaite
University of Sydney
1.  Be prepared
Virtual meetings will be a novelty for some and an anxious challenge for others. Send login details a day in advance and have an offline way to connect for those with connection difficulties. Also, connect ten minutes before the meeting so you're set up and ready.
Workplaces had to learn pretty quickly how to have a successful virtual meeting. Both the facilitator and participants can achieve this success by being prepared. Just like face to face meetings, having an agenda will keep everyone focussed.
2. Face to face meetings won't always suit a virtual meeting
Face to face meetings are a different format to virtual meetings, so changes need to be made to accommodate for that. It's easier to read body language in face to face meetings and there are fewer distractions. People are also less likely to start reading emails or Facebook.
However, virtual meetings could have kids screaming in the background and with Facebook just out of shot of the meeting, you'll need to keep the participants engaged.
"Try to ask questions more frequently. Think of specific questions, such as 'Do you think this new method can help you complete the job? Why do you think so?'. 
"This can help make sure the participants are following the meeting well," says Associate Professor in Leadership, Herman Tse from Monash University.
Companies are now conducting virtual meetings with part of the goal just to connect.
"Provide some time for a catch-up. Don't rush to start the virtual meeting straightway. 
"It would be good to give the participants the chance to connect with each other on a personal level before getting down to the meeting agenda," he says.
As the host, don't be afraid to use the mute button on participants, especially if they have a noisy background. Also, try not to let the meeting run over 45 minutes. Anything longer, you will lose the attention of your audience.
Professor Lina Markauskaite of the Learning Sciences at Sydney University says, "discuss periodically with the team what works well and what doesn't.
"Abandon unproductive routines and try new things. Also, don't avoid trying new things suggested by the team members."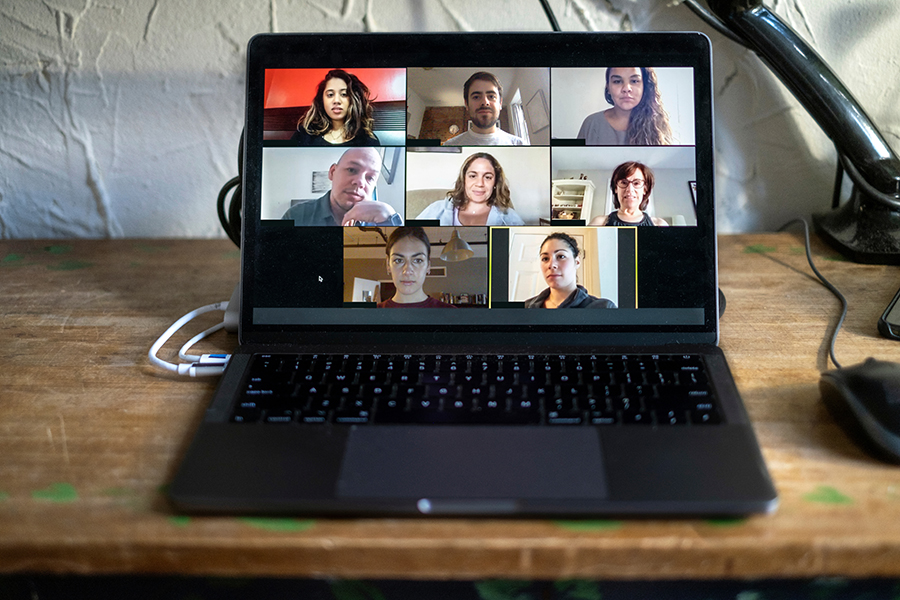 3. Etiquette
The more people in the meeting, the harder it is to know who's talking. Set some guidelines on how to conduct the meeting.
It is important to avoid people speaking over each other, so if you have a video meeting you could ask people to raise their hand to get their voice or opinion heard or even raise a question.
Making sure you clarify actions by having an attendee take minutes can help when the call is not clear or others are not one hundred per cent sure of the statement. 
When everyone knows how to conduct themselves it makes the meetings more effective.
4. Email or meeting?
Consider how much interaction is required amongst the people on the call. 
Emails are a great way of summarising actions. They're a forum where you might be seeking approval or sending out information. Emails are best when no discussion is required.
If any form of collaboration or engagement with the team is needed, have a virtual meeting. It may be important particularly at this time for people to connect. Celebrating birthdays or a milestone can create more engagement with the team and lift morale. 
5. Meeting conclusion
Before the end of the meeting, allow some conversation. In the office, some chit chat creates a friendly environment and breaks down barriers. The same can occur virtually. 
"Allow 5 to 10 minutes to cool down the conversation by allowing the participants to ask any further questions to clarify their reservations before the end of the meeting," suggests Tse.
"Summarise the main points of the meeting and some action items for each member to follow via email or a Google document," he says.
The novelty factor of the virtual meeting will still be there for some companies, and so too will the need for connection in this time of isolation. Virtual meetings are a welcome technology that is here to stay, even after isolation.
Prism Mailing List