How artificial intelligence can improve the customer experience
Article3 min17 April 2018By Brent Balinski
Cheaper and easier to run, less wasteful, and with a better chance of having enough seats at meetings. Is this the building of the future?


There are good reasons to believe that our buildings – like many other things in our lives – are poised to get really smart.
We are not there yet, say those involved in the property management industry, but the direction is clear. One recent forecast, by Navigant Research, put the value of the "smart buildings" market at $US3.6 billion ($4.7 billion) in 2017. In less than a decade that is predicted to nearly triple in value, reaching $US10.2 billion.

Elsewhere, the same research firm gives three reasons why commercial property managers are primed to adopt artificial intelligence in a big way.

For one, the investment in sensors, controllers and gateways – all necessary to create, transport and collect the data used for automation – has either already been made or is now being made. Secondly, customers increasingly expect technology to deliver better services. Leveraging technology to deliver better customer service makes obvious sense.

And third, there's a top-line advantage for technology adoption, for example through savings in energy and operations costs.

Building operators now have the opportunity to use data captured in everyday operations to improve the customer experience.
"A digital engineer is a step beyond logging problems on a clipboard, but the real goal is to use machine learning to make the data predictive."
We're part-way there
Most buildings are already at the data capture stage. Platforms have been developed to pull information from different types of assets (for example security systems, ventilation, lighting), convert it into a conforming protocol, and then run analytics.
This kind of process is referred to as a "virtual engineer". It's useful for detecting outlying results, and pointing out issues that might previously have required a manual inspection to unearth. But while a digital engineer is a step beyond logging problems on a clipboard, the real goal is to use artificial intelligence, also called machine learning, to make the data predictive.

Dexus's virtual engineering program provides a stream of information about building management and operations across 44 of its office buildings. The analytics program allows data to be centralised – in Dexus's portfolio there are around 240,000 Building Management and Control System (BMCS) points connected into a single platform, including 28,600 temperature sensors, 140 chillers and 700 pumps.

At the moment, identifying problems tends to be rules-based. But machine learning – the reason why, among other things, computers have gotten so good at voice recognition, finding cats on YouTube and beating people at games like Go and old Atari classics – involves recognising patterns based on repeated examples, and generally lots of them. It needs a lot of data to recognise and make use of patterns.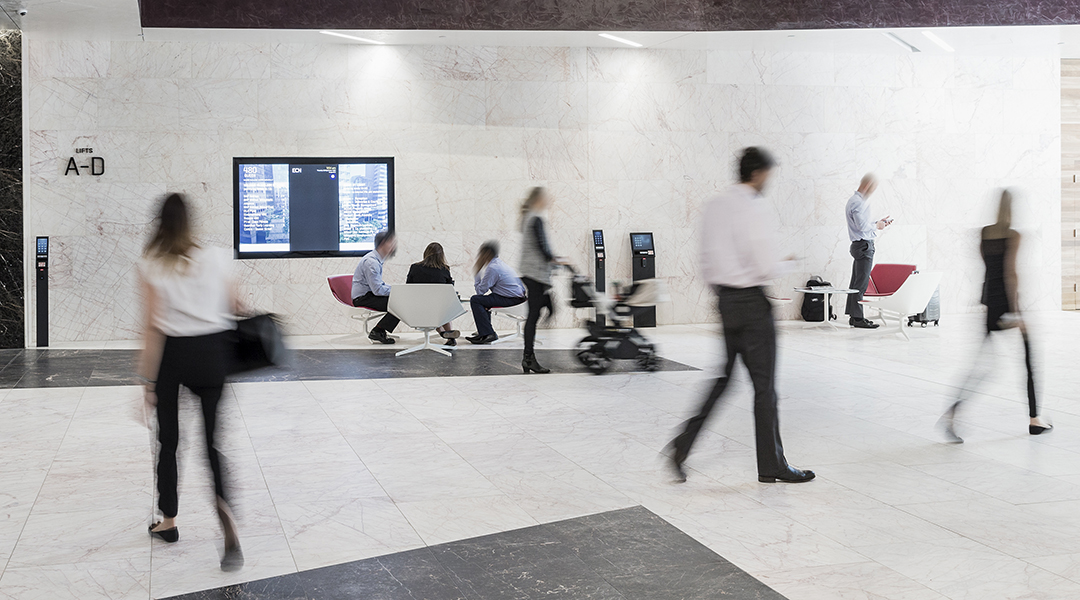 Use it first in heating, cooling, ventilation and lighting
Two areas where there are obvious savings to be made using artificial intelligence, and reasonably quickly, are in HVAC (heating, ventilation and air conditioning) and smart lighting controls.

Monitoring who uses what, where, and how, can bring savings in power use, as well as more personalised climate control in buildings. The sustainability implications are large, too, because these functions contribute substantially to a building's energy consumption. Buildings account for 40 per cent of all power use globally.

Another area where artificial intelligence will have an impact is in smarter allocation of space used, greatly improving the productivity and performance of a building's occupants.

There are many different ways an office could be configured, though space of course is finite. Having an evidence-based office setup, using different types of data collected from sensors and other sources, could help a tenant get the best out of the space and improve productivity.

There could also be improvements in applying intelligence to allocating meeting rooms, based on what's available and what's needed. This is a serious issue, with Dexus's customer focus group research finding that 70 per cent of tenants couldn't find a meeting room of the right size or when one was needed.

These are some of the more obvious ways benefits could be realised. There are less obvious ones. Consider facility specialist ISS's use of IBM's Watson IoT (Internet of Things) platform to decrease waste from the kitchen, for example.

Sensors in doors and entrance areas can tell a property manager how many people are in a building at any one time, and sensors on plate dispensers can inform kitchen staff of how many people are still likely to need to eat – helping staff to prepare the right amount of food and avoid wastage.

Through connectivity, data, and developing the right tools to make sense of that data, the buildings of the future will be run more efficiently, more sustainably, and in ways that might surprise – even delight – us, creating a great overall customer experience.
Prism Mailing List