Want a better workplace? There's an app for that
Article3 min01 December 2020By Karen Jamal
Workplace apps are evolving to better support the health and safety of building occupants, and create a seamless experience that brings a workplace community together, regardless of location.


Do you need to reserve a desk as your office is reorganised for physical distancing? Tick. Do you need to track down your co-workers across multiple locations? Tick. Are you cycling to work and want to reserve space in the end-of-trip facilities? Or do you want to order a coffee without the queue? There's a workplace app that can help with that too.
Before COVID-19, Australian landlords were already investing in technology to make workplaces smarter – helping people to log an IT request or check whether a meeting room was free in a few simple clicks. But now, workplace apps are evolving to better support the health and safety of building customers, and create a seamless experience that brings a workplace community together, regardless of location.
"COVID-19 has highlighted the benefits of having really good technology," says Jon Clarke, Head of Smart Building Technology for Dexus.
"We've all seen how, without reliable technology, companies can struggle with remote working. Effective technology infrastructure can help companies bring their people back to the workplace."
Clarke leads a team who research, develop and trial a range of technologies that aim to make the workplace experience "seamless".
At 100 Mount Street in North Sydney, for example, tenant customers can log onto the Dexus Community building app to order takeaway food or flowers, check in their dry-cleaning or book a slot in the luxurious end-of-trip facilities. 
"Whether working from home, on the go or in the office, customers can jump onto the app and find everything they need."
Ellen Drury
Customer Experience Manager
CBRE
"CBRE's Customer Experience Manager Ellen Drury says her job is to "connect the building community to their building and each other", and currently oversees customer experience at 100 Mount Street in North Sydney and Gateway tower overlooking Circular Quay. New apps are on the horizon, and each will be unique to their location. "The building community profile shapes what we offer on each app," Drury says.
Enhancing the human experience
Apps are now big business. Today, more than 1.85 million apps are available for download in the app store, compared to 500 in 2008. Android users have even greater choice, with 2.56 million on offer through the Google Play Store. An eye-watering 37.8 billion apps were downloaded in the first quarter of 2020 alone. 
Apps now play a big role in the way we live, but that doesn't always mean apps make our lives better.
"Not everyone has the time and appetite to engage with yet another app, on top of the 10 or so they are already using every day," says Nicola Hudson, Senior Designer with global engineering firm Arup. "The app must serve a very real need."
Hudson is part of a team designing new technologies for Waterfront Brisbane, a city-shaping development along the Brisbane river. 
"We focus on how to support the experiences of the diverse people who will be using the precinct every day. Too often, with building technology, not enough time is spent understanding who will use the app and why," Hudson explains.
Apps are not just about creating seamless experiences. 
"We might need to introduce friction to support changes in behaviour, which help us achieve collective goals in areas such as sustainability. For example, you're coming into the office to do some work at the weekend and instead of sitting at your usual desk, you could be asked to sit on the 'out of hours' floor to reduce the building's power consumption."  
We also need to consider privacy, Hudson adds. "Once somebody puts an app on their phone, it could request access to your camera, your contacts and so forth - which can create a level of discomfort.
"There are alternatives that we can consider alongside apps that keep people engaged with their surroundings and don't gather personal data."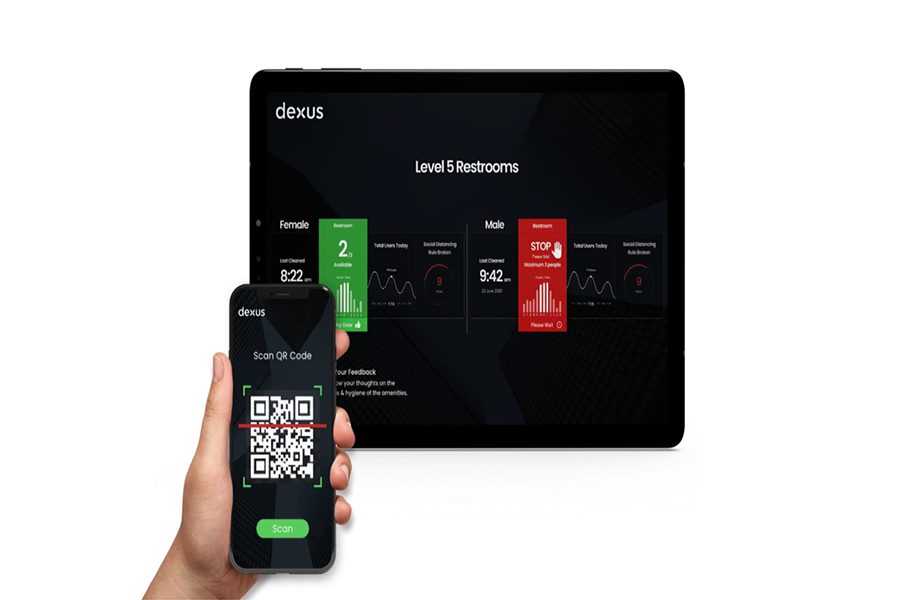 A pandemic panacea
Workplace apps that once helped building customers book meeting rooms or find a free hot desk are evolving rapidly to encompass new health and safety features in response to COVID-19. Apps can support safe contactless entry, for instance.
"We developed an end of trip occupancy management system to assist with physical distancing because there wasn't anything in the market that we could deploy quickly," explains Jon Clarke.
"Other apps we fast tracked were a desk booking and location finder for our people, ensuring there was a desk available with the requirement to check in. This allows for contact tracing and is a part of our group's COVIDSafe plan.
"Together these intelligent systems help us maintain physical distancing and cleaning regimes; while providing our customers and people with the confidence that we are doing all we can to keep them safe. 
"The best workplaces carefully integrate technology with the building's architecture, engineering and operation – with all aspects centred around occupant needs." 
Nicola Hudson
Senior Designer
Arup
"We couldn't do this without the help of sophisticated integrated technologies."
Drury says her team had to "pivot" at the peak of the pandemic to create new app functions, like an "online wellness offering" that replaces onsite classes.
"We have introduced a new feature in the app for those customers transitioning back into the office. It's a one-stop-shop for all COVID-19 related building information such as lift capacity updates and new hygiene measures that are in place."
Apps can also be a powerful engagement and productivity tool, Drury adds. 
"We want to improve our customers' work day. Every part of their day should be made easier through the app and deliver a frictionless experience regardless of where people are working." 
Hudson says the next opportunity for building technology is to "think beyond the building".
"A lot of technologies and services are focused on the interiors of individual buildings. But some of our greatest ideas come not from inside buildings but between them. If the proposition of an office is to bring people together, then we need to consider the city around the office. 
"How can we create great public places? This should be the starting point for the design of any building app."  
Prism Mailing List