AI is headed for your office, the only question is how soon will it arrive?
Article3 min02 May 2018By Amy Cooper
Imagine an AI-enabled workspace that is smart enough to adjust lights and temperature, greet visitors, set up meetings and even order a pizza.


Just like the computer on Star Trek, its cyber brain can answer curly questions spoken into the air, and update you on the atmospheric conditions (commonly known as weather and traffic). And, crucially, it can learn new skills to aid productivity and improve everyone's working day.
It sounds like a futuristic fantasy, but this Enterprise technology is already in use in Australia. She's called Alexa, and she's putting the smart into six brand new Smart Suites in Brisbane's premium Waterfront Place office building.

Alexa is the voice assistant connected to Amazon's Echo home automation hub.

Dexus's groundbreaking use of Amazon's artificial intelligence system in a commercial setting marks the latest shift in our use of the internet. Alexa can gather data and use it to create the environments we want in a way that's being called "the Internet of Things (IoT)".

In their first workplace application, Alexa and Echo control the Smart Suites' array of intelligent features including ClickShare streaming, Apple TV, Samsung Smart TVs, Sonos music streaming, Yamaha in-ceiling speakers, automatic blind controls, iPad air controls and motion sensors.

In the US, Alexa is already a familiar feature in millions of homes, allowing families to use the Internet of Things (IoT) to control lighting, temperature and security systems remotely from their smartphones. That's along with an impressive portfolio of extra skills such as ordering Uber and letting you know about the latest news.
"This is the first application of the Alexa control device in an office environment anywhere in the world as far as I am aware." Brian McGuckin, managing director of Aurora
A combination of skills
With Amazon's arrival in Australia, Alexa is starting to appear in homes here, too.

But her public debut down under was in the Dexus Smart Suites, late last year, through the support of Aurora, a company that provides smart technology to homes and offices.

Aurora delivered Alexa to the Smart Suites as part of a plug and work set-up, and Brian McGuckin, managing director of Aurora, is certain it's unique so far. "This is the first application of the Alexa control device in an office environment anywhere in the world as far as I am aware," he says.

One of the reasons McGuckin opted for Alexa over other AI systems is her ability to combine skills and enable a sequence of events with just one voice command.

As an example, say "Alexa, start meeting," McGuckin explains, and "the blinds adjust, the lights go on and the smart TV switches over to wireless presentation mode. That's three separate events on one short voice command."

Alexa's ability to learn makes her a formidable research tool, says McGuckin. "While sitting in a meeting, you can ask Alexa for information, for example: 'Alexa, what's the current value of the Australian dollar?'" he says. If the answer isn't immediately available, Alexa will request that you ask her again later, then set about researching the answer.

The gadgetry at Alexa's (virtual) fingertips in the Smart Suites is impressive in its own right. A ClickShare device connects the smart TVs to any laptop, allowing sharing direct from one screen to another. "There are no cables and projectors anymore for presentations," says McGuckin. "It's a very simple, effective way to connect and share."

Each Smart Suite comes with a CCTV camera, which can be used to replace a full-time human receptionist, saving smaller businesses valuable dollars. "You can put the camera in the reception area and link it to a screen back-of-house, so you don't need someone at reception," says McGuckin.

The Smart Suites' technology can also be controlled from an iPad, either from its magnetised charging station on the wall, or hand held anywhere around the suite.

And there's plenty of tech-powered, morale-boosting fun to be had, too. Alexa can host an after-work quiz for you, or find the right music to accompany Friday night drinks – from anyone's library or by linking to Spotify. "Or even just say: 'play The Beatles White Album', without you having to search for it," says McGuckin.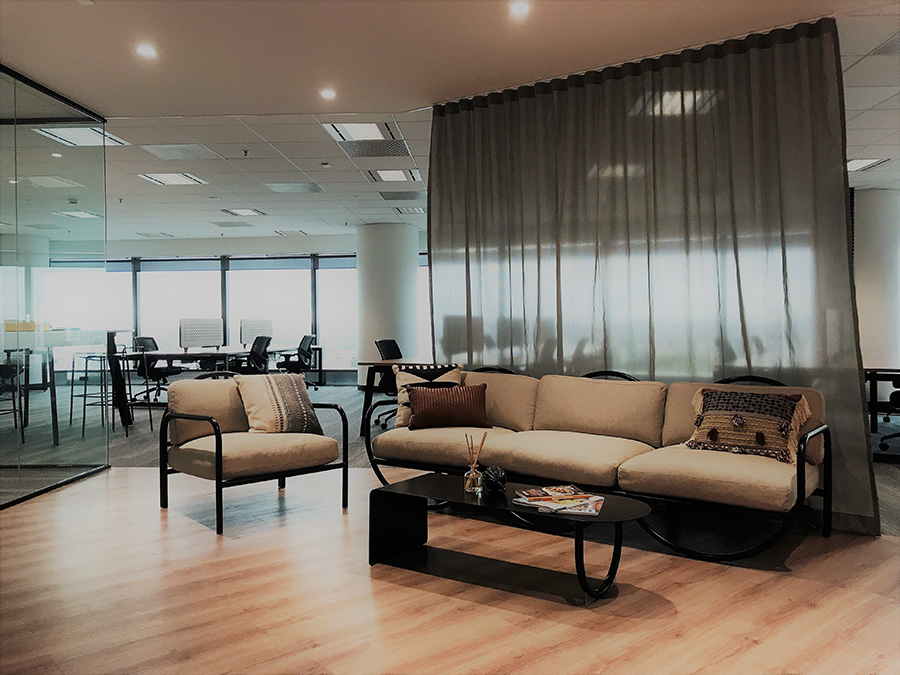 The Smart Suites at Waterfront Place, Brisbane are already proving popular with progressive, small-to-medium companies.
SMEs jump at the opportunity to test Alexa
The Smart Suites are already proving popular with progressive, small-to-medium companies. One new tenant at Waterfront Place has added five more smart TVs, as well as using the CCTV camera in reception and having Alexa control the blinds, lights and TVs.

They're early adopters of a growing worldwide movement favouring buildings with brains. As the modern office transforms into a wireless ecosystem, many futurists believe that data cables, ports for landlines and even power outlets will soon be consigned to the history books.

The last two years have seen a huge leap forward in work space technology. It's been driven by the advent of buildings with integrated digital intelligence that might one day even be able to identify and respond to the needs of individual employees.

Already these buildings have impressive capabilities thanks to IoT platforms such as GE's Predix, IBM's Watson, and SAP's HANA. These technologies integrate multiple building automation systems into one central dashboard, often known by a term coined first by networking giant Cisco: the digital ceiling.

Meet Amsterdam's poster child (it's a building)
The global poster child for data-driven buildings is Amsterdam's The Edge, completed in 2015.

This 15-storey workplace knows how much energy it is consuming, how many parking spots it has left and when the bathrooms need cleaning. And its espresso machines remember how each worker takes their coffee.

Workers are connected to the building via a smartphone app designed by main tenant, Deloitte. It helps them find parking spaces, hot-desks and other colleagues, checks their schedules for the day and allows them to adjust surrounding lighting and temperature.

The office of the future is evolving at lightning speed, and here in Australia Brian McGuckin is delighted to be part of a group that is contributing to the change. He hopes to work with Amazon to develop Alexa's workplace skillset with a range of bespoke tools specifically designed for the Smart Suites.

"When we come across new concepts and new ways to use Alexa, we try to make it as relevant and useful as possible rather than just a gimmick," he says. "So, there is real practicality to the convenience of voice control."

He adds: "One or two years down the track, I'd say it will be a given that this level of technology is what you get with a spec office fit-out. But right now, this technology is a great way to create a strong point of difference."
Prism Mailing List