A tale of two cities Singapore and Hong Kong
Article3 Minutes16 November 2022By Corrine Ng, Portfolio Manager
As economies around the world recover from the Covid-19 pandemic, demand for global talent has intensified. This has played out in a pronounced way among two cosmopolitan Asian financial (and expatriate) hubs, Singapore and Hong Kong.

Lacking natural resources, these small economies need to attract and retain global talent to grow. And right now, one is clearly winning.

In his speech at the recent National Day Rally (21/08/22), Singapore Prime Minister Lee Hsien Loong announced new policies to attract and retain high-quality foreign talent. Hong Kong, mired in travel and Covid-19 restrictions remains several steps behind. The divergence is nowhere more apparent than in the office markets in each city.

In Hong Kong, strict Covid-19 policies and the demonstrations of 2019 contributed to an expatriate exodus that is proving hard to reverse. Hong Kong now has a striking hole in its once glamorous office market, having been home to the most expensive rents in the world, and by some margin.

While still claiming top honours, prime office rents are falling faster in Hong Kong than in other office markets globally however this cannot be wholly attributed to the departure of expatriates. In 2017, Chinese mainland corporates accounted for somewhere between 25-50% of Hong Kong's leasing transactions. This trend has now slowed to a trickle1.

Singapore's office market has been a beneficiary, recently toppling Hong Kong's position as Asia's premier financial centre. It has moved up to third place in the 32nd Global Financial Centres Index (GFCI)2, behind New York and London who led the index, and tellingly ahead of Hong Kong, which now sits in 4th position.

The economic growth outlook, normally a key indicator of office demand, puts Singapore ahead of Hong Kong at least for the next year. Government estimates have Singapore's GDP growth forecast at 3-4% while Hong Kong's is much lower at -0.5% to 0.5%3.

The chart below paints a stark picture of how the office markets have performed in these two cities. According to Colliers data at the end of June this year, the Hong Kong Prime office vacancy rate was at 8.9% and rising, whereas the Singapore Prime office vacancy rate at 3.2% and declining. For investors in the Dexus Asian REIT Fund, the question is whether these trends will continue to diverge or reverse.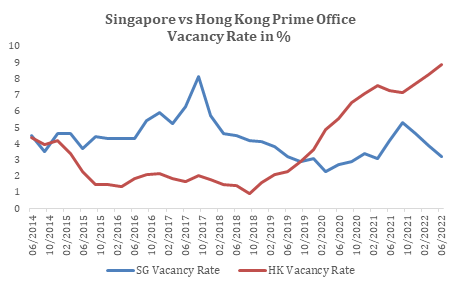 Source: Colliers, Bloomberg
Recently, Hong Kong's chief executive John Lee unveiled plans to attract talent, enterprises, and investment. Measures included visa and tax concessions for skilled workers returning to the financial hub and a cut in property taxes for non-permanent residents4.

While these initiatives may improve sentiment, Hong Kong has an opportunity to consolidate its position as a strategic bridge between mainland China and the West as 'Asia's World City'5, which will be a driver for future demand in office space.

Particularly, Hong Kong is integral to the Greater Bay Area (GBA) project, occupying the key role of its international financial, transport and trade hub.

For now, we prefer the fundamentals of the Singapore office market. The vacancy rate and the rental trends data tell the tale of two cities – Singapore's Grade A office market is expected to finish the year with rental growth gains of around 10% according to JLL6. This compares favourably to Hong Kong, which is expected to end 2022 with rental declines in the -3% to -5% range7.

For the Dexus Asian REIT Fund, now offering a running yield of 6.96%8, our ~26% geographical portfolio allocation to Singapore – almost twice that of our Hong Kong allocation – should pay off8.

Footnotes

1. https://www.mingtiandi.com/real-estate/research-policy/mainland-demand-boosts-central-office-rents-to-new-record-mingtiandi-hong-kong-office-index/
2. GFCI Main Rankings https://www.longfinance.net/programmes/financial-centre-futures/global-financial-centres-index/
3. Singstat, Censtatd HK
4. https://www.theguardian.com/world/2022/oct/19/hong-kong-launches-fund-attract-foreign-businesses-back
5. South China Morning Post
6. JLL
7. Cushman and Wakefield
8. Dexus Asian REIT Fund Performance at 31 Oct 2022. Current running yield, as at 31 Oct 2022, is calculated daily by dividing the annualised distribution rate by the latest entry unit price. Distributions may include a capital gains component. Distributions are not guaranteed and past performance is not an indication of future performance.




Disclaimer:

This material has been prepared by Dexus Asset Management Limited (ACN 080 674 479, AFSL No. 237500) ("DXAM"), the responsible entity and issuer of the financial products of the Dexus Asian REIT Fund mentioned in this Material. DXAM is a wholly owned subsidiary of Dexus (ASX: DXS).

Information in this Material is current as at 11 November 2022 (unless otherwise indicated), is for general information purposes only, does not constitute financial product advice and does not purport to contain all information necessary for making an investment decision. It is provided on the basis that the recipient will be responsible for assessing their own financial situation, investment objectives and particular needs. Before you receive any financial service from us (including deciding to acquire or to continue to hold a product in any fund mentioned in this Material), investors should read the relevant product disclosure statement ("PDS"), financial services guide ("FSG") and target market determination ("TMD") in full, and seek independent legal, tax and financial advice. The PDS, FSG and TMD (hard copy or electronic copy) are available from DXAM, Level 5, 80 Collins Street (South Tower), Melbourne VIC 3000, by visiting https://www.dexus.com/investor-centre, by emailing investorservices@dexus.com or by phoning 1800 996 456. The PDS contains important information about risks, costs and fees (including fees payable to DXAM for managing the fund). Any investment is subject to investment risk, including possible delays in repayment and loss of income and principal invested, and there is no guarantee on the performance of the fund or the return of any capital. This Material does not constitute an offer, invitation, solicitation or recommendation to subscribe for, purchase or sell any financial product, and does not form the basis of any contract or commitment. This Material must not be reproduced or used by any person without DXAM's prior written consent. This Material is not intended for distribution or use in any jurisdiction where it would be contrary to applicable laws, regulations or directives.

Any forward looking statements, opinions and estimates (including statements of intent) in this Material are based on estimates and assumptions related to future business, economic, market, political, social and other conditions that are inherently subject to significant uncertainties, risks and contingencies, and the assumptions may change at any time without notice. Actual results may differ materially from those predicted or implied by any forward looking statements for a range of reasons. Past performance is not an indication of future performance. The forward looking statements only speak as at the date of this Material, and except as required by law, DXAM disclaims any duty to update them to reflect new developments.

Except as required by law, no representation, assurance, guarantee or warranty, express or implied, is made as to the fairness, authenticity, validity, suitability, reliability, accuracy, completeness or correctness of any information, statement, estimate or opinion, or as to the reasonableness of any assumption, in this Material. By reading or viewing this Material and to the fullest extent permitted by law, the recipient releases Dexus, DXAM, their affiliates, and all of their directors, officers, employees, representatives and advisers from any and all direct, indirect and consequential losses, damages, costs, expenses and liabilities of any kind ("Losses") arising in connection with any recipient or person acting on or relying on anything contained in or omitted from this Material or any other written or oral information, statement, estimate or opinion, whether or not the Losses arise in connection with any negligence or default of Dexus, DXAM or their affiliates, or otherwise.

Dexus, DXAM and/or their affiliates may have an interest in the financial products, and may earn fees as a result of transactions, mentioned in this Material.
Prism Mailing List