The key to a smooth and safe transition back to the office
Article3 mins22 September 2020By Amy Cooper
As many Australians return to their offices, personal safety and wellbeing is reshaping the post-pandemic workspace.

As the COVID-19 restrictions relax, it's farewell to trackpants and kitchen bench workstations as teams head back to the office. 
Now comes the next challenge for organisations: the priorities and protocols of a post-pandemic workplace, where safety and wellbeing matter more than ever before. 
"It was as much about confidence as safety."
Katherine McConnell
Brighte
Reimagining the workplace
Physical distancing is reshaping our workspaces in every way, limiting both space occupancy and movement. Crowding around the coffee cart and squeezing into packed lifts are now big no-nos, and bathrooms and kitchens come with a new etiquette.
With physical distancing regulations constantly evolving and varying from state to state, staying up to date is key to thriving post COVID workspaces, says Wayne Hall, Head of Office – Asset and Property Management at Dexus. 
With 1.8 million square metres of office space in the Dexus portfolio spread among buildings of all shapes, sizes and ages, it's a complex task, but there are key principles, says Hall.
"Starting with the number of people allowed to occupy a space, then overlaying the 1.5m physical distancing rule, we consider the ways customers interact with our buildings and identify the areas with high touchpoints," he says.
Communal kitchens and collaboration spaces, ground floor foyers, lifts and staircases and end-of-trip facilities - from bathrooms to bike racks - have been reconfigured for safety, with higher frequency cleaning services and physical distancing protocols. Fewer people share lifts, staircases might be single-direction and floor markings guide traffic flow.
Modified movements
For energy finance start-up Brighte, a staggered return to the workplace proved a positive experience for the 60-strong Sydney team.
Brighte's CEO Katherine McConnell attributes the smooth transition to extensive forward planning and communication. 
"We began discussions back in May," she says. "Then we started with one day a week back at the office. This offered a lot of flexibility, particularly for people who might have initially felt a bit nervous. Every two to three weeks we added an extra day."
Alongside physical wellbeing measures such as distanced seating, installing hand sanitisers and creating 'Zoom rooms' for fully remote meetings, McConnell also prioritised a supportive environment for her team. "I thought it was as much about confidence as it was about safety," she says.
Reassuring measures have included Brighte's workspace receiving the NSW Government's COVID Safe accreditation, and daily health and safety updates from official sources via a Slack channel.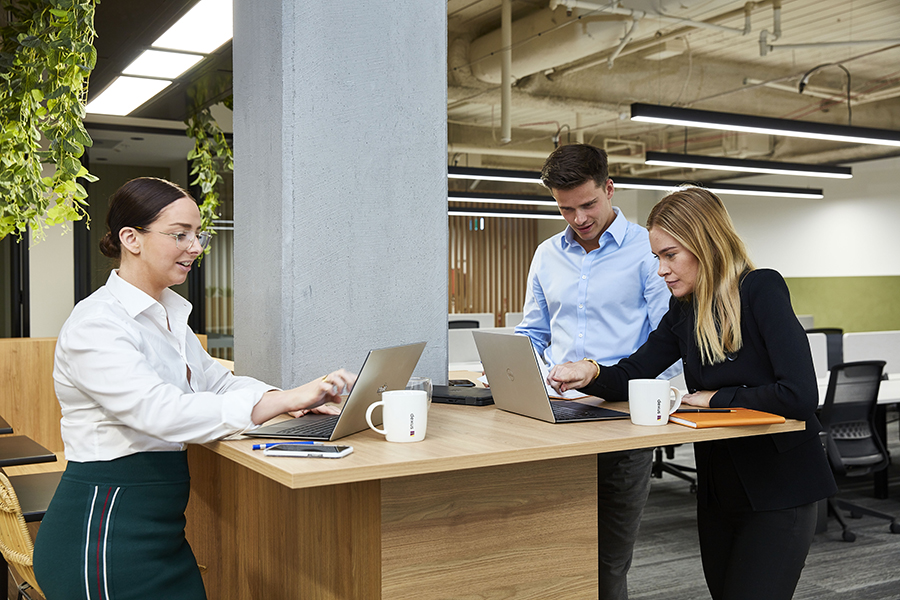 Scrupulously spotless
Office buildings and their tenants are focusing on cleanliness like never before, often investing in hospital-standard sanitation.
"We looked at what we could change about the ways we clean, and the cleaning products we're using," says Wayne Hall. 
"You have to seek out the products that are most effective against viruses."
When it comes to personal hygiene, research shows the most potent anti-COVID cleaning weapon is soap. But it needs to be deployed effectively. 
"Research also shows that there's little useful effect unless you wash your hands for at least 20 seconds,".
That message is politely reinforced by clear signage across all Dexus buildings – especially in higher touch areas.
While soap is king, hand sanitiser is also an office mainstay. 
"We have hand sanitiser stations in all ground floor lobbies and in common area spaces throughout our buildings," says Hall.
Again, he says, effective use is key.
"For example, when you reach the front of the lift queue, you sanitise your hands before pressing the button, so on contact with the button your hands are freshly clean," Hall explains. 
Knowledge is power
In times of such rapid change, it's crucial for workplace managers and employers to gather and share the most up to date and reliable information. 
Dexus has worked with experts in multiple fields to create safety protocols specific to each building in its portfolio.
"We have independent risk consultants conducting assessments on key areas, such as end-of-trip facilities, lifts and common foyers," said Mr Hall.
"We also have an independent medical expert reviewing the work provided by the risk consultants, so we're accessing the most reliable and credible information available."
Dexus has a team dedicated to gleaning the latest information from government, safety organisations and the World Health Organisation. These findings are shared with customers in weekly communications along with tips for office safety and wellbeing, plus updates on Dexus's own safety protocols. 
Information from Dexus's customer surveys is fed straight back to the customer community, says Hall. 
"These might focus on occupancy and people strategies around returning to work. We make it punchy, effective and hyper-local."
Everyone plays a part
While strict safety protocols create safer workspaces, their success depends upon a communal effort, says Hall.
Great hygiene, respect for physical distancing and a healthy dose of patience and tolerance are the best tools anyone can bring to the office, he believes. 
"We need to rely on people to be good humans and respectful to their fellow person. Also, it's imperative if you think you've been exposed, or if someone in your home is not feeling well, that you self-isolate and get tested." 
In return for their vigilance, teams back in the workplace can reap all the benefits of face-to-face culture, says Katherine McConnell. With some simple adjustments, Brighte has maintained morale-boosting traditions such as office drinks – now spread across the office floor rather than inside the kitchen. 
McConnell believes being back together is beneficial for business.
"There's lots more spontaneous and natural energy," she says.
"We find those chance, face-to-face conversations lead to greater ideas, momentum and collaboration."
Prism Mailing List