Why the 'power lunch' works in modern workplaces
Article3 min16 July 2019By Amy Cooper
Efficiency, sustainability and an increasingly egalitarian workplace culture have shaped the new wave of power lunches.
Many people can still remember those grandiose power lunches stretching from midday to after dark, fuelled by fine dining and expense account largesse.
At their peak, pre-GFC lunches generated bills as hefty as the $22,000 drinks tab famously incurred in 2002 by six London bankers at Gordon Ramsay's Michelin-starred Petrus.
But the business environment has changed since then. Traditional hierarchies are dissolving into more egalitarian, collaborative cultures. Time and budget restraints necessitate greater efficiency, and younger team members are bringing their taste and health preferences to an increasingly eclectic, multi-generational workforce mix.
The business lunch has evolved along with the workplace – but reports of its demise are very much exaggerated, say those in the know.
We get to learn a lot about what's happening around the company around the lunch table
Same, but different
"The business lunch is still alive and kicking," says Jeremy Courmadias, General Manager at Fink Group, owner of acclaimed restaurants Quay, Bennelong, Sydney OTTO and Brisbane OTTO.  "It's just being done in a very different way."
Courmadias, who previously worked at London's legendary power lunch haunt Le Caprice and then at Sydney's equivalent, Rockpool Bar and Grill (dubbed 'Global HQ' by its power-broking lunch clientele), says today's business lunch is a faster and more restrained affair than its naughties and nineties predecessors.
"The speed of service is a huge factor. People need to be out by a certain time to keep their day going."
Discretion is key, too, says Courmadias. "A lot of businesses these days are very conscious of being seen out spending enormous amounts of money. Generally, lunchtime drinking is down; there's a lot more wine by the glass than multiple bottles."
Ariane Graham, restaurant manager at Sydney's Republic Dining, a longtime lunch favourite with CBD law and accounting firms, agrees.
"People are more conscious about only ordering a certain amount of wine. A lot stay under the $100 per bottle mark."
While lunch is a leaner beast, it's still a robust one, say both these industry veterans.
"Many of our regular clients are still having lunches as a key tool to facilitate business," says Courmadias.
"This restaurant's been open the better part of 20 years, and the business lunch trade has remained consistent," adds Graham.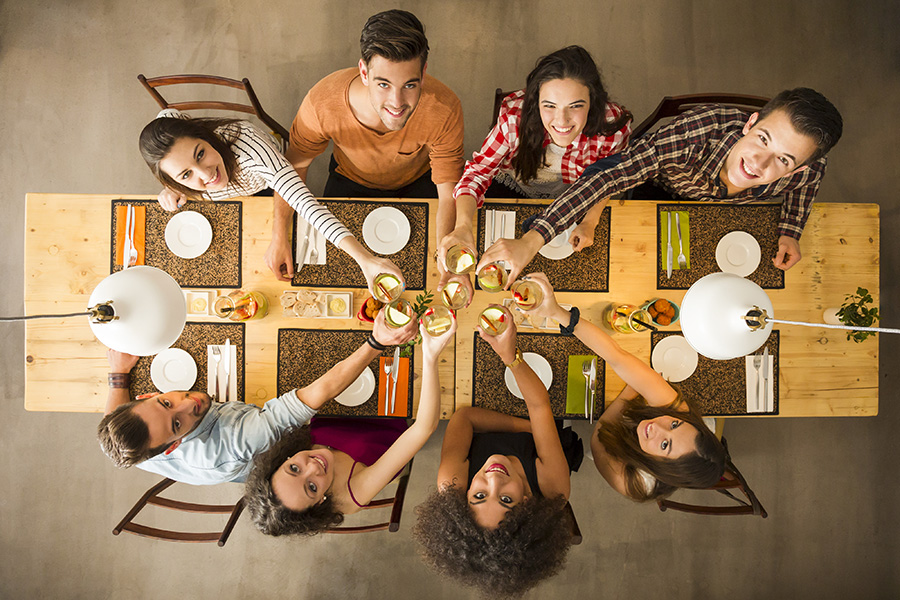 The millennial effect
With millennials set to constitute 75 percent of Australia's workforce by 2025, it's no wonder their tastes are influencing business lunch traditions.
Guy Griffin, The Real Review's principal food writer, sees greater fragmentation in popular business lunch destinations, with younger workers seeking out cult, hipster haunts via social media.
"There's a lot of younger people eating ramen in obscure basement joints," he says.
Right now you'll find them talking shop over salt shrimp broth in Crescent Ramen, a hidden, underground Sydney ramen eatery that at night transforms into a Japanese bar. Next week, it might be somewhere else.
Another major trend is the in-house working lunch, says Griffin. 'Lunch and learn' has been popularised by major US companies keen to add value for staff and associates alike.
Instead of building goodwill by entertaining clients and associates in restaurants, businesses invite them to a lunch-hour seminar with top-drawer catering and compelling topics.
"Clients come and hear something that's relevant and they get a great meal, and it's good PR for the firm," says Griffin.
There is such a thing as a free lunch
Meanwhile, companies with youthful, innovative values have taken lunch to another level entirely.
At Australian tech unicorn Canva, lunch is considered so essential to the team's wellbeing and success that the owners hired respected chef and restaurateur Chris Low to create his dream kitchen and build a positive workplace culture around it.
Low joined Canva after selling his Surry Hills restaurant, Orto Trading Co., and as the company's Head of Vibe, has placed food at Canva's centre - physically and philosophically.
Low's team daily cooks up a feast, free for all employees, with 85 percent of ingredients sourced from Canva's own farm in Lower Portland, NSW. The team gathers around communal tables to enjoy the meal from shared plates, family style.
We all come together over food," says Low. "People from all parts of the company, from the kitchen hands to Mel Perkins the owner. This is a real departure from the history of traditional corporate lunching."
These jovial lunches are literally a recipe for success. "It fuels collaboration," says Low. "We get to learn a lot about what's happening around the company over the lunch table."
As for the food itself, it's as excellent as you'd expect, roaming through cuisines and flavours.
The Canva farm adds a unique layer. "It's local, organic and sustainable, healthier, and reducing our carbon footprint," says Low. "We compost our organic matter and use it to grow the vegetables. The staff visit the farm and really think about healthy eating and organic farming … it's very grounding."
Long live lunch
While the in-house food movement is strong, other new-gen companies are upholding the tradition of the expensed long lunch, but with a very 2019 proviso: the meal must be used to build knowledge and networks.
Software provider Hubspot and LinkedIn both have an official policy of subsidised meals out to foster collaboration and growth.
Hubspot's rule states: "Take someone smart out for a meal. Learn something. Expense it. No approval needed. No limits. No rules. Use good judgment."
Those 2002 bankers would approve. It seems the glory days of the legendary lunch are far from over.
Prism Mailing List