Have yourself a stress-free Christmas
Article3 mins10 December 2019By Amy Cooper
The holiday season is a time of giving, joy, family, celebration and, all too often, stress. Avoid festive burnout by focusing on the positive and making time for fun and relaxation.

Take it from Santa - making a list and checking it twice saves a heap of festive pain.
Make your own to-do lists - and then cross off everything that isn't essential. Does every catch-up really need to happen before Christmas? Often, January is a quieter, easier time for socialising, so put some New Year appointments in the diary to take the pressure off. 
Success coach Muffy Churches offers this tip: "My favourite coping skill for the holiday crush, rush and fuss is: the art of anticipation. Each morning, take a moment to visualise your day and all the potential trigger points, so you'll be ready for them. We can stay calmer circling a packed car park if it doesn't take us by surprise."
Put the 'me' in Christmas
It's easy to hurtle through the holiday season, striving to do everything and be everywhere, while your stress levels soar. 
Sometimes, the best word is "no", says Dr Libby Weaver, author of stress busting book The Invisible Load. "The festive season should be time to put less pressure on yourself in all aspects of life," she says.
"Don't be afraid to say no to anything that you know will bring you a high level of stress. Only you can take care of your health and happiness. Use the time you gained back to do something you love - go for a walk, practice some yoga or simply curl up on the couch with a good book. You will feel so much better for it."
"The festive season should be time to put less pressure on yourself in all aspects of life,"
Dr Libby Weaver
The Invisible Load
Practice a party strategy
'Tis the season to be jolly – but mindful indulgence is the key to surviving social marathons in tiptop condition. 
Australia's hot Christmas weather adds extra challenges for your system, especially when the good cheer is in full flow. Start parties with a water or non-alcoholic drink and alternate these with boozy beverages throughout. You'll stay hydrated and happy for longer.
Avoid overloading on rich, nutritionally empty party snacks by filling up on something hearty and healthy - a tuna salad sandwich, a tasty protein shake - for slow-release energy that will fuel your fun and avoid mood-busting sugar crashes.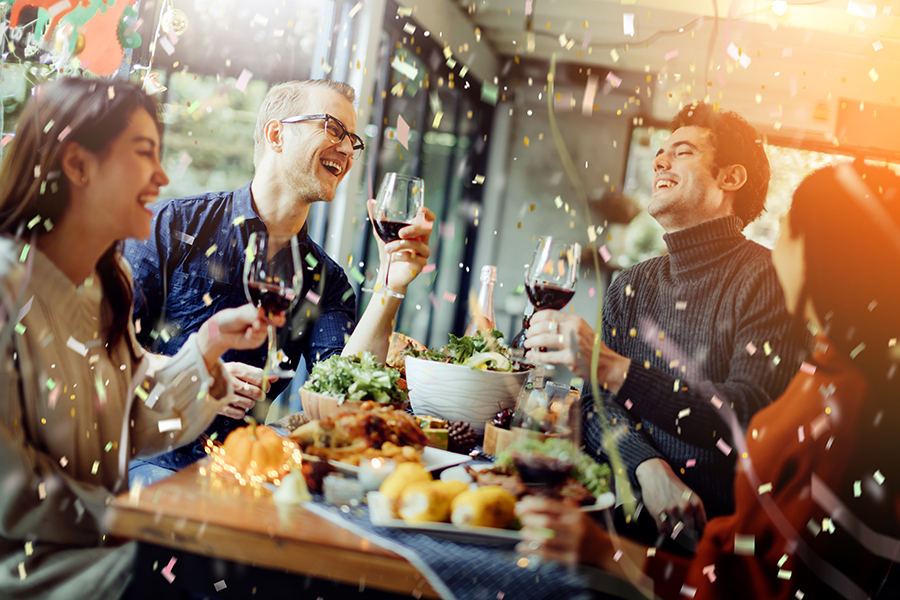 Festive finances
Nothing boosts stress levels like being broke in January. It's easy to overload your credit cards in the name of goodwill, but it's best to set firm budgets and stick to them.
While the stores beckon with endless goodies, remember the sales start in just a few weeks – and much of the merchandise will be discounted then.
The old cliché 'it's the thought that counts' is true. An inexpensive but carefully considered gift can mean much more than a hastily acquired trinket. Shopping online saves valuable time and energy and reduces the risk of panic buying.
Remember, the festive season is about people rather than things. And that's a great message to teach your kids.
Santa's little helpers
Overindulging happens, so stock up on handy supplements to restore your mojo. Naturopaths recommend milk thistle as an effective, gentle liver tonic to help your body cope with the extra load. Tap into turmeric's antioxidant, anti-inflammatory properties with a delicious golden turmeric latte. 
Be (Christmas) present
When it's all over and everyone's back at work, you'll most likely wonder at how the holidays raced past again, so take time to stop, smell the pine needles, enjoy and be thankful for the festive, and at times, silly season.

Yule be amazed: ten things you never knew about Christmas
The world's largest Christmas cracker, 45.72m long and 3.04m in diameter, was pulled in November 1991 at a Westfield shopping centre in Sydney.
The X in Christmas isn't just an abbreviation (as in 'Xtina Aguilera!); it stands for 'chi,' meaning Christ in Greek.
According to data from a study on Facebook updates, a fortnight before Christmas is one of the two most likely times of year for couples to break up. 
Silent Night is the most recorded Christmas song in history, with over 733 different versions copyrighted since 1978. 
The highest-grossing Christmas movie is How The Grinch Stole Christmas. Jim Carrey likened wearing the Grinch costume to 'torture.'
It's a tradition in Japan to eat KFC at Christmas. The demand is so high that orders must be placed two months in advance.
Scientists estimate Santa would have to travel an average speed of 8.180 million km/h to reach every household in the world on Christmas Eve. 
Werner Erhard is the record holder for sending the most Christmas cards in a year (1975) at 62,824. Estimated cost: around AU$45,000 in today's money.
In 1982, Canada Post assigned Santa the North Pole postal code of H0H 0H0. It receives around a million letters annually.
Established in 1937, the Charles W Howard Santa Claus School teaches the craft of the man in the red suit. Students learn Santa history, toy making, accounting, dress and grooming, and even reindeer habits.
Prism Mailing List