How dads can build a better workplace by taking time off
Article3 mins27 August 2019By Karen Jamal
Encouraging men to embrace parental leave, alongside flexible work, can increase women's participation in the workforce and close the gender pay gap.
After Edward Healey's daughter Taliah was born, he took a short career break, swapping property finance for playgroups and parks.
"I admit I never fully appreciated the effort involved in running a house full time. It was a huge eye opener for me – but one that was also hugely rewarding."
It was chaotic and challenging at times, Edward admits, but also an opportunity to build a strong bond with his daughter while "sharing the load" and supporting his partner's career.
Edward's experience is far from ordinary. Just one in 20 dads take primary parental leave, according to the Australian Bureau of Statistics. In fact, a 2014 study by the Human Rights Commission revealed 85 per cent of Australian fathers take less than four weeks leave when a baby is born.
"We certainly have a long way to go," admits Kathy Kostyrko, a director with specialist recruitment firm, Hays.
"We are still stuck in a cultural norm where men are the chief income earners and women have responsibilities for childcare," she says.
"There's still a stigma around women taking maternity leave and having the same job to go back to. If that's happening to women, then men are at ground zero.
"Some men see taking parental leave as a career limiting move – that it means less promotional prospects, less income and a perception that they are not taking their jobs seriously. For others it is not possible in the jobs they have."
Each month that a father stays on parental leave increases maternal earnings by 6.7%.
The Effect of Own and Spousal Parental Leave on Earnings, 2010.
Break down unconscious bias
According to Hays' latest diversity and inclusion survey, 81 per cent of respondents agreed that shared parental leave would break down unconscious bias in the workplace. However, just 19 per cent of those surveyed said their organisations offered parental leave to men on equal terms with their female colleagues.
Hays' survey aligns with recent research from the Workplace Gender Equality Agency, which finds half of all employers do not provide paid primary carer's leave in addition to the government scheme, Dad and Partner Pay. This means fathers who want more than two weeks' leave must rely on the enlightenment of their employer.
But encouraging men to embrace parental leave, alongside flexible work, can increase women's participation in the workforce and close the gender pay gap. The Swedish Ministry of Employment conducted research which found that a father's use of parental leave has a direct and positive impact on his partner's earnings. Each month that a father stays on parental leave increases maternal earnings by 6.7 per cent.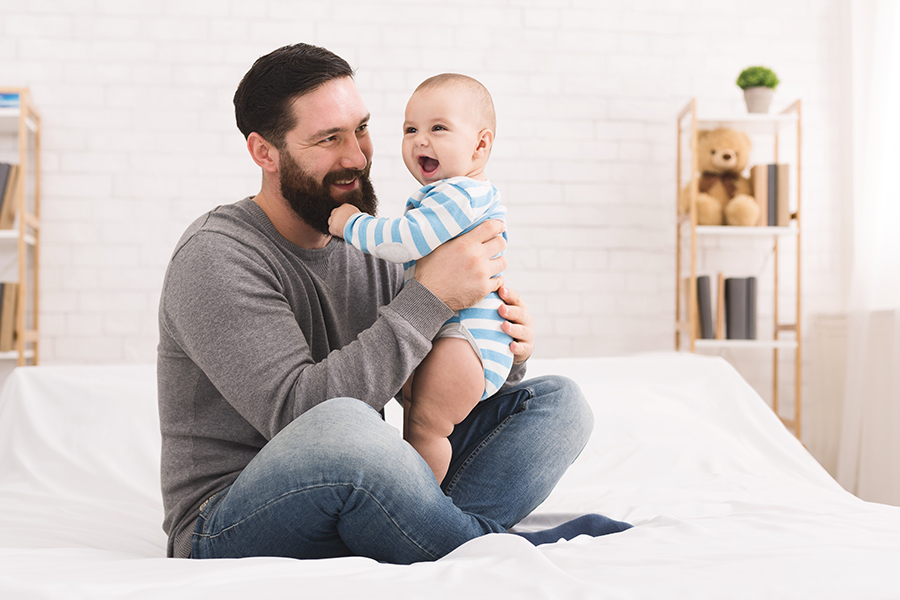 Male role models make a difference
Kathy Kostyrko calls for company leaders to step up and "take parental leave seriously" – and for more senior men to take career breaks to care for their children.
"It doesn't need to be for 12 months – but when they broadcast it, and their organisations accept it, it goes a long way to demystifying parental leave."
Brooke Shaw, Senior Manager of Talent and Organisational Development with Dexus, agrees.
The team at Dexus has developed a suite of resources to drive cultural change after not one male employee took up primary carer's leave in 2017 – despite the business offering generous leave options.
"We see this as an integral part of our gender equity strategy. It isn't just about helping dads to play a greater role in family life. It is also about narrowing the gender pay gap and breaking down the stereotype that women are the natural primary carers of young children," Brooke says.
The Dexus Dads network is just one innovative initiative designed to drive awareness and accelerate the uptake of primary carer's leave among male employees.
"We have also started profiling the men who take primary carer's leave to show that it isn't career limiting, and how they keep in touch with the business during their leave and come back to meaningful roles.
"In 2018, 20 per cent of men eligible for primary carer's leave took it – and we think this is based on the influence of senior male leaders," Brooke adds.
Look beyond one-size-fits-all
Brooke emphasises that there is no "one size fits all" approach to parental leave.
"Employees have asked whether they can take parental leave over a 12-month period, for example, rather than in one block. I think it's important to be open to new ideas."
Edward, who has since returned to his role as senior performance manager within Dexus's real estate finance team, says his experience shows that taking parental leave is not a backward career step, and he has some valuable advice for soon-to-be dads.
"Early and open communication with your manager is really important because, with time and planning, you can really manage anything."
Prism Mailing List